A Bach Stradivarius Trumpet for Auction on ebay.
by
Vince calls my attention to this auction.
http://www.ebay.com/itm/BACH-New-York-3-digit-Stradivarius-Bb-Trumpet-Serial-180-SUPER-RARE-WOW-/230712717132?pt=Brass_Instruments&hash=item35b78caf4c
The significant aspect is the name "Beiderbecke" scratched out on the file card.
I just wrote to Roy Hempley, the Bachology specialist, asking him what he knows about a possible link between Bix and this trumpet. Let's see what he comes up with. Roy really knows his stuff.
Bix's Bach # 620 also had the phrase "exceptionally tight" written on the file card. Take a look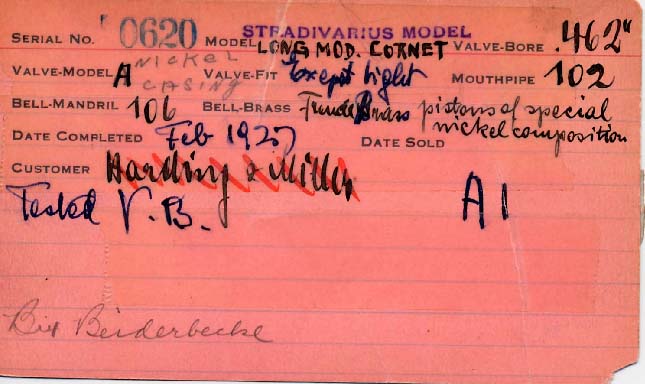 Albert
Posted on Dec 6, 2011, 12:52 PM
Respond to this message
Goto Forum Home
Responses