Thanks to Chris Barry, Joan Fabrizio and Alice Clare Weiss, we have a definitive ....
by Albert Haim
....  identification of Alice O'Connell.
On June 16, 1931, Bix wrote a letter to his parents. This is part of what Bix wrote.
"About my future wife. Born in N. Y. red-headed, blue eyes, mothers name was Weiss, dads name O'Connell German-Irish, not bad huh?. Shes a staunch catholic  She has 2 brothers and 3 sisters. I played golf with one of her brothers Her mother and father died when she was quite young Alice is 20 years old... I'm sending a picture of her."
This is a scan of the picture Bix sent to his parents (from Evans and Evans)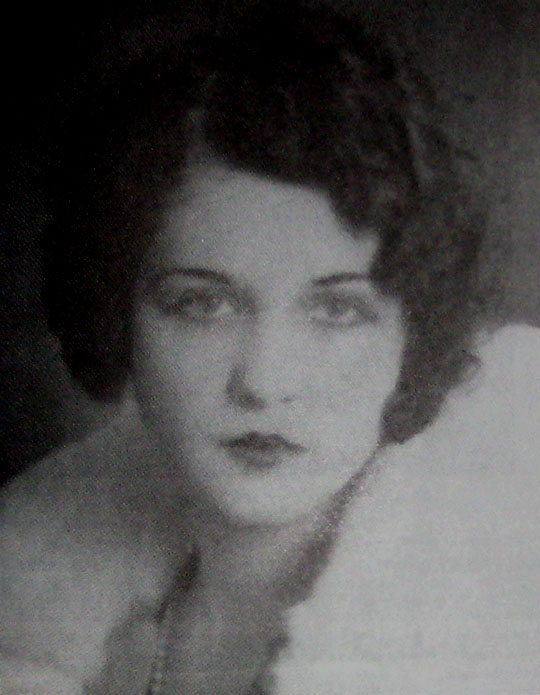 In spite of considerable efforts by several Bixophiles, the identity of "Alice O'Connell" has remained a mystery. In addition, there was also an account by Hoagy Carmichael of a woman named "Helen Weiss" who accompanied Bix in a visit to Hoagy in the summer of 1931.
There was a breakthrough about two years ago (April 17, 2009) when Chris sent in a posting to the Bix forum.
http://www.network54.com/Forum/27140/message/1240023543
Chris suggested that Alices father's and mother's names had been reversed. He provided strong evidence for his suggestion. Chris discovered that Alice Weiss, daughter of Theodore Weiss and Nellie O'Connell, was born about 1908 in NY. Theodore was born 1869 in Germany. Nellie was born 1876 in Ireland. Nellie's father Phillip O'Connell lived in the household in 1900. Theodore and Nellie had a large family: seven children were listed in the 1910 US Census under Theodore Weiss as head of the household.
This past Tuesday, Chris wrote to me with conclusive evidence that the Alice O'Connell mentioned by Bix was really Alice Weiss. On Monday, Feb 6, Chris had a telephone conversation with Joan Fabrizio, nee Weiss, daughter of Phillip and Jeanette Weiss, niece of Alice Weiss. Phillip was one of Alice's brother, about two years older. Chris had sent a copy of Alice O'Connells photograph that Bix had sent to his parents to Joan. Joan identified definitely the young woman in the photo as her aunt Alice.
There is more. When Chris wrote to me on Tuesday, he gave the url of his original posting of April 17, 2009. I went to the Bixography forum and opened the posting. Imagine my surprise when I saw under his posting a posting that had been submitted but I had not seen (it was waiting to be approved). It was dated Jul 14, 2011, titled "I am Alice Weiss's Niece." and authored by Alice Clare Weiss. I approved the posting. It can be read in

http://www.network54.com/Forum/27140/message/1310695721
Alice Clare is the daughter of Fredrick Weiss, the youngest of Theodore and Nellie Weiss's boys [Vera was the youngest child]. Fortunately, Alice Clare had given her email address in her posting and I got in touch with her. In her response, she stated that Most of my genealogy involvement has been through Ancestry.com, although I stumbled onto the Bix forum at the time I wrote that post you discovered. BTW, the photo of Alice Weiss that was posted in '09 is the same as one I got from my Dad (Fred Weiss b.1908). Mine is addressed "To My Brother Freddie, Your Loving sister Alice". Yesterday I had a phone conversation with Alice Clare and asked her if she could scan the photo and send it to me. She kindly did and here is the photo.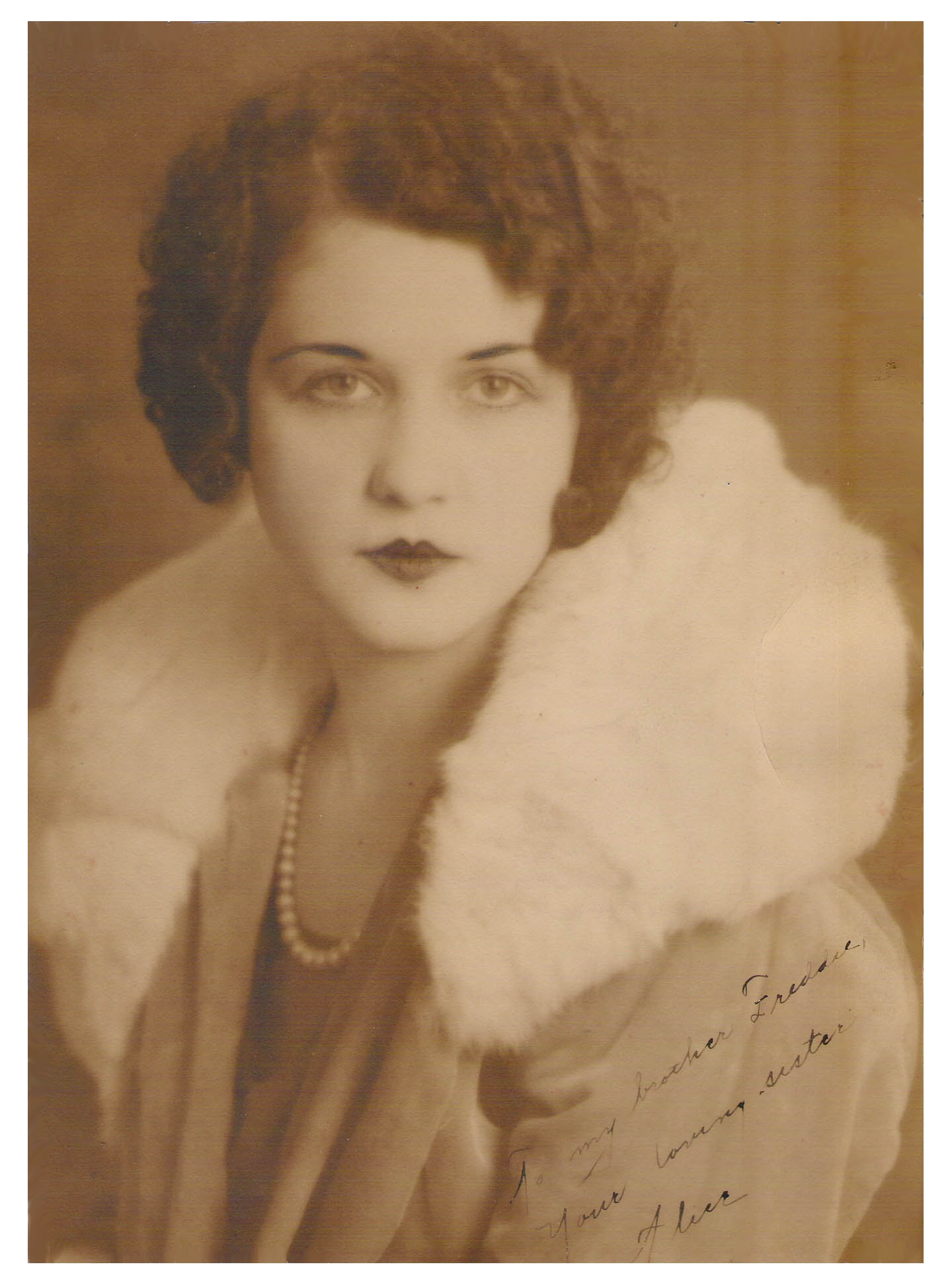 Here is the dedication of Alice to her brother Freddie, enhanced for better legibility.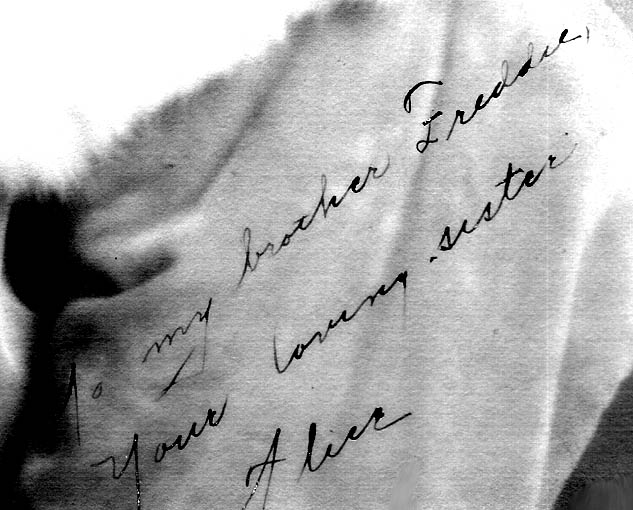 Thanks to Chris's formidable genealogical and research skills, the kindness and generosity of Joan Fabrizio and Alice Clare Weiss, we now have a definitive identification of the young lady in the photo that Bix had sent to his parents in the summer of 1931 and that he had named "Alice O'Connell.". There are still several unresolved issues. Chris and I are working on a comprehensive article on this subject and doing some more research. We will be posting more information and additional documentation in the next several weeks.
Albert
This message has been edited by ahaim on Feb 12, 2012 11:18 AM
Posted on Feb 12, 2012, 11:07 AM
Respond to this message
Goto Forum Home
Responses