My Mammy by Paul Whiteman: Two out of twenty-one!!
by Albert Haim
The Recording Sessions.
On Feb 17, 1921, Paul Whiteman and His Orchestra

(Henry Busse, t; Sam Lewis, tb; Hale "Pee Wee" Byers, Ross Gorman, as; Paul Whiteman, vn; Ferde Grofe, Arnold Johnson, p; Mike Pingitore, bj; Jack Barsby, bb; Harold McDonald, d)

went into the Victor Talking Machine Co. recording studio in New York City, National Association Building, 28 W. 44th Street, 22nd floor  [Note 1] and waxed six takes of My Mammy, A Medley (Introducing "Beautiful Faces.") All were rejected.
The orchestra went into the studios again on Feb 25, 1921 and recorded takes 7-11; all were destroyed.
On March 1, 1922, the orchestra recorded takes 12-18. Two takes were mastered, 14 and 17; the remaining were destroyed.
On March 2, 1922, the band recorded takes 19-21; all were destroyed.
The yield is pitiful, 2 takes mastered out of 21 recorded, less than 10 % sucess. And isn't it surprising that after two takes were mastered on Mar 1, the band went again to the studio to wax three additional takes?
The information from the EDVR website is provided in Note 1. In summary, two takes were mastered and issued. Surprisingly, Don Rayno tells us that take 14 was mastered but not issued, and take 17 mastered, Victor 18737 and released in May 1921. The EDVR website tells us that both take 14 and take 17 were issued on Victor 18737. Take a look at the record labels from the LOC Jukebox and note the mumbers 14 and 17 on the left handside of the record labels.
http://www.loc.gov/jukebox/media/take/images/dlc_victor_18737_03_b24863_14.jpg
You can listen to the two takes in the LOC Jukebox.
http://www.loc.gov/jukebox/recordings/detail/id/7783
http://www.loc.gov/jukebox/recordings/detail/id/7784
The Composers.
You will notice  Walter Donaldson and Irving Berlin are the composers listed in the record labels. Granted that Whiteman's version was instrumental, but the composers according to the original sheet music are Walter Donaldson (music) and Sam Lewis and Joe Young (lyrics).
I guess, music publishers added their names as composers to some of the sheet music they published.
Here is the sheet music with Al Jolson on the cover.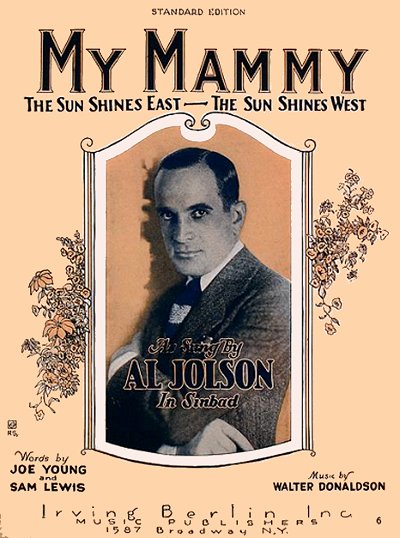 From Wikipedia: Though associated with Al Jolson, who performed the song very successfully, "My Mammy" was performed first by William Frawley("Fred Mertz" from I Love Lucy) as a vaudeville-style act.[1] Jolson heard the song and performed it for theBroadway show Sinbad in 1918. Jolson recorded this song twice and performed it in films, including The Jazz Singer (1927), The Singing Fool (1928) and Rose of Washington Square (1939).
Albert
Note 1. For a discussion of the addresses of the Victor recording studios, see
http://www.mainspringpress.com/vic-studios.html
Note 2. Link to EDVR site
This message has been edited by ahaim on Jun 20, 2012 8:32 AM
Posted on Jun 20, 2012, 8:30 AM
Respond to this message
Goto Forum Home
Responses