The Love Nest; Trumbauer's version. A Bixian solo by Izzy Friedman?
by
The Love Nest is a composition by Louis A. Hirsch and Otto Harbach recorded twice by Bix, years after it had been introduced. Here is some information.
The ASCAP data base gives the following

LOVE NEST (Title Code: 420089014)
Writers:
HARBACH OTTO A
HIRSCH LOUIS A

Performers:
ALPERT H/T J B
ANTHONY RAY
BEIDERBECKE B
BOSS T
BRADLEY AND MCKINLEY
BRADLEY R
ELGART L
ELGART LES
FIREHOUSE FIVE PLUS TWO
GRANT GOGI & ORCHESTRA
HI LO S
LOMBARDO G
MATHIS J
MCKINLEY R
TIJUANA BRASS
VINNEGAR LEROY
WILL BRADLEY AND RAY MCKINLEY

From http://www.classicmoviemusicals.com//musicl.htm#lovenest

Love Nest, The

Words by Otto Harbach, music by Louis A. Hirsch, 1920
Introduced by Janet Velie and Jack McGowan in the stage musical "Mary"
Popularized by Art Hickman and His Orchestra
Theme song of the Burns and Allen radio show
The Helen Morgan Story (Gogi Grant dubbing for Ann Blyth), 1957

From http://www.lyricsplayground.com/alpha/songs/t/thelovenest.shtml

THE LOVE NEST
From the George M. Cohen musical "Mary" (1920)
and from the George Burns & Gracie Allen Show
(Louis A. Hirsch / Otto A. Harbach)

George Burns & Gracie Allen

Also recorded by:
Herb Alpert; Chet Baker; Bix Beiderbecke; George Benson;
Black Eagle Jazz Band; Will Bradley; Paul Bryant;
Sam Butera; Nat King Cole; Eddie Condon; Bob Crosby;
Tal Farlow; Jacques Gauthe; Jackie Gleason; Bobby Gordon;
Marty Grosz; The Hi-Lo's; Art Hodes; James P. Johnson;
Teddi King; Phil Klein; Jimmie Lunceford; Johnny Mathis;
Paris Washboard; Joe Puma; Bud Shank; George Shearing Quintet; John Steel; Sonny Stitt; Dick Sudhalter; Jack Teagarden; Frankie Trumbauer & His Orch.; Leroy Vinnegar; Benny Waters; Lawrence Welk; Paul Whiteman Orch.

Just a love nest, cozy and warm,
Like a dove breast, down on the farm,
A veranda with some sort of clinging vine,
Then a kitchen where some rambler roses twine;
In a small room, tea set of blue,
Best of all room, dream room for two,
Better than a palace with a gilded dome,
Is the love nest you can call home!

Some Comments.

Take a look at the sheet music.




Bix recorded the tune twice, once with Whiteman (vocal just humming) and again with Tram (vocal by Charles Gaylord, possibly the worst vocal in a Bix recording). The original title is "The Love Nest." That is the title on the label for the Bix and Tram recording. However, the Whiteman recording gives just "Love Nest."

Otto Harbach, the lyricist, made it to the Songwriters hall of Fame in 1970. See
http://www.songwritershalloffame.org/exhibit_home_page.asp?exhibitId=105
Louis Hirsch, the composer did not make it.

The tune is obviously a perennial favorite. First recorded in 1920, it has been recorded through the ages. It is weird that the Whiteman recording was mastered in 1928, but not released until 1932. The Tram version was mastered in 1928 but was not released on OKeh. It was released as ParE R2645. See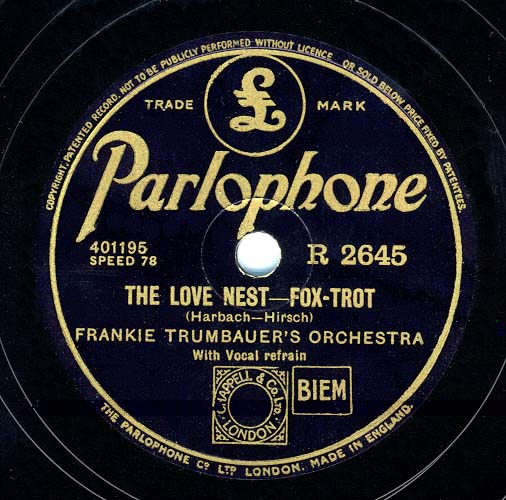 According to Evans and Evans commenting on the Tram recording of the tune, "As a rhythm instrument, Rube Crozier bassoon has about as much lift as a lead balloon. And, as the old saying goes, the unknown drummer should have been arrested for impersonating a musician." [The style of writing seems to me more Norman Gentieu than Phil Evans.] The recording session that brought us "The Love Nest" by Trumbauer is the one when Bix, after being shoved by Margulis, told him, "Don't shove. Push politely."

Listen for Izzy Friedman short solo at 1:00. I think it is highly Bixian. Opinions?
Albert


This message has been edited by ahaim on Jun 21, 2012 6:26 AM

Posted on Jun 21, 2012, 6:25 AM
Respond to this message
Goto Forum Home
Responses