Burnett James' biography of Bix.
by Albert Haim
Ken kindly sent a scan of the cover of Bix's biography by Burnett James. thanks, Ken.

Cassell Edition from Ken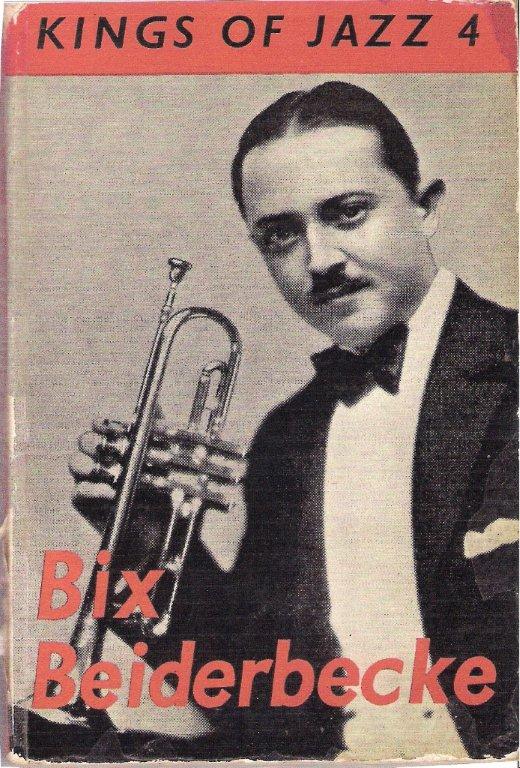 This is different than the one I have in my short review of the book in the main Bixography website.
A. S. Barnes edition.

I found a third and different cover googling the internet.

Unknown edition

The thre images above are from the Kings of Jazz series. This is what I wrote about this book in about 1999.
"Bix Beiderbecke"by Burnett James. Cassell and Co. Limited, London, 1959. Description: 90 p.; four photographs. Contains a brief discography. This book is similar, but less detailed than, "Bugles for Beiderbecke" . It provides a factual description of Bix's life in chapter 1, and an analysis of Bix' cornet playing and of his influence on his fellow jazz musicians in chapters 2 and 3. This book was published again in 1961 by  A. S. Barnes and Company, Inc., New York, as part of the Kings of Jazz series. Other titles in the series include Louis Armstrong, Duke Ellington,  Jelly Roll Morton, King Oliver, Bessie Smith, and Fats Waller.
More information about the Kings of Jazz series from
http://www.jazzfirstbooks.com/catalog/product_info.php?products_id=606
The Kings Of Jazz, Complete 12 Volume Set By Various Authors
Cassells, London, True First Edition, First Printing 1959-1963. Also published in an eleven volume paperback set in the U.S. in 1961 by A.S. Barnes, but this is the true first edition. Complete set of the Kings Of Jazz , in twelve numbered volumes, a series of short, critical biographies of the jazz greats, primarily by noted British jazz writers. Volume 7, Charlie Parker, is SIGNED by the author, esteemed jazz writer Max Harrison, at the title page. Titles in order of publication are: Duke Ellington by G.E. Lampert, Dizzy Gillespie by Michael James, Bessie Smith by Paul Oliver, Bix Beiderbecke by Burnett James, Louis Armstrong by Albert McCarthy, Charlie Parker by Max Harrison, Fats Waller by Charles Fox, King Oliver by Martin Williams, Miles Davis by Michael James, Johhny Dodds by G.E. Lambert, Jelly Roll Morton by Martin Williams and Coleman Hawkins by Albert McCarthy. In original bright, pictorial, laminated boards with no dust jackets as issued, all are first printings published between 1959 and 1963. Volumes 1-4 are very good+, with touch of age toning to pages, light edge wear and some loss to laminations, with neat ink inscription to ffep of Volume 1. Volume 5-12 are near fine to about fine, light age toning to pages, touch of wear to spine ends of several volumes. A wonderful little series, an excellent introduction to the greats of jazz, very uncommon to find
It is a good series. I purchased a copy of the complete set, including the box,  years ago.  It is the paperback A. S. Barnes edition. I also have the single volume about Bix in hard cover, the Cassell edition.
I have not seen a discussion of any similarities between Bix and Sidney Bechet in the jazz literature. Interestingly, James discusses this point in his book. Here is the relevant section.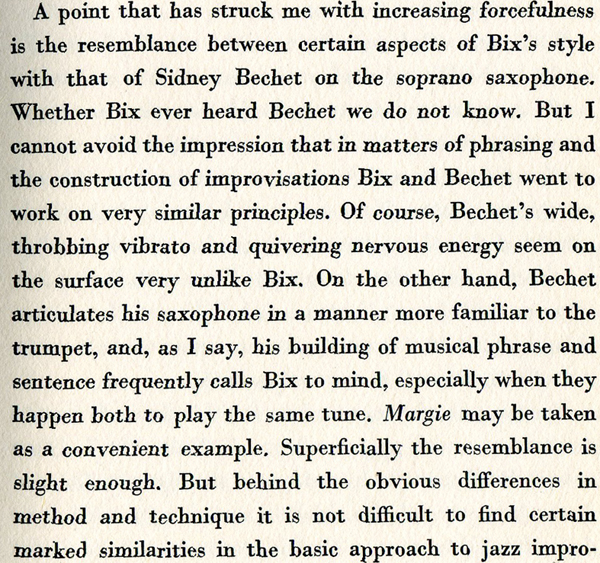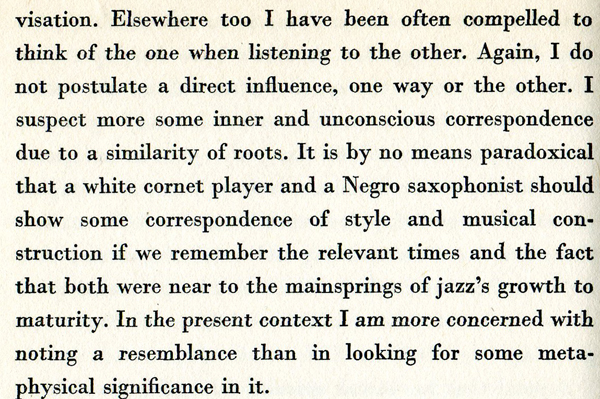 And here is Bechet's version of Margie.
http://www.youtube.com/watch?v=MeR0KwgVU90
I don't find any similarities. Bechet plays lots of notes in contrast with Bix's economy of notes, and the phrasing sounds completely different to me.
Albert
Posted on Jun 22, 2012, 8:38 AM
Respond to this message
Goto Forum Home
Responses