Leroy Shield Before He Joined the Victor Talking Machine Company.
by Albert Haim
From http://www.leroyshield.com/  (website replete with great information about Shield).
Leroy Shield played piano, led radio orchestras, penned semiclassical works, and, for a few years in the 1930s, wrote music for Hollywood. He was the uncredited composer of the music in Hal Roach's "Little Rascals" and "Laurel & Hardy" films.
We discussed Leroy Shield a few times in the forum. Here is the connection between Leroy and Bix.
Leroy Shield was music director for the following Bix sessions.
Jan 28, 1927. Jean Goldkette. Proud of a Baby Like You, I'm Looking Over a Four Leaf Clover.
Sep 15, 1927. Jean Goldkette. Blue River, Clementine.
Nov 18, 1927. Paul Whiteman. (Whiteman was recording director, Shield was present). Washboard Blues.
Jan 5, 1928. Paul Whiteman. (Whiteman was recording director, Shield was assistant). O YaYa, Dolly Dimples. 
I present here some information about Leroy Shield. First official documents. He was born Le Roy Bernard Shields in Waseca, MN on Oct 2, 1893. Here is the 1900 US Census with a listing of the Shields family in Waseca, MN.

By 1910, the Shields had moved to Belle Plaine, IA, about 100 mile east-northeast of Davenport. Here is the 1910 US Census for Belle Plaine, IA.

The WWI Draft Registration card.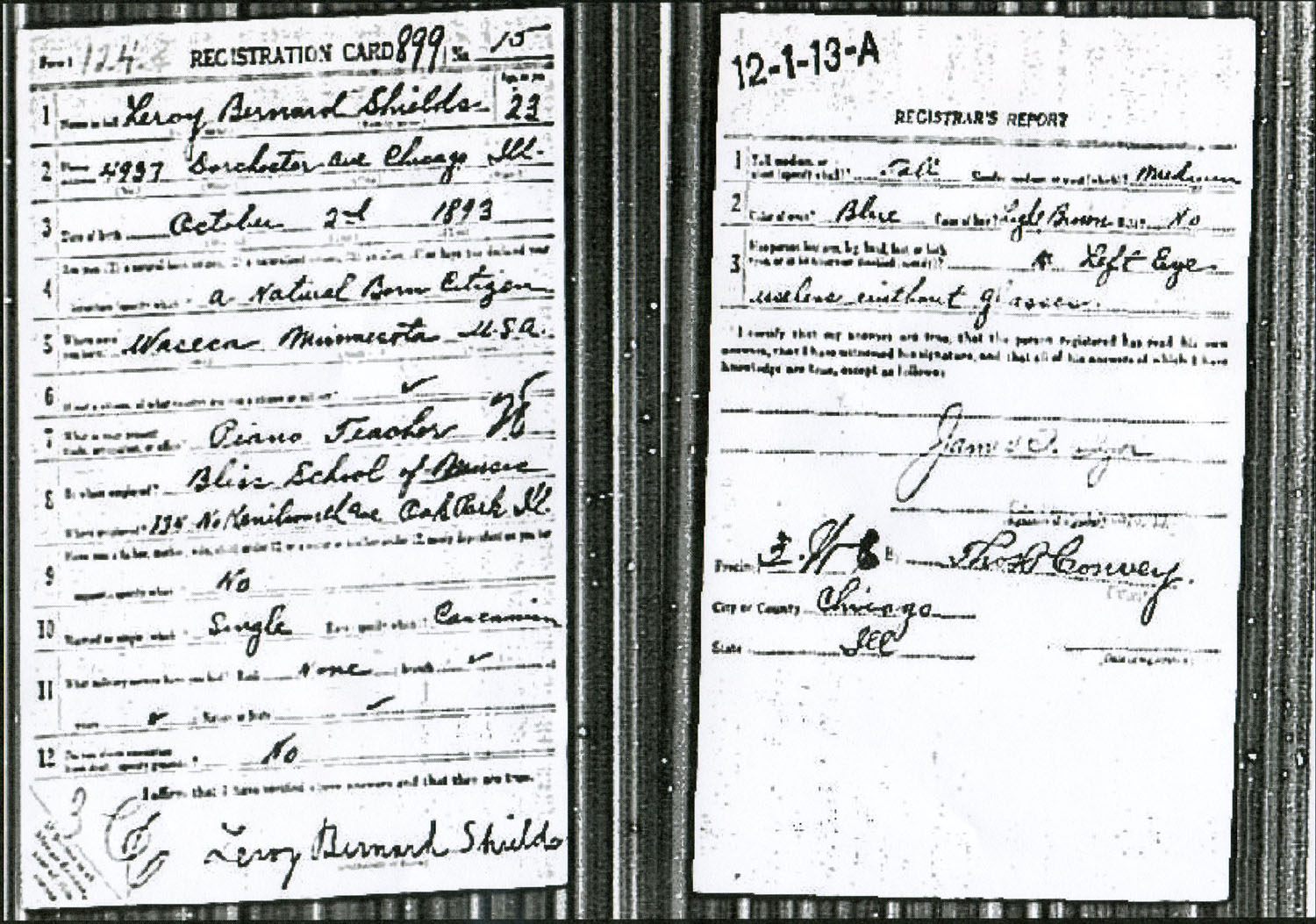 At this time, Leroy was a piano teacher at the Bliss School of Music in Oak Park, IL, about 10 miles east of Chicago.
From the Oak Leaves, the main newspaper in Oak Park, Nov 23, 1912.
NOW IN ITS NEW HOME
BLISS SCHOOL OF MUSIC
234 North Kenilworth Avenue
Piano, Voice, Violin, Harmony, Ensemble, Pipe Organ, Flute,
Dramatic Art
Established in 1902. Entire building devoted to the school.
Situated in same block with Scoville Institutefirst block West of Lake Street. PHONE 690
There are lots of items about Leroy Shield in the Oak Leaves in the nineteen teens. Here is a selection.
May 20, 1916.
Country Club Musical Program
An enjoyable musical program was
given at the Oak Park Country club on
Tuesday evening by Alexander Gray,
baritone, and Leroy Shield, pianist.
Each artist possesses exceptional ability,
and their respective numbers were
thorougly appreciated by the members
present. The program was as follows:
Hunting Song Mendelssohn
Etude in D flat Liszt
Black Key Etude Chopin
Arabesque Debussy
Mr. Shield
Ah! non mi ridestar ! (Werther) Massenet
Ich und Du Flock
Das Kunst Vergessenheit Hildach
Mr. Gray
Song MacDowell
TranscriptionBlue Danube Schultz-Evler
Mr. Shield
The Young Warrior Burleigh
In an Old Fashioned Town Squires
The Wind Speaks Grant Schaeffer
If You Would Love Me MacDermid
Mr. Gray
Jay C. Freeman of the social committee
arranged for the evening's musical
entertainment, which was preceded by a
table d'hote dinner and followed by informal
dancing.
Nov 24, 1916.
Bliss School Faculty Concert
The annual faculty concert of the
Bliss School of Music will be held this
year at the Colonial club Monday evening,
October 23.
Edwin Schneider, who will be in Chicago
the previous Sunday for the Mc-
Cormack concert, expects to be present,
and if so, will play the second Saint-
Saens Concerto, with Anna Marion
Thompson.
Day Williams, a cellist who ranks as
one of the best in the middle west, will
play a Chopin etude arranged for cello.
Florence Hallberg, a new member of
the faculty, will make her first appearance
in Oak Park at this concert. Miss
Hallberg has a mezzo soprano voice of
rare quality, which will be heard to advantage
in "Endymion" by Liza Lehmann.
Leroy Shield will play the A flat
Chopin Polonoise. Manilla Cudworth
will read Anatole France's "The Man
Who Married a Dumb Wife."
Beatrice Henry is to assist in a
Beethoven trio.
Jul 29, 1916
Leroy Shield Wins Prize
Leroy Shield of the faculty of the Bliss
School of Music is the winner of a prize
which is offered each year by the Amateur
Musical club to young pianists of
Chicago. The prize this year is the opportunity
of playing at RaviniaPark.
Mr. Shield appeared Friday evening,
July 28, on the Ravinia program, and
elected to play "The Beautiful Blue
Danube," by Strauss-Tausig, which solo
won him this distinction.
Sep 9, 1916.
Leroy Shield Returns
Leroy Shield has resumed his teaching
at the Bliss School of Music, after a
busy summer spent in various activities
pertaining to his profession.
Ravinia park and the Country club at
Lake Geneva were among his important
engagements. He appeared a number of
times at the latter.
Similar articles were published in 1917-1919.
In 1920-1923 Leroy Shield was the accompanist to soprano Eva Gauthier and was all over the US.. Several newspaper articles mention the Eva Gauthier concerts and have high praise for her accompanist, Leroy Shield. This from the Galveston Daily New, Nov 5, 1920.  
Leroy Shield. Miss Gauthier's accompanist,
shared In the hearty welcome
extended the charming artist,
and was well. received in his renditions
of several masters.
I have seen announcements of concerts by Gauthier and Shield in Madison, WI, Oakland CA and New York.
From the New York Times, Oct 21, 1921, concert in Carnegie Hall.
Mr. Leroy Shield played the accompaniments, some of them of uncharted difficulty, with skill; and was also given a chance with a piano solo in Taileffer's "Pastorale."
*********************
It is clear that up to about 1923, Leroy Shield principal activities were in classical music, as a piano teacher and an accompanist for singers.
Albert
Here is a radio program by Roy Shield and Company over the NBC network on Saturday nights.
https://www.box.com/shared/2z4tn4uhor
Posted on Jul 2, 2012, 9:07 AM
Respond to this message
Goto Forum Home
Responses