Red Nichols in England? Almost.
by
As far as I know, Red Nichols never went to England. However, in early 1925, the management of the Savoy Hotel (home of the Savoy Orpheans), was interested in hiring Red Nichols.
Thanks to the generosity of Nick, here is a letter he found in the Savoy Hotel's archives.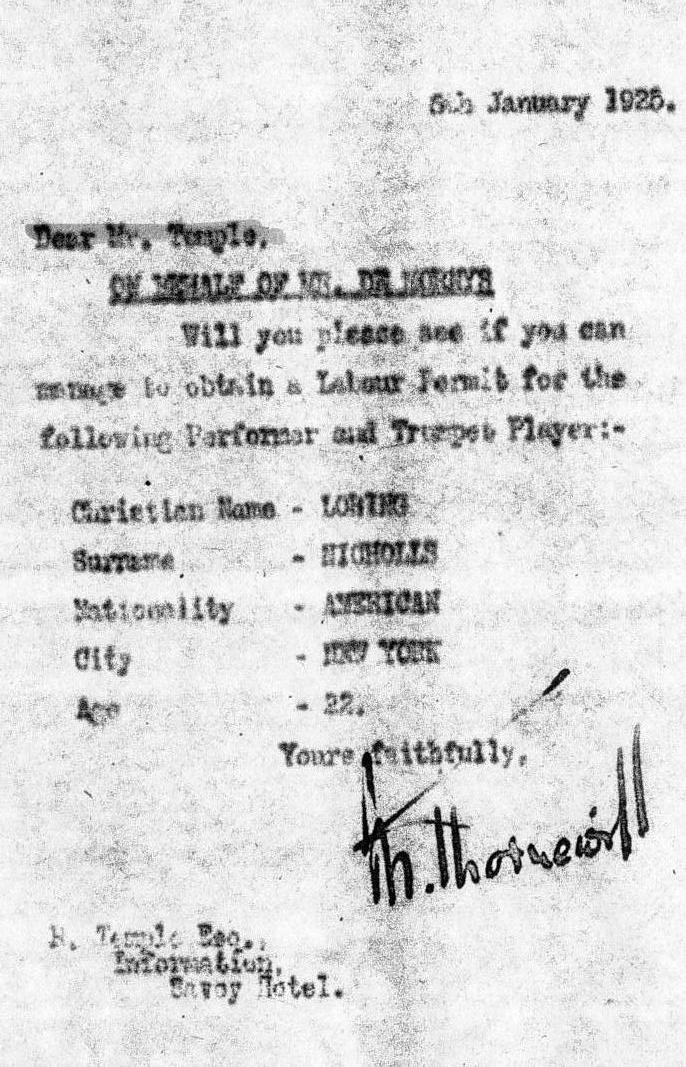 Nick writes: Obviously, the request that this letter pertains to came to nothing, but it's fascinating none-the-less to consider that Nichols was already generating interest from the other side of the Atlantic as early as January 1925. Imagine how the Savoy Orpheans would have sounded with Nichols in its brass ranks!
By the end of 1924, Red Nichols had participated in about two dozen recording sessions with Sam Lanin, George Olsen, and others. Was Red so famous by Jan 1925, that the management of the Savoy Hotel had heard about him and was preparing to hire him? Evidently, he was, or perhaps the American born Starita brothers, members of the Savoy Orpheans in 1923-1924 (Nick, please check if this is correct), had heard about Red and recommended him to the management as a young, upcoming musician?
One of the world's legendary great hotels, The Savoy, opened in 1889, has played host to royalty, world leaders and legends of the stage and screen.  
George Gershwin played the premiere of Rhapsody in Blue in Great Britain on June 15, 1925 at the Savoy Hotel.
Albert
This message has been edited by ahaim on Jul 13, 2012 12:11 PM

Posted on Jul 13, 2012, 12:10 PM
Respond to this message
Goto Forum Home
Responses