"Blue River" by Bix and Tram: An Underrated Recording!
by
The first recording session of Rollini's New Yorkers (under the name of Frank Trumbauer and His Orchestra)) took place on Sep 28, 1927. However, already on August 25, 1927, Adrian Rollini was added to a number of Goldkette musicians for a recording session by Trumbauer's band. Here are the recordings made in that session. [This is the first recording session of Bix and Rollini together.]
Frank Trumbauer and His Orchestra, Beiderbecke, Trumbauer, Murray, Rank, Ryker, Rollini, Riskin, Lang, Morehouse, Ellis. Three Blind Mice, Blue River, There's A Cradle In Caroline. [The roster is the same as in the recording of I'm Coming Virginia, May 13, 1927, except for the addition of Adrian Rollini on Aug 25, 1927.]
I want to focus on Blue River, which, as I wrote in the title, is, in my opinion, an underrated Bix recording.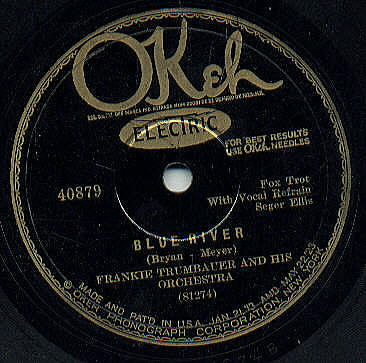 Bix dominates the recording almost from beginning to end. Here is the structure of the arrangement as given in "The Bix Bands." According to Evans and Evans, a Bill Challis arrangement.
Blue River (AABA - 32)
intro 4 Bix and band, 2 Tram, 2 band, 2 bs & tb
verse 6 Bix and band, 2 band, 4 Bix and band, 2 Tram and band
pass 4 Bix, 12 band
(1) 30 band, 2 Bix
(2) 30 vocal & Bix, 2 band
(3) 2 band, 28 Bix and band, 2 band
coda 2 band.
Listen carefully:  http://www.youtube.com/watch?v=sa8BsVtbS3U 
I like the tune itself, composed by Joseph Meyer and Alan Bryan. Bix's obbligato behind Ellis is not a variation on the melody but a new composition created out of Bix's profound understanding of harmony and unique improvisational skills. Following the vocal, Bix waits to come in, and when he does, he brings in highly imaginative improvisations. Bix flirts with rhythm and dynamics and astonishes the listener by his inventive new ideas. To me, one of his best recordings, perhaps at the level of Singin' the Blues and I'm Coming Virginia.
More about Blue River in http://www.network54.com/Forum/27140/message/1173361882
Albert
Posted on Jul 29, 2012, 1:50 PM
Respond to this message
Goto Forum Home
Responses