Miff Mole in Newsday in 1941
by
Newsday is the most important newspaper on Long Island. Miff was born in Roosevelt, Long Island, New York, about 40 miles from where I live. A correspondent named Ben Olds published in the Mar 6, 1941 of Newsday a very good piece about Miff Mole, my all-time favorite trombonist. Column 2 of p2 continues in column 1 of p3.

p2


p3  
p4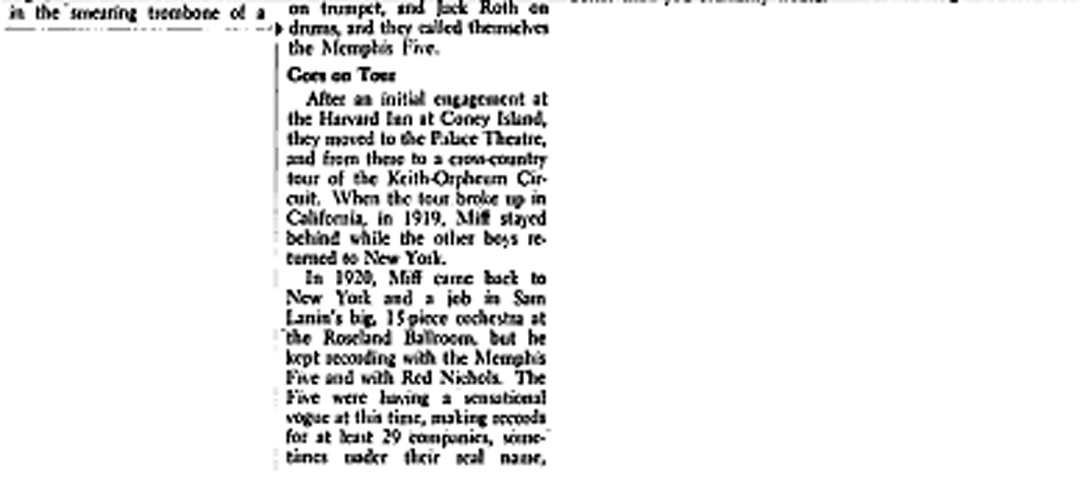 A minor correction: Miff met Bix in 1924.
A new piece of information, which I believe to be reliable because Mr. Olds must have interviewed Miff and most of the information in the article appears to come from Miff 's mouth. Bix, Miff and Buster Bailey went to Roseland after hours and had jam sessions. I don't remember having seen this anywhere in the Bixology literature. I remind you that Buster was one of the musicians in the Fletcher Henderson orchestra that had the Battle of the Bands with Goldkette in the Fall of 1926. Interesting, no?
Albert


This message has been edited by ahaim on Aug 31, 2012 12:16 PM
This message has been edited by ahaim on Aug 31, 2012 12:01 PM

Posted on Aug 31, 2012, 11:41 AM
Respond to this message
Goto Forum Home
Responses