An ad for the Adrian Rollini Trio.
by
From the New York Times, Jan 31, 1939.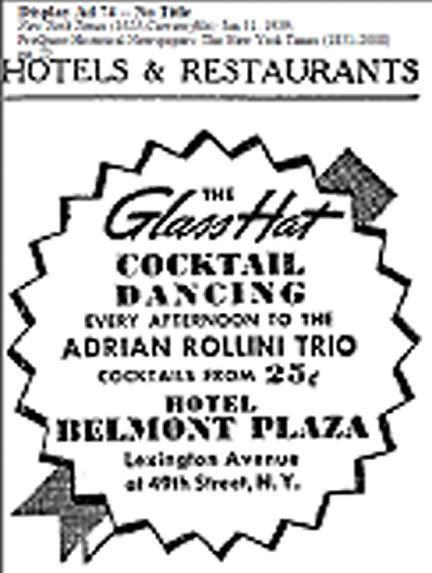 The Belmont Plaza Hotel
From restaurantswarecollectors.com:

The 800-room Belmont Plaza Hotel opened between 1935 and 1939 at Lexington Avenue and 49th Street, New York City. It was built in 1928 and opened as the Montclair. Dean Martin and Jerry Lewis got their start as a team at the Glass Hat. It was THE place to go for dinner and dancing. In 1973, the hotel went back to being known as The Belmont Hotel and in 2006 was known as W New York.

Above the entrance to the W Hotel at 49th and Lexington are four elephant headseach with a trunk that wraps around a metal flagpole.
The glass Hat Room. From the LOC.
Title: Belmont Plaza Hotel, Lexington and 50th St., New York City. Glass Hat Room I Creator(s): Gottscho-Schleisner, Inc., photographer Date Created/Published: 1942 July 9. Medium: 1 negative : safety ; 5x7 in. Reproduction Number: LC-G612-T-42552 (interpositive) Rights Advisory: No known restrictions on publication.Call Number: LC-G612- 42552 [P&P] Repository: Library of Congress Prints and Photographs Division Washington, D.C. 20540 USA

In1939 the Adrian Rollini Trio consisted of Adrian on vib, Frank Victor on guitar, and Harry Clark on string bass.

See and hear the Adrian Rollini Trio playing The Girl With the Light Blue Hair.

http://wn.com/california_ramblers?upload_time=all_time&orderby=rating#/videos

And see and hear Adrian on piano with guitar and bass acompaniment doing the Chopin Waltz Op.64 No.1 "Minute Waltz."

http://www.youtube.com/watch?v=Q2HQ4CU1Ky8

And here Adrian also plays tubular bells (chimes)!

http://www.youtube.com/watch?v=GMmJfD7fAeQ&feature=related

Adrian Rollini's middle name was "versatile": piano, vib, xylophone, bass sax, goofus, hot fountain pen and I believe drums. I can't think of a recording where Adrian plays drums. Anyone?

Albert







This message has been edited by ahaim on Sep 7, 2012 1:50 PM





Posted on Sep 7, 2012, 1:48 PM

Respond to this message

Goto Forum Home

Responses