From my article in the IAJRC Journal ....
by Albert Haim

.... September 2015.
Johnny Green's Body and Soul.
From New York to London and Back.

Body and Soul: Benny Goodman.
Body and Soul was played by the Benny Goodman Trio (Benny,
Gene Krupa and Teddy Wilson) at the legendary January 16, 1938
Carnegie Hall concert. It is noteworthy that this event took place
before Body and Soul became a jazz standard following saxophonist
Coleman Hawkins 1939 recording of the tune. The Goodman-Green
connection went back to 1933-34 when Benny played with Johnny
Green in broadcasts and records. In 1951, Benny Goodman was the
soloist at the Hollywood Bowl concert of September 15, 1951, with
Johnny Green conducting the orchestra.
Tom Lord's discography includes more than 30 listings of recordings
and broadcasts of Benny Goodman's Body and Soul. The first is
Benny Goodman's Trio recording of July 13, 1935. The last is the live
Budakan concert in Tokyo of September 3, 1980. In between, Benny
Goodman's international recordings and broadcasts of Body and Soul
took place in Sweden, Italy and Switzerland (1950), England (1955
and 1969), Germany and Switzerland (1959), Chile (1961), Russia
(1962).
Commenting in 1955 about his July 13, 1935 recording session,
Benny stated: "I still think of Body and Soul and After You've Gone as
ranking with the best I ever did." [9] According to Metronome, the
Trio's Body and Soul was the record of the month and "will give you
fellows goose-flesh." Abel Green, critic for Variety stated: "The swing
addicts will go curhazy [sic] for the Trio's version of Johnny Green's
Body and Soul done as a slow fox." Down Beat described it as "a
record that should be in the library of every hot fan."
The Benny Goodman Trio session of July 1, 1935 represents a
milestone in the history of jazz.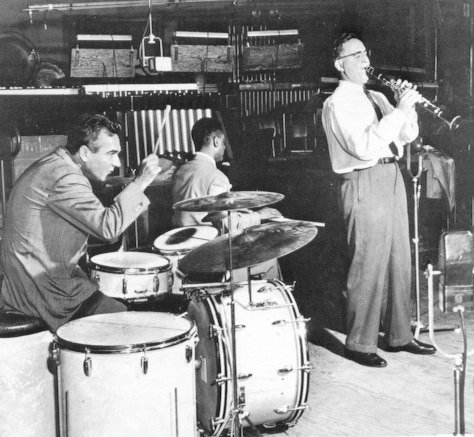 Figure 22. Trio reunion, mid fifties. Courtesy www.drummerman.net
Small jazz groups playing what has become known as chamber jazz
were quite effective in the 1920s: Joe Venuti and Eddie Lang, Joe
Venuti's Blue Four, the Five Pennies. But by the 1930s, jazz was
evolving into swing with big bands becoming prominent and highly
popular. Thus, Goodman's return to small group jazz was a complete
break with current trends at the time. The Goodman's small groups
(Trios and Quartets) produced some of the most innovative jazz in
the second half of the 1930s. The liberation from the rigid
arrangements for the big bands, gave the musicians in small groups
the needed freedom to display their creativity. Pianist Dick Katz, who
took lessons from Teddy Wilson, writes: "The Trio was informally
conceived at a party at Mildred Bailey's apartment in June, 1935, and
it seems that fate fortuitously brought together two of the most
technically adroit performers since Louis Armstrong and Earl Hines
collaborated in 1928. [Goodman recalled later, 'That night Teddy and
I began to play as though we were thinking with the same brain. It
was a real kick.']"Prodded by Gene Krupa's "hot" brushes, Goodman
and Wilson took collective improvising to a new level of clarity and
precision, and attracted listeners who had previously thought of jazz
(quite wrongly, to be sure) as a crude and even primitive musical
idiom. Aside from Goodman's obvious virtuosity and keen sense of
the jazz pulse, what really made the Trio unique was Wilson's vitalizing
and strikingly original concept of contrapuntal harmonic movement.
He revised the conventional stride left-hand by outlining the
harmonic structure of a piece with an uncannily well-placed series of
both consecutive and "walking" tenths." [10] Martin Williams
commented on Wilson's second solo in the Trio's recording of Body
and Soul: "His second solo is a brilliant invention, a beautiful new
melody, with no thematic relation to the original at all … a miracle of
originality in melody and phrasing." [11] Similar comments have been
made about Coleman Hawkins saxophone solo in his 1939 recording
ot the song. However, the Trio's recording, although highly praised,
did not attain, perhaps surprisingly, the legendary status of Hawkins'
recording.

Listen to this masterpiece:https://www.youtube.com/watch?v=Ko2c5yJp8G8

Albert


""








Posted on Jun 9, 2017, 11:48 AM

Respond to this message

Goto Forum Home