Nick Dellow
Posted Apr 21, 2012 9:58 AM



The following sound file contains clips taken from two separate bass sax solos/breaks, played by Adrian Rollini and the British saxophonist Arthur Lally. Placed side-by-side, these clips demonstrate that, as with  Bix, Adrian Rollini was highly influential on British musicians. Rollini plays first (taken from A Mug Of Ale, Parlophone R-3442 but originally issued on OKeh 40897), then Lally (this is from What Do We Care? sung by Noble Sissle, Parlophone R-128). Lally's tone is remarkably "Rollini-ish", as is his phrasing. It is likely that Lally heard A Mug Of Ale on Parlophone; the side was released by Parlophone just a few months after its initial release on OKeh.

 

bixbeiderbecke.com/ArthurLally/RolliniandArthurLally.wav

 

Rust lists the bass sax soloist on What Do We Care? as Perley Breed, but it's definitely Arthur Lally. The full personnel is not known. Known details are as follows:-

 

NOBLE SISSLE: Acc by Ronnie Munro dir: alto sax, clarinet / Arthur Lally, alto sax, bass sax / 2 violins / Harry Revel, piano / brass bass / drums.  London, April 29, 1928.

 

E-1897-2  What Do We Care?  Par R-128, A-2547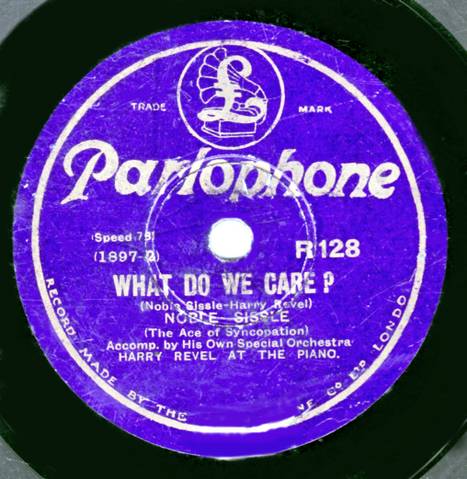 Here are the details for A Mug Of Ale, taken from Brian Rust's Jazz and Ragtime Records:-
JOE VENUTI'S BLUE FOUR: Joe Venuti, violin / Adrian Rollini, bass sax, hot fountain pen / Rube Bloom, piano / Eddie Lang, guitar. New York, September 13, 1927.
81433-C  A Mug Of Ale  OK 40897, Par R-2581, R-3442, A-2342, Od A-2340, 165195, 193104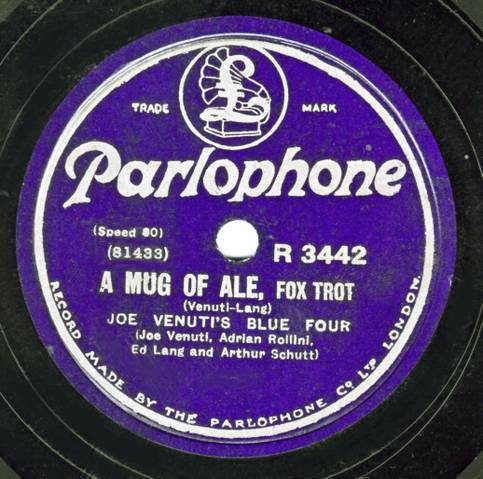 Below are links to the complete recordings of A Mug Of Ale and What Do We Care:-
bixbeiderbecke.com/ArthurLally/JoeVenutiBlueFourAMugOfAle.mp3
bixbeiderbecke.com/ArthurLally/WhatDoWeCareNobleSissle.mp3
Arthur Lally was born in Seaforth, just outside Liverpool, England, in December 1900. His father James taught him to play the cornet. Arthur switched to trombone before his teens, and by 1914 he was proficient also on trumpet, piano, violin and clarinet. He started his professional musical career in the early 1920s, initially playing trombone in a Liverpool dance band, before moving to London, working (as a saxophonist) with bands in various venues, including the Hammersmith Palais de Danse, Rector's Club in Tottenham Court Road, the Grafton Galleries in Regent Street and the Hotel Cecil in The Strand.
In mid-1926, Lally joined the Savoy Orpheans at the Savoy Hotel, playing clarinet, alto sax and baritone sax. He remained with Orpheans until early 1927, when he joined Bert Firman's band at the Devonshire Restaurant. During this time he was heavily in demand for recording sessions, so much so that an article in the Melody Maker claimed that he "has recorded for nearly every gramophone company in England". In 1929 he organised Decca's first studio house band, which waxed many sides in the 1929-1932 period, some of the early ones being notable for hot solos from Sylvester Ahola as well as Lally himself (mainly on alto, baritone and bass sax). He was briefly in the great Ambrose Orchestra in the late 1920s, at the Mayfair Hotel in London, and worked for Ambrose and others as an arranger in the 1930s. Some of his advanced arrangements were used by the Rhythmic Eight at Zonophone in the 1928-1930 period.
Apart from music he had a passion for motor-cars, as well as interests in electrical engineering and wireless. He also had a full pilot's licence, and in 1940 he asked to be allowed to pilot a bomb-laden airplane to Hitler's mountain hide-out in Berchtesgarten. The request was turned down by the War Office, and sadly he took his own life in his London flat in May 1940.