Posted Aug 7, 2012 10:38 AM



.... through the courtesy of jazz historian Ate van Delden. Thanks a lot, Ate. I appreciate your generosity.

The Sep 8, 1923 issue of the Daily Star, Brooklyn, New York gives an account of the plans to open the Cinderella.

The New York Evening Telegram of Sep 23, 1923 has an ad for the opening of the Cinderella.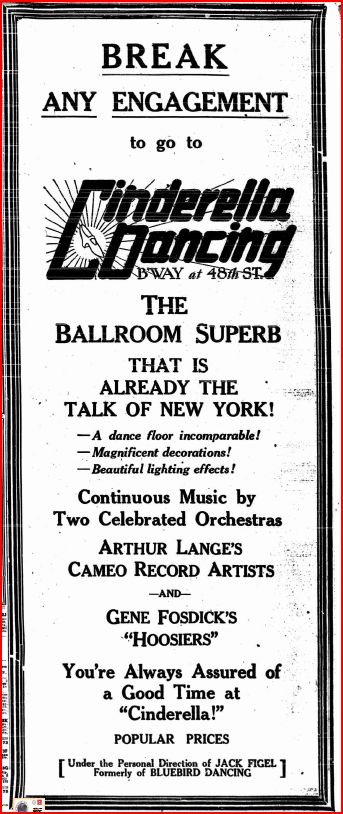 Note that the ballroom was called "Cinderella Dancing" and was located on the second floor of the building at 1600 Broadway.
According to the redhotjazz archive, thanks to the wealth of his dad Otto, Roger Wolfe Kahn was able to buy the Arthur Lange orchestra. Here is what Lange's  orchestra sounded like in 1922.
http://www.youtube.com/watch?v=XIf0Z0w8b4A
And here is what Gene Fosdick's band sounded like in 1923.
http://www.youtube.com/watch?v=6QOKU8-Ba48
A big improvement in 1924 when the Wolverines had their engagement, and in 1927 when Rollini's New Yorkers played in the same ballroom re-named Club New Yorker.
Albert