Thanks for your post here.
Look sis, I am so with your thoughts in your post, which you were able to communicate very well, UNTIL (
), this paragraph:
(The crunch one, I guess
))
*****************************************************************************
Chrirst revealed brings us to the further desire to be LIKE HIM, to be ONE with him.....why? Because the light felt so good, so holy, so wonderfully FULFILLING: its like this is what he waited for....this feeling and it is just here..........he doesn't have to buy anything or ingest anything or bargain for it.....here it is.........LIGHT and it feels like true LIFE for the first time. The dot knows now this is why he is made, why he exists..........
***************************************************************************
When you say Christ revealed here, do you mean the person jesus or The Christ Mind, or Quickened Energy Mind, the 'quickening of the mortal body'?. DO you use the term Christ as a convenient label?
The 'Spirit of God' can energise our mortal bodies? I can easily see Jesus, obtainer of the Christ Mind, Christ Consciousness and wanting all to have the same.
'It's so wonderfully fulfilling...'
I just get rare moments of that feelin, sis.
Yes, I desire that all the time. Smile.
Many get to this 'dot point' via various paths. They get TO it, but do they obtain it?
I recently saw a documentary with a guy who just one day collapsed, paralysed for about 5 hours or so. His whole body was shaking. When he recovered, he felt totatally enlightened. Everything was beautiful. He could see the connection with everything. One thing just merged into another. He was actually unable to get back into the real world. He just became a recluse yet not an unhappy one. All was still beautiful.
To cut a long story short, about a year later, this guy then, suffered the deepest of depressions. He cried at every little thing. A kind of adverse reaction to enlightenment??
Now he is living between the two as such.
Your phrase:
"it seems like the ego with all its needs and desires were nothing compared to this COMPLETELY empty void and dark HOLE that he finds now as his existence:"
reminded me of his experience.
Yvonne, let me think a lttle more on the rest of your post, from:
this is the TRUE BEGINNING OF MAN.............the earth now is void and without FORM......but this emptiness turns out to be the DESOLATION (of the ego) or of the abomination within us:
I want to think on it some more.
I really appreciate your thoughts here. I feel we are pretty close here though I have not yet reached, well, maybe I have, but not obtained The Light.
***************************************************************************
The guy mentioned here is J C Mac.
If you get the time you might want to see his story.
Never mind if you don't.
Love
Jackie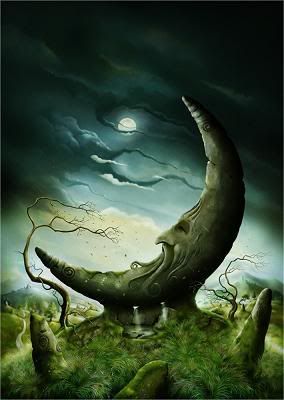 "Not everything that is true need necessarily be divulged to all men."