don't think so - but yet you would still be able to speak because you learned it from those in your enviroment: the BIBLE is the letter of what PEOPLE EXPERIENCED before they wrote it down - just like a person speaks before he learns how to read and write the language he is speaking - everything YOU THINK YOU KNOW about reasoning is taught to you - the only PURE REASONING is based on PURE experience - and the writers of the BIBLE had this PURE experience - the rest of them read about it and preach it as something OTHERS SHOULD HAVE - but the truth is, UNTIL ONE experiences what is written in the Bible for themselves, they will just think it is 'manmade garbage' - if MAN really created the God of the Bible, the ONE that MAN can't NOT come to a concensus to or understand without the same EXPERIENCE the writers had, then why did MAN create such A STRANGE GOD??? - seems to me man creates things to make life easier and not more difficult

None of the above actually addresses what it is in response to.........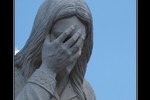 ---

rejected and denied by many, accepted and embraced by few : incontrovertibility
- it is not what we (think we) know that matters, it is what we can show true that does
as the maxim demands; truth is demonstrably fact and fact is demonstrably true
everything else ... mere BS -

New!! Improved!! Now With CD-Formula!!



CD: short for incontrovertible