If the substance of the spiritual experience is always and everywhere the same, differences in its expression and interpretation are secondary and not a valid cause for conflict and intolerance.
Humans are not in conflict, their ideas are. The conflict of ideas and information is naturally present in all forms of communication all the time. By understanding this very simple concept we can all learn to benefit from conflict instead of identifying with it. If you identify yourself with an idea, then you set yourself up to be 'destroyed' when a dominant idea presents itself. We happen to confuse who we are with what our idea is. We create a false map of ourselves when we identify ourselves with an idea. We do this all the time. This is important to understand. the map is not the terrain and the menu is not the meal.
All ideas conflict. This is the very nature of the universe. All ideas, all information, is in an eternal state of conflict and war. This is the battle between good and bad, light and dark, right and wrong. This side VS that side. All ideas are one or the other. They can be true or they can be false. They are on this side or they are on that side. This is an important thing to observe. All the time. Just because ideas conflict does not mean we do. Yet, for thousands and thousands of years this was the only way to go. But humans are not in conflict, their ideas are.
Ideas spread. Inside of us and outside of us. All actions, creations and advancements within civilization throughout all history are due to one thing and one thing only. Ideas. Ideas that work and effectively solve problems or create opportunity have slowly developed an ever increasingly functioning society. Our ideas of the world shape the world. Ideas that have been contributed by people like you and me. Ideas spread all the time. The nature of an idea is to go. Ideas are nouns that are the potential of verbs. Ideas contain the seed of all action. All the time.
Ideas are Memes. They are units of organized ideas or a sole idea. Memes perform in a similar fashion to genes, they replicate. Exponentially. They increase in number. Ideas follow the laws of nature. The laws of nature can be expressed in math. Math is certainty, not faith. By applying math to problem solving we can have certainty instead of uncertainty. The laws of nature insure the survival of the smartest. Only the smartest of ideas survive. All the time.
The nature of conflict and idea is quite a powerful formula and concpet to comprehend. Feelings do not think, thoughts do not feel and the human brain can only comprehend three categories to put information in. All the time. Meme 012
Ideas replicate, inside of us - outside of us. There's no stopping them. The dominant idea will always prevail, inevitably. It will defeat all ideas in conflict with it. This is the law of all conflict.
Do not confuse yourself with this Meme! This Meme is only the menu, it is not the meal. It is a map - not the terrain - to understand how ideas perform and function. When you confuse yourself with this meme, you create dis-harmony. When you understand you are not this Meme, you create synergy. Synergy is created when all sides contribute and all sides win. Synergy is synchronicity. Synergy is created by the laws of nature. This Meme creates synergy when there is disagreement or agreement. This Meme is a communications tool that creates synergy in dialogue on all sides. This Meme is a dominant Meme. A dominant Meme will eventually 'destroy' all ideas in conflict with it. All the time.
- A King Meme is an idea that has become strategically dominant - it can no longer be defeated in the realm of rational and honest discussion.
- A Master Meme is a supreme idea that will challenge and destroy all ideas in conflict with it - whether we agree with it or not.
- A Master Meme is a Meta King idea that comprises more King ideas operating as necessary truth' inside a memetic environment - performing in complete and precise synthesis/synergy with all other Master Memes.
- All the time.
Realize you just have been exposed to, and infected by, a Meme about Memes - a Master Meme.
---
rejected and denied by many, accepted and embraced by few : falsifiability
- it is not what we (think we) know that matters, it is what we can show true that does
as the maxim demands; truth is demonstrably fact and fact is demonstrably true
everything else ... mere BS -

New!! Improved!! Now With CDEH-Formula!!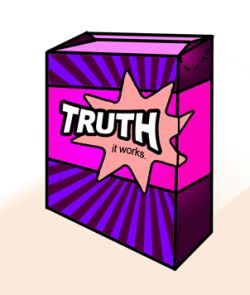 CD: short for inevitability