Hey guys! I thought I would share my new Mrod with you all. I haven't done anyting to it as far as tuning but I did do a couple things to it. My pops gave me a .25 Mrod for my birthday and I'm stoked. I was going to build a custom .25cal repeater bolt action rifle based on the Mrod so I started collecting some parts and I ended up putting them on this. I've got some ideas in the works and this thing will be different down the road and of course I'm gonna try to work my magic on the valve to see what I can do with this rifle. Since this has a velocity adjuster on the valve I'm going for a high power build cause I can use that screw to slow it down if needed. 
I had purchased a camo stock from Crosman  a couple of months ago and also purchased a titanium trigger for the Mrod because I was planning to use them on my custom build but they are now on this. I drill some holes in the stock inside by the forearm area and I also took the butt plate off and drill some holes in the butt stock, I still meed to clean it up but you can't see it so I'll do it later. It weighed 3.5 pounds before I drilled and 3 pounds after. The trigger is a little more curved and feels better than the stock one and of course it's a little lighter. I don't know about anyone else but this is the best trigger action I've ever felt on a pellet gun and that was before I installed the new trigger.
[IMG]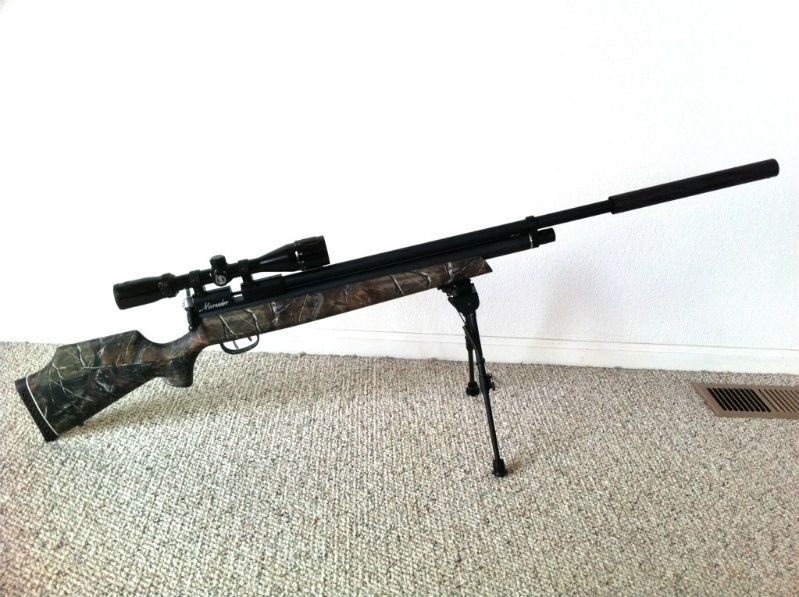 [/IMG]
[IMG]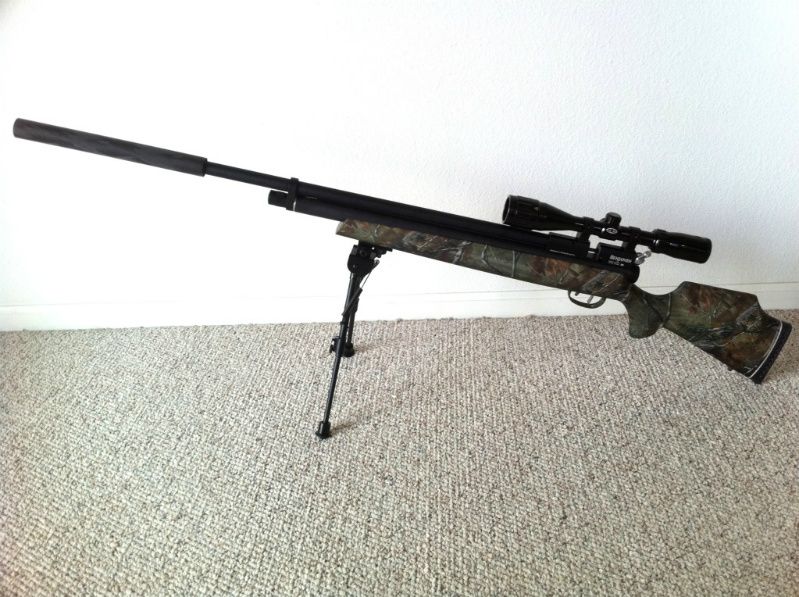 [/IMG]
[IMG]
[/IMG]
I'm left handed and I'm use to right handed bolt actions but being this a repeater and a 10.5 pound rifle w/bipod (getting a new scope that might drop another pound) it's a pain in the butt when you want a follow up shot when holding the rifle. I don't mind using my right hand when I'm loading singles shooting on a bench or using lighter and or better balanced rifles that's easier to hold up with the trigger arm. I went looking for left handed fixies and I saw on another forum where this guy machined a new slot in the breech and air tube and did a couple other things and made it look stock but I didn't want to attempt that yet since I'm still learning how to use my lathe correctly and messing up a breech would suck. I took a simpler route and made a handle out of 7075 aluminum 1" rod. I had to make some clearance so I decided to mill it and I didn't tighten the handle good enough in the vice and it slipped causing the mill to dig in and I couldn't tell at first but once I started sanding it I noticed that I poked a hold in it just under the mounting bolt. I drilled a hold in the end of the bolt and tapped it to accept a 10/32 bolt which is used to mount the new handle.  I'm gonna make another one but for now this one works and it's now the prototype so I didn't finish it up that well and I know what exactly to do next time. It works great but you just got to remember to push up instead of pulling down once closing the bolt to lock it. Also since I had the bolt out I decided to make the air flow channel flow smoother so I took my dremel and a diamond coated ball bit that was a tad bigger than the channel and work on it for maybe a minute or two. I did take some 1500 grit paper to it to make it smoother too. It worked great. I gained 20fps through out the shot count by doing this. Couldn't believe it so I shot 4 more clips through it to make sure and got the same results with all the clips refilling the air chamber to 3000psi after 16shots or two clips. I came across this mod on another forum where this guy smoothed his bolt out and gained 10-12fps through out his shot string. So it thought I would give it a try, didn't think I'd gain 20fps but I did and I'm stoked.
[IMG]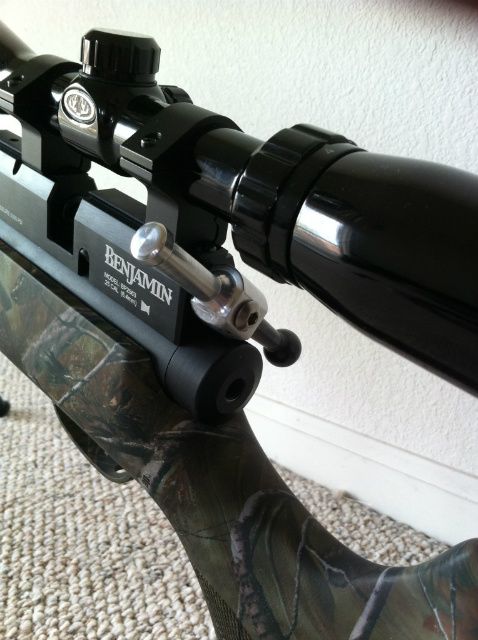 [/IMG]
[IMG]
[/IMG]
[IMG]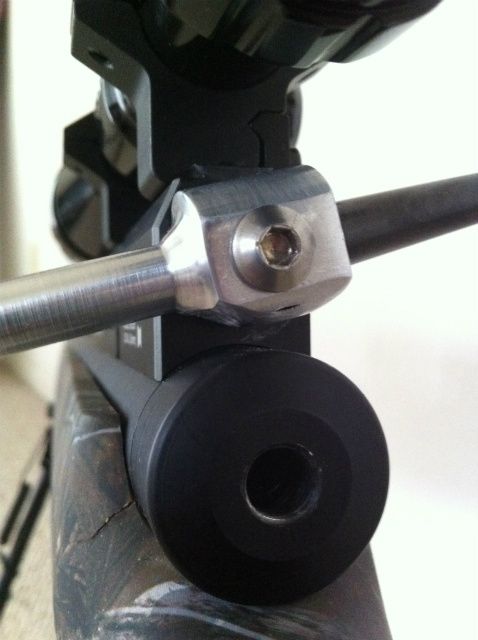 [/IMG]
[IMG]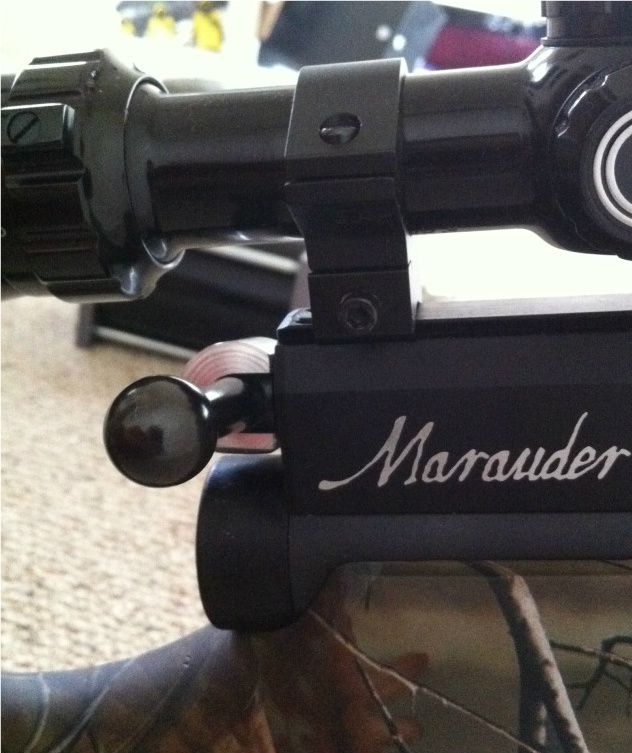 [/IMG]
[IMG]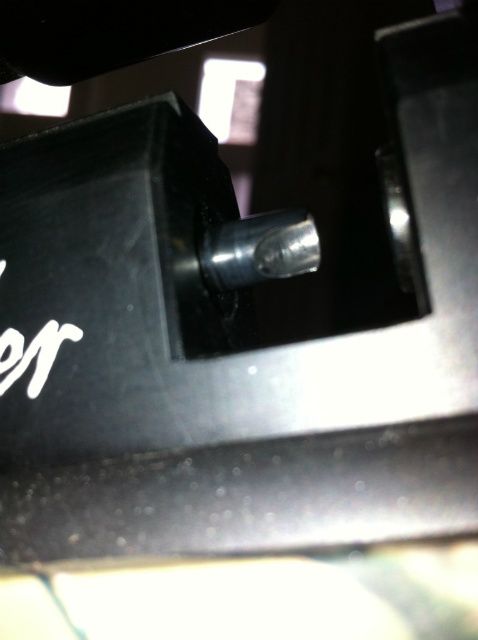 [/IMG]
Here's a 16ct shot string after I smoothed the bolt out. Before I smoothed it out it was starting off with 850's then peaking with 863fps and ending within the mid to high 820's after 16 shots. I'm using jsb 25.39 exacts and it's the stock hammer spring and valve velocity settings from the factory. I still haven't touched those.
877.8 - 3000psi
875.3
877.6
873.8
877.2
873.5
877.6
881.9 - 2600psi
877.8
878.9
873.3
872.4
863.6
859.8
853.2
845.3 - 2180psi
The ldc is made with carbon fiber tubing and delrin. I had it laying around cause I don't have any airguns right now that take 1/2"x20 thread on attachments. I also had some delrin pieces laying around that I could use so I machined the delrin to fit the shroud end cap and drilled two holes through the delrin into the endcap to hold it in place with set screws and installed it in place of the 1/2"x20 piece that was in ldc. Worked out pretty good and I've got a new end cap on the way to make it a easier switch. Not only does this thing collect lead dust it also made the rifle more quiet.
 The Mrod ping got to me like a lot of other Mrod owners so I made a depinger and installed two pieces of 1-1/4" poly tubing about 5/8" wide that I cut notches along the sides then installed them by folding them instead of cuting them down the middle and overlapping them. Amazing no more ping! I'm making a new shroud for this soon and I'll post pics once I get that done.
Here's pic of the shround end cap installed in the ldc.
[IMG]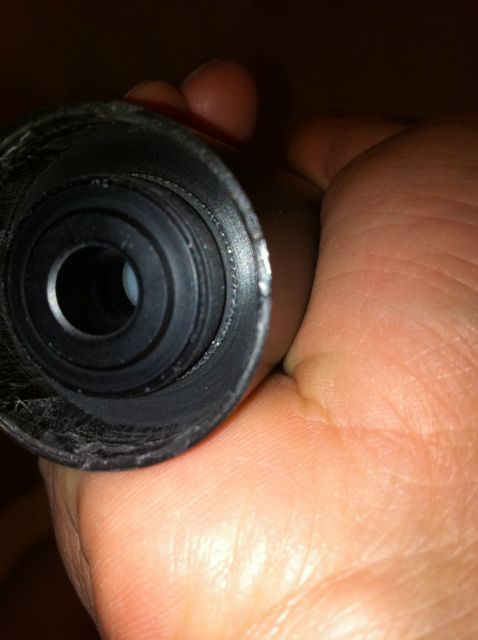 [/IMG]
This Mrod is gonna end up like my other two crosmans where they're modded out pretty good and far from stock.
That's it for now! Sorry for all the writing!
Dave