Well, I wanted to post this the other day but caught a bug and just didn't feel like doing anything for the last three days. Anyway, I shot the gun with several types of pellets and took a picture of the target. All shooting was at 25 yards which may be a stretch for my shooting ability. I used sandbags to rest the pistol the best I could. It was outside and the wind was blowing a slight breeze most of the time to the left. I made no attempt to hold off for wind but did have to hold a mildot or two over with some pellets just to keep them near the poi. I adjusted the trigger as light as it would go and measued it with my RCBS old school trigger guage. It is right at 9 oz. now. The trigger can be adjusted from 40 oz. on one extreme to around 9 oz. on the other. It is fairly consistant although once in a while I notice a lighter trigger pull than the others. I can't explain that. If it were mine I would work with it and see if I could lighten it up a bit more and get it real consistant. I started out chronographing the shots but it was getting late in the day and my prochrony quit working so I just shot. The one target is the one I shot at 50 ft. indoors the other day. I scored a 231 with six x's. Not too bad for the first time shooting with this gun. The gun seems to like good match grade pellets real well as well as those JSB RS pellets and some others.
Target shot at 50 ft. indoors. Scored 231 by 25 yard benchrest standards.
Target #1 Crosman Hollow Points chronied 382,402,384,385,405, 1 3/4" group 5 shot
#2 Beeman Trophy Chronied 425,440,434,and chrony stopped working 1" 5 shot group
#3 RWS Super Points 1/2" 5 shot group
#4 Benjamin Discovery 10.5, 1 1/8" 5 shot group
#6 Beeman Kodiak 1" 5 shot group
#7 RWS Meisters 7.7 gr. 6 shots 5/8"
#8 Wolverine 8.44 FT domed 7/8", 5 shot group
#9 no shots on that target
#10 Crosman Ultra Magnum 10.5, 15/16" 5shot group
#11 JSB Heavies 10.3 gr. 5/8", 5 shot group
#12 Crosman CPH 10.5 gr. 1 1/8" 10 shot group The wind picked up here and I shot ten shots but they show promise. Pellets were weighed and lubed with slick 50 one lube.
#13 Beeman FTS 1 1/4" 5 shot group
#14 JSB RS 7.33 gr. 5/8", 5 shot group
#15 JSB 8.4 domed 1 3/16", 5 shot group
#16 Crosman CPL 7.9 gr. 1 1.8" 5 shot group
#17 R10 7 gr. 1 5/8" 10 shot group. Gun likes these but the wind blew hard and blew this group some so I shot ten.
#18 H&N Match Pistol 3/4", 5 shot group
#19 RWS Suoerdine 1", 5 shot group
#20 JSB match Rifle 1 1/4" 5 shot group
#21 Got confused. Can't remember which pellet I shot here but it was good. LOL.
#22 Crosman Supermatch 1" 5 shot group
#23 R10 8.2 gr. 1" 5 shot group
#24 RWS Club 7.0 gr. 1 1/4" 5 shot group
I measued the groups with a ruler so this is not exact but close.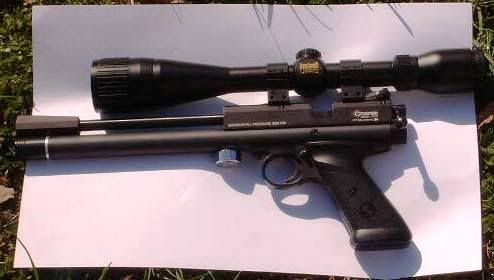 This is how the gun looks with the Bushnell Legend scope on it.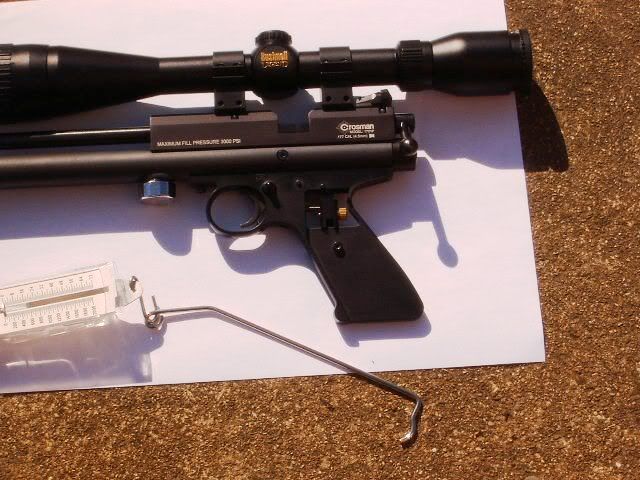 This is what the trigger weight adjustment screw looks like. It is easy to turn with you fingers. I would like to have another shooting session or two with the gun and then send it on to the next lucky recipient.
Thanks,
Bob in WV
Never get in a hurry, it only slows you down.