The answer to that question is YES! Well 88.75 fpe to be exact! I finally did a power tune on my Mrod and it's a beast! I had a problem though - while shooting it a piece I had installed in one of my baffles moved and a pellet clipped it and it blew out my end cap and the baffles. I found 4 of 9 baffles and only one is good. Sucks but my carbon shroud is still in great shape so I can make a new tip and make this thing a little more quiet again.
So I took what I learned from the 22xx based guns and did the same thing to this valve. It's amazing! It shoots 43gr Eun-Gin pellets at 964.2 fps for the first shot and 943.4 for the second shot and 885 fps for the forth shot - this is with a 10# spring installed - I wasn't able to run it through the chrony with a stock spring but I estimate it shooting a 43gr pellet around 900fps - I compared it to my custom 70fpe .25 cal rifle and it was shooting harder than that one. Someone on the marauder site asked if a Mrod could dump it's power in the first 3 shots and able to shoot a 43gr pellet at or near 1000fps - I thought I would try it and I came pretty close. I think I could gain a few more fps but it's pretty much maxed out. I liked the way it was shooting with the stock spring at full compression cause I was getting 8 good power shots compaired to the 10 pound spring.
43gr. pellet doing 964.2 fps / 88.75 fps - is awesome!
I know some guys are gonna say power isn't anything without accuracy and I know that. I've seen .25 cal rifles shoot 25gr pellets over 1050 fps and they aren't having any issues - event the full auto is shooting accurate so I don't see why this one won't. It was shooting very accurate before and it's shooting 1 hole-ers at 14.4 yards now (yes that's a small distance but it's still good). Once I get some new baffles I'll do a accuracy test at 50 yards and more.
here's a couple snap shots of the chrony
[IMG]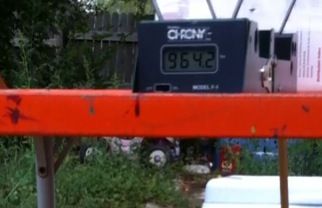 [/IMG]
[IMG]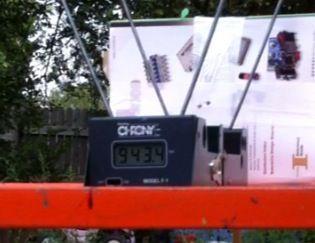 [/IMG]
Dave