Tom had some kind of electrostats I believe . KT88 tubes should be very clear they were over engineered "kinkless tetrodes"
here is a pic of my speakers . A little more conventional than yours they use an E145 woof 2123 mid 2404 tweet , housed in a rare pair of EN5C enclosures , which jbl sold to people that wanted to roll their own , they are 5 cubic feet . I use a jbl 6290 power amp , solid state, 300wpc and it will double that if the impedance is cut in half. also have a dual turntable that wont skip a beat even up around 130db .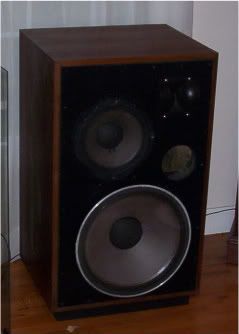 "The Japanese had already rounded up the cow trailers so we had to build horsepower"
Gary Robison