Dan, I've found the pictures.
There are three photos. The captions and names were imprinted on the cardboard frames of the two class pictures. The frames were too large to scan so I've typed the names here.
1. OCS Graduation Parade
Sandy McQuarrie is on the far left. Immediately to the right and behind the reviewing general is
Bob Mahar. That's me on Bob's right with the jump wings - note the absence of wings on the others. Where the "P" beside their names came from is a mystery, but it certainly did not come from the Class of '63.
We've discarded the white flash under the one pip on the epaulet and are now 2LTs.
[IMG]
[/IMG]
2. No 14 OCP Phase (1) The Royal Canadian Army Service Corps School
Officer Training Company Camp Borden Ontario 23 sep 63 - 13 Dec 63
Those of us who came from the ranks have given up our regimental cap badges for the three maple
leaf and crossed swords General Service cap badge. A few, like HF Todd who was previously PPCLI
enlisted, did not make the cut. John Bremner and I are the ones with wings, both PPCLI enlisted.
[IMG]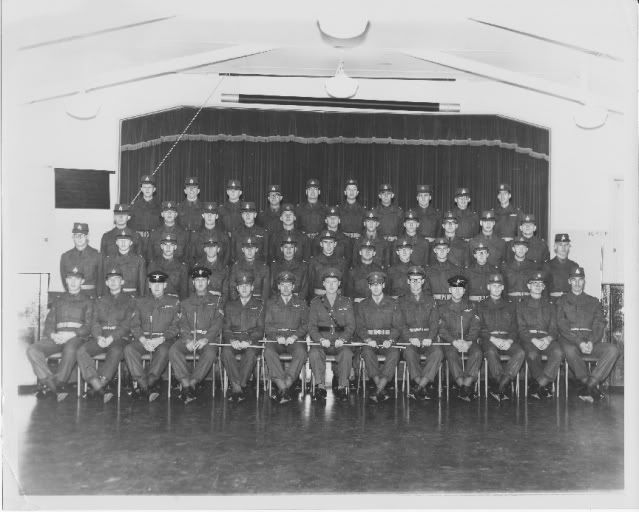 [/IMG]
FOURTH ROW - O/Cdts WL Spivey, DV Craig, RA Cathcart, JPD Robinson, AC Stupendick, KG Stowell,
JR Pleasance, JT Magee, WJ Tudge, AV Itenson.
THIRD ROW - O/Cdts EB Beno, JP Chartres, HF Todd, JS Bremner, PW Forsberg, WJG Bewick, NE Pope,
ER Campbell, MF Fransen, JF Harrison, W Ratz.
SECOND ROW - O/Cdts JD Lawe, DE Cavanagh, RC Mathias, JRB Lepine, DC Burt, RL Sindlinger, PN Busby.
JAP Robichaud, EJ Ashford, JEG Bisson, PR Philp, PA Tappin, JTF VanWill.
FRONT ROW - left to right - O/Cdt BA Goetze, O/Cdt PW Leary, Sgt Burleigh (Pl NCO), Sgt Weiland VE
(Course NCO), Capt WA Desjardins (Instr), Capt VR Taskey (Course Offr), Major DS Buxton (OC OTC),
Capt C Fusedale (Pl Offr), Lt J Guthrie (Pl Offr), Sgt Keigan TE (Pl NCO), O/Cdt PJ Struck,
O/Cdt RDJ St Louis, O/Cdt BHL Blanke
Note: Caption and names as imprinted on photo folder/frame.
3. THE ROYAL CANADIAN SCHOOL OF INFANTRY
Tactics Division - YOTC Course
Camp Borden, Ontario 22 July, '64
This is a motley crew consisting of OCS graduates and new LTs from RMC and ROTP - There were also cadets from Nigeria.
Ian Patten is, for some reason, absent from this picture, as noted on the lower right corner of the frame.
[IMG]
[/IMG]
REAR ROW (left to right) Lt R Mansfield, 2Lt JMN Lemieux, Lt DH Colpitts, O/CDt VV Ashdown,
O/Cdt CP Lewis, Lt JJ Baillio, 2Lt JJMR Gaudreau, 2Lt JFXA Dumont, 2Lt MPAPA Bergevin,
2Lt JPCE Bertrand, 2Lt JA Selkirk, Lt EJP Carson, Lt JC Matthews, 2Lt JM Verrette, 2Lt GA Meyer,
O/Cdt R Cohen, Lt JO Dendy, 2Lt DS Brodie, 2Lt DG Declerq, 2Lt MS Turner, 2Lt BW Ashton,
Lt CE Stamp, Lt PJ Phillips, Lt NW Brunelle.
ROW NO. 3 (left to right): 2Lt AR Wells, Lt CE Durant, O/Cdt GK Jensen, O/Cdt D Suleiman,
2Lt AG Miller, Lt RG Day, 2Lt NE Pope, 2Lt RCJ Bruce, 2Lt JPR Girard, 2Lt JLMP Audet,
O/Cdt BL Iloabaehie, 2Lt GO Manning, O/Cdt MM Yelwa, O/Cdt AS Brodet, 2Lt AJJ Peterson,
2Lt JT Magee, Lt LE Grimshaw, 2Lt AV Itenson, 2Lt AD McQuarrie, 2Lt JS Bremner, 2Lt DG Leaf,
Lt PL Northcott, 2Lt WM Leonard, 2Lt DW Moon, 2Lt F Schutt, Lt W Sliwinski.
ROW NO. 2 (left to right): 2Lt WE Cook, 2Lt MJE Sinnott, 2Lt RG Glover, 2Lt DV Craig, 2Lt RJH Mahar,
2Lt KJ Radley, O/Cdt IOS Nwachukwil, 2Lt JAY Sarrazin, 2Lt JERG Rousseau, 2Lt JEJ Brindamour,
2Lt JAP Poisson, O/Cdt JKCA Roy, 2Lt JPR Chouinard, Lt JHG Hasek, 2Lt TP Power, Lt JA Boyd,
Lt K Knetsch, Lt KJ Heffernan, 2Lt VR Martin, 2Lt J Fuller, Lt IICA Phillipe, 2Lt WJ Bewick,
Lt EH Bain, 2Lt JF Harrison.
ROW NO. 1 (left to right): Lt PR McCumber, 2Lt JE Cadieux, 2Lt W Ratz. 2Lt JG O'Brien, Sgt Faribridge P, Capt JR Bishop, Cappt HA Pankratz, Capt JG Dion, Capt HJ Traynor, Capt DB Ells,
WO1 (SMI) eP Shaw, Maj RR Lilley (OC), Maj HDR MacKay, Capt GF Tibbetts, Capt JA Jean,
Capt RS Donnelly, Capt JR MacPherson, Capt EM Canfield, Capt DG Dean, Sgt Marsh AJ, Lt JGD Pass,
2Lt R Nice, O/Cdt GL Boudreau, Lt RJ Brunner.
ABSENT FROM PICTURE: 2Lt PN Busby, 2Lt OA Meyers, 2Lt FJ Marentette, 2Lt IE Patten,
2Lt RW McPherson, 2Lt JMJY Morin.
It's a quirk of fate that a photo of Ian appears to be so elusive.
Alex
PS Pardon any typos - there was a lot of typing!!!
A couple more - here's a group photo of our Rivers Serial 336/Mar 1960. Some did not qualify.
The photo illustrates the period dress with instructors in jump smocks and jump boots.
[IMG]
[/IMG]
This last one is a newspaper clipping that was packed away among the photographs. I believe it's from the 4CIBG newspaper, The Beaver, and although I'm not positive, the picture is of our demo team loading up in a British Army Beaver for a demo jump into Ft York in 1966 or 1967. The jumper with his back to the camera is me.
[IMG]
[/IMG]