I went back and reviewed the trailer again (I don't get the History Channel due to the cable company's idiotic "bundling" policies which ensures I have to pay top dollar for at least half a dozen channels I have no interest in watching in order to obtain it) and some of the other details did jump out. I don't like to be "one of those guys", but you are correct that the details do start to mount and there reaches a point at which you ask - if they didn't bother to research basic stuff that could easily have been gotten right, what else didn't they research?
I can understand the difficulty in obtaining a Sherman III with Duplex Drive in running condition; a little less easy to understand why I saw all the Regina Rifles running around with standard rank badges rather than rifle regiment pattern badges. The Saskatchewan Military Museum has a ream of data on regimental insignia - I know, I've talked to the curator a number of times. Obtaining replica insignia is not difficult. There was no reason not to have gotten that part correct.
Similiarly, I can understand not having the funds to obtain assault jerkins, necessitating the use of standard webbing, but the shots of the tank interior I saw made it clear they were filming from inside a poorly neglected piece of equipment.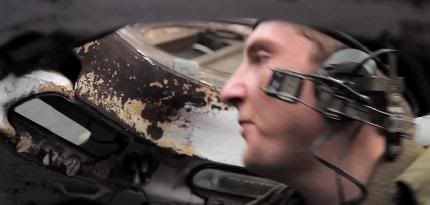 This isn't normal "weathering" circa 1944 but someone shooting inside a 50 year old tank derelict that had been only partially restored for the film. I think Michael might also have something to say about the headset and microphone. Again, a coat of paint, or even finding a tank turret in better condition - or even building one if necessary - would have made this look less like a tank hulk and more like a well maintained piece of military equipment. This was supposed to be a Sherman seeing action for the first time, not something pulled off of gate guard duty and restored for film duty after five decades.
I don't like to crap all over something I haven't even seen, but I agree with the comments in principle that small details are indeed important and that the viewing audience is more discerning today - particularly when such a program is placed in a venue such as the History Channel, where viewers are on the whole more likely to be knowledgeable - and critical.