Some picts from a sounding trip to Whitson L, up the Petawawa R. Short solo, only 2 nights last weekend. Unfortunately for me the winds were quite gusty despite the forecast of 5 km/hr both days but did finish sounding her.
On the drive up stopped to help this little painted girl make her way back to her pond safe/sound.
Landing on McManus late Saturday afternoon to slight south winds helping me out on the 'upriver' paddle.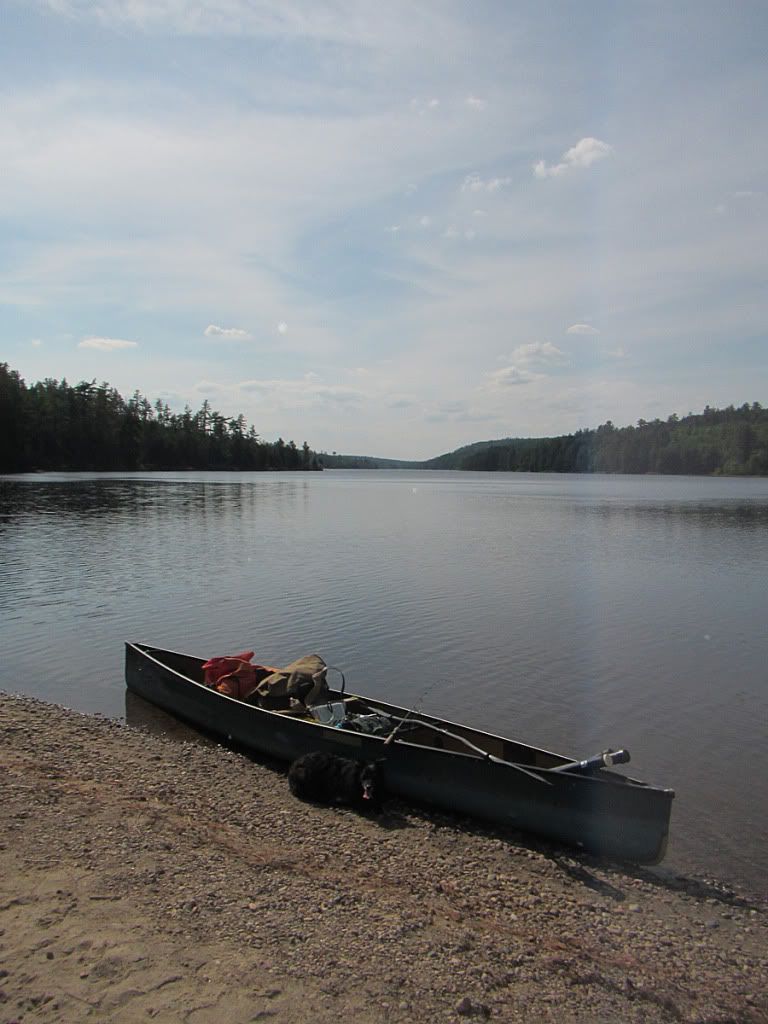 It was a fun and leisurely paddle up to Whitson. Watched an osprey grab something from the water (snake or fish?) on Smith Lake, lined both sets of rapids (McManus/Smith and Smith/Whitson) and just ran them on the way back, so no portaging. Roughly 1.75 hours to get to Whitson L.
I had brought another one of my old stoves along on this trip to help with the cooking, an Optimus 8R. Here she is boiling up some morning java.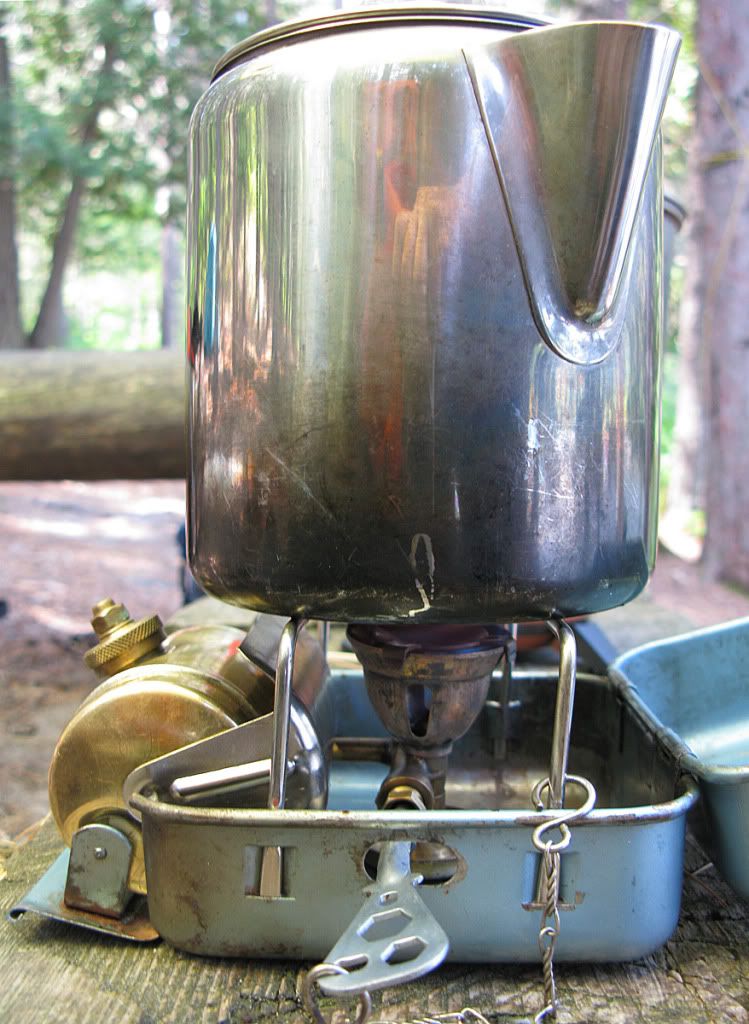 Made it kind of a cappacino with powdered milk (frothed, not stirred...)
Yummy pepper/cheese/onion brunch with plaintain and English muffins. All cooked on the Coleman Exponent 550B-725.
Finished, with some fresh rainbow trout caviar on the side (home made). The eggs were sourced from a 'bow which was caught locally from a stocked lake a few weeks back.
My attempt at an 'iced' (e.g. air-temp) coffee needs a lot more work (ugh...).
Did a few hours of sampling in the backbays and inlets to avoid the strong winds that ripped through the lake. Got back for an early dinner. One of 4 smallmouth incidentally caught/released. All hit 5" swimbaits cast from shore - hungry buggers.
Cake baked on the Optimus 8R, split in two with one half covered in raspberry jam (tort-like). I ended up only eating a small portion of this, the rest came home for the kids, lol.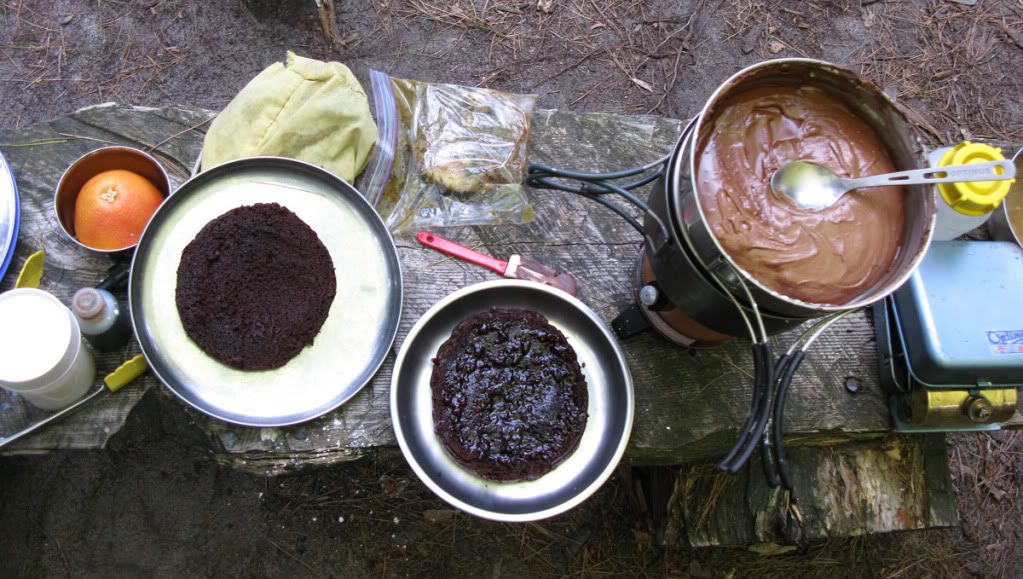 Dinner of cold-smoked ribs and jerk chicken. Pot being readied to slow boil the ribs for an hour before bbq'ing.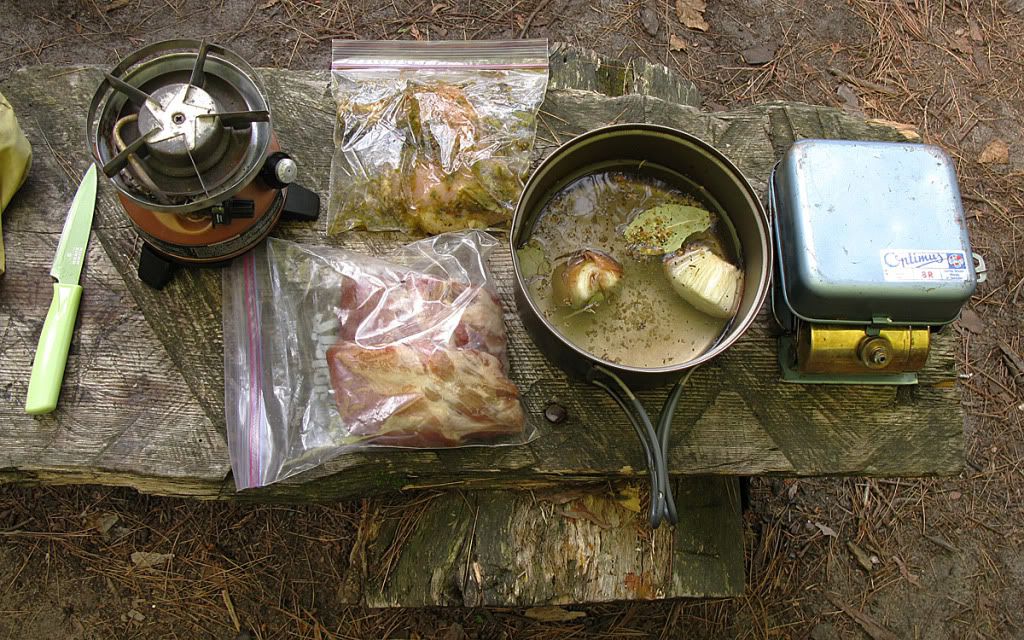 Seasoned rice was cooked in the pork broth, and it was delicious. The ribs were amazing, love that cold smoker (first time I did ribs with it).
Next day finished sounding the lake and took a walk to an adjoining campsite, which was nestled in a glade or meadow of wildflowers. Bee(?) on daisy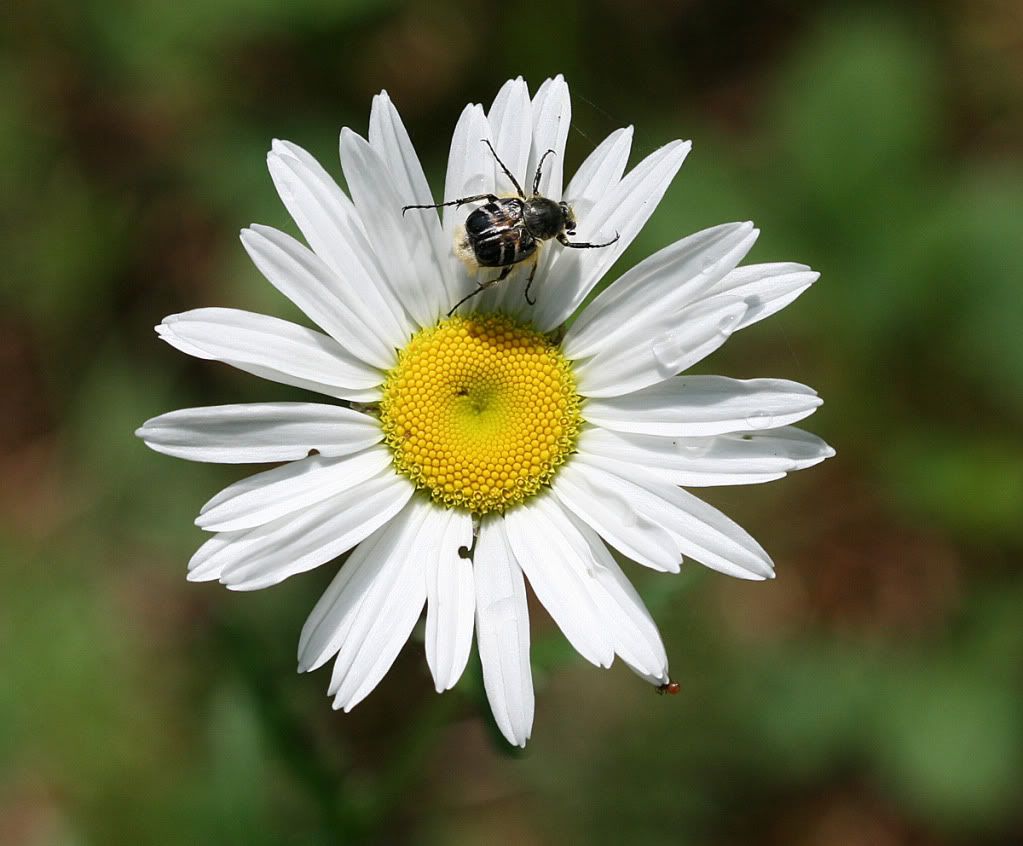 Paddle back spotted this white tailed doe, Mutt started barking at it from the bow and she took off into the woods. But she could be heard 'huffing' or 'snorting' in the greenery.
Helicopter buzzing the south end of McManus, presumably from the Petawawa military base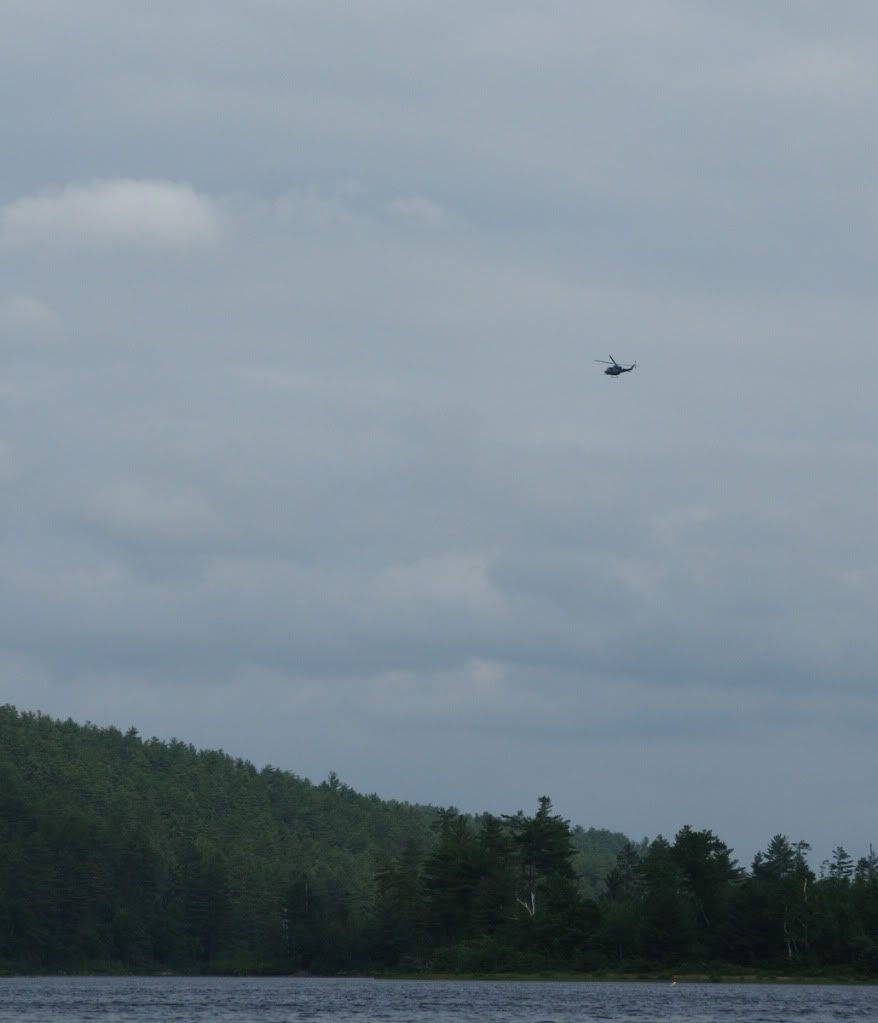 Blue Flag iris on the shore of McManus.
Mutt walking the shoreling.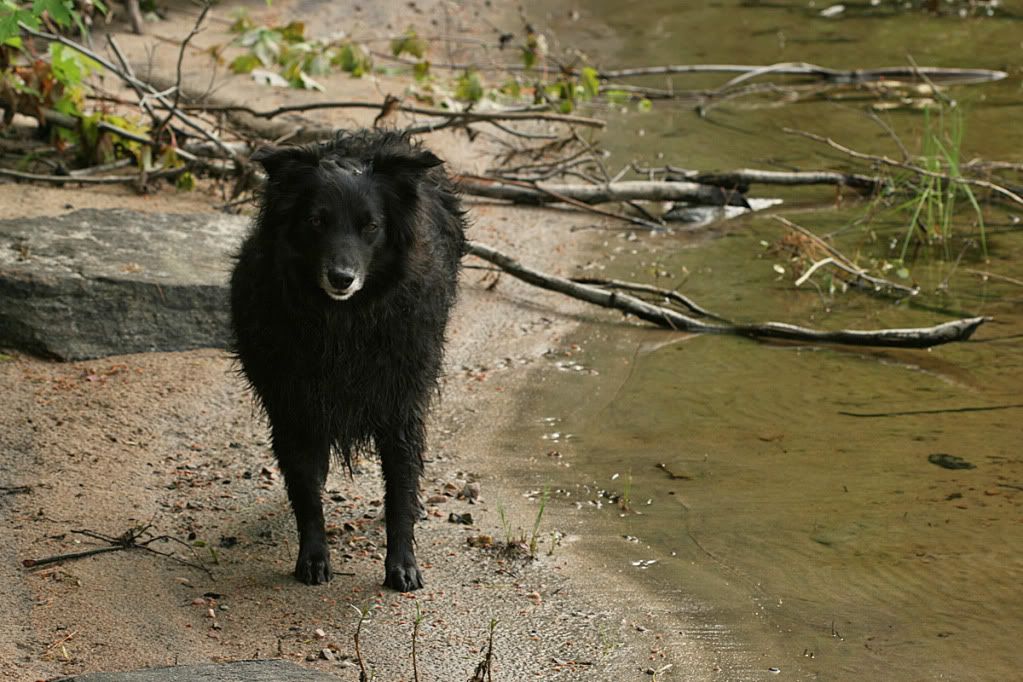 Swimming shrew along the shore.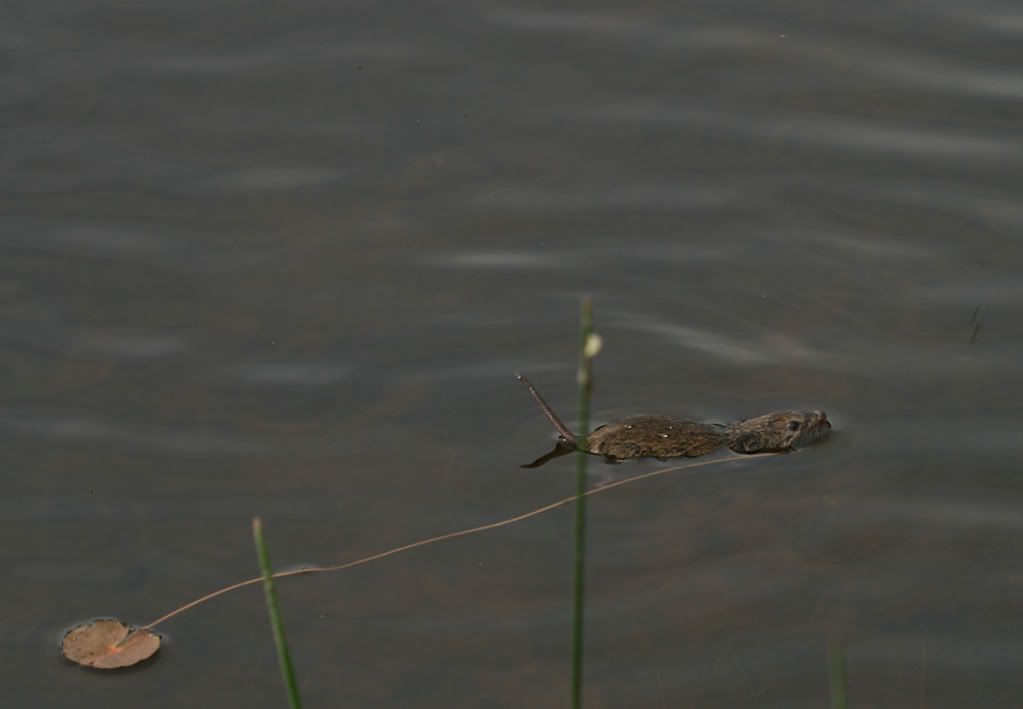 Whitson is a nice lake but awfully shallow with beautiful silver maple growing on her many islands. It reminds me of an estuary off the Rideau or Ottawa River - very shallow throughout with many lilly pads/bulrushes and other aquatic vegetation. For the fishing no musky, only out of season smallmouth. The 'problem' with Whitson is that I couldn't troll - it's too shallow. So I had to put the rods away and just paddle to do my tansects and properly cover the lake. The deepest spot was 20' deep, in a small hole by our campsite. Otherwise the average depth is 4' or less with weeds everywhere. Didn't even get an opportunity to fish for walleye or catfish, only cast from shore @ the campsite. Hopefully get back there in the fall and spend time casting for musky in those extensive weedbeds.
SM