This is a pict-based summary of a 4 nite solo trip down to Shoal Lake, just north of Radiant L. Access from Wendigo, then south down Allan/North D and North River, reversed for the trip back up. Wet, damp weather for the most part with periods of gusty winds and cool nights/mornings but only two other groups (both solos) encountered. Day time highs reached between 16 C and 22 C and lows of 6.5 C to 12 C. Water temps were 68 F for the course of this trip. Good year for mosquitoes so they were out taking advantage of the wet weather. Blackflies weren't in short supply either but they're never much of a concern. Clouds of no-seeums encountered on Clamshell L after sunset but still no deerflies and only one horse fly encountered. Blueberries are now green, as are the serviceberries (another month). A bear and moose on the drive up, a deer on Shoal L, a painted turtle on North River, fireflies on Clamshell, blue herons in the river stretches and marshes. A few ruffed grouse still drumming, a stoic hen encountered on one of the portages and myriad of boreal birds and waterfowl (including Canada Geese) all seen or heard on the trip. Caught 5 brookies (all but 1 released), 8 walleye (one kept) and 3 fallfish (all released).
Left Ottawa early afternoon for the Brent rd. About 5 km west of Stonecliff a ~250 pd black bear booted across highway 17 (north-south) about 80 meters in front of the car. I slowed the vehicle down as I passed the spot it crossed and saw it climbing the ridge away from the highway, so I continued on. Caught a glimpse of a moose browsing in a small swamp south of 17 a few km's east of Stonecliff. Stopped off at the Brent Rd Permit Office, payed for my stay and greeted the Park Warden there again. Arriving at the Wendigo launch there were only 2 other vehicles at the access, a far cry from a month ago when the parking was at a premium.
Was on Wendigo by 5:30 pm and paddling down her length to the Allan L portage. It was gusty but the winds at my back (north) made for good time.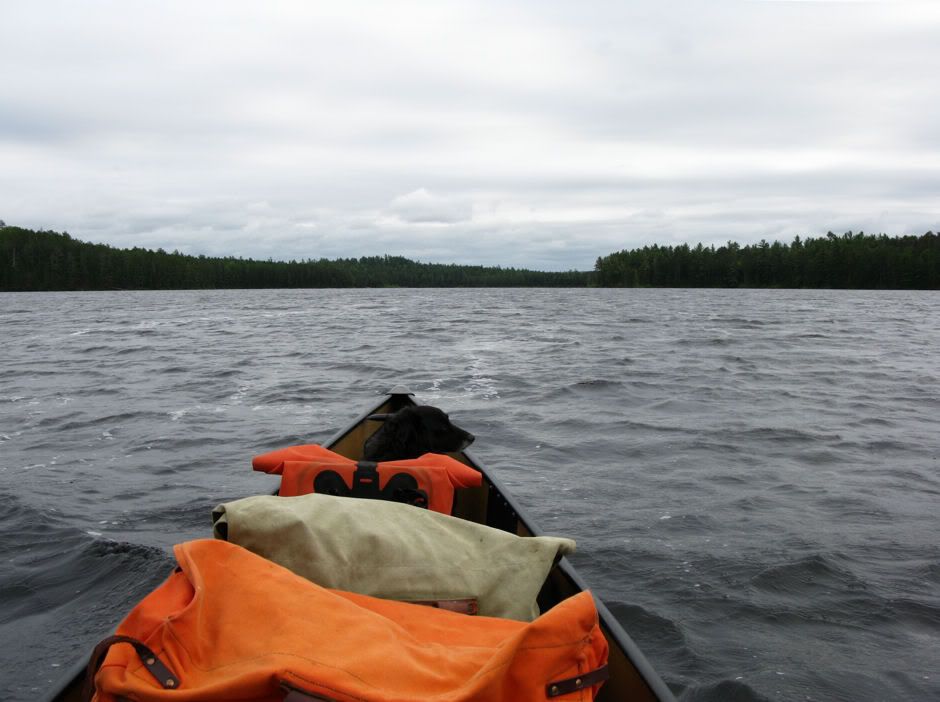 After bringing my first load of gear across to the Allan L landing I met a nice older gentleman from Pembroke in an open-seater 'fishing' kayak. He was leaving early on account of the unexpectedly cold nights and windy weather. We chatted for a bit and helped him across with his vessel and packs. He travels to Sec Lake regularly so hopefully meet up with him again. He had only managed to land a few fallfish during his stay on Allan, so he was disappointed. We said our goodbyes and I continued on my way down through Allan L. He would be the only person I'd see until my last day back on North Depot. The winds subsided (bugs prayer answered) and the sun popped out made for a nice paddle.
Once through Allan I pushed over the beaver dam and ran the easily navigable North River stretch between Allan - North Depot Lake, avoiding the portage. Once on North Depot I rigged one of the rods and made for my campsite. On the way to the island caught two 13" brookies, one was kept for dinner that night while the other released.
Being released
The one retained was filleted for dinner.
It was battered and deep-fried with fresh coleslaw (homemade) and French fries (Louisiana hot sauce/ketchup). I'll have to bring packets of tartar sauce next time.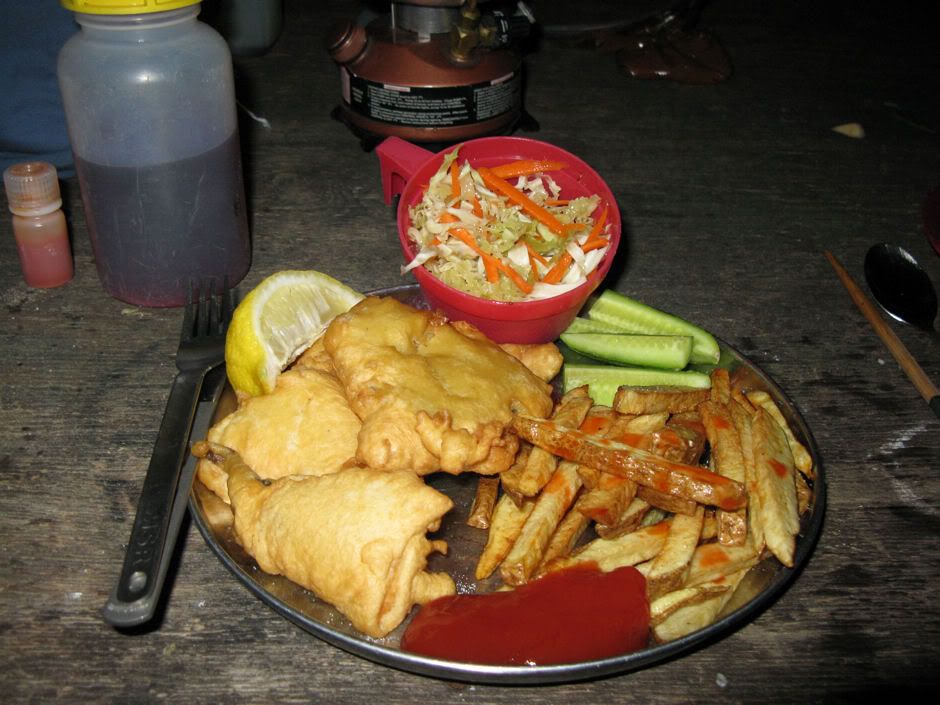 Later on at night caught this little critter cruising the shoreline looking for foodies. I love crayfish, really cute little buggers (he was released unharmed). And yes he's pinching my palm, lol, and no it didn't hurt (bigger ones do though). Growing up I'd have up to 1/2 a dozen of them in my fish tanks, they are little characters for sure.
The next morning was cool but sunny. Took a moment to get some pictures of the plethora of common Pink Lady Slipper orchids in bloom and other wild flowers.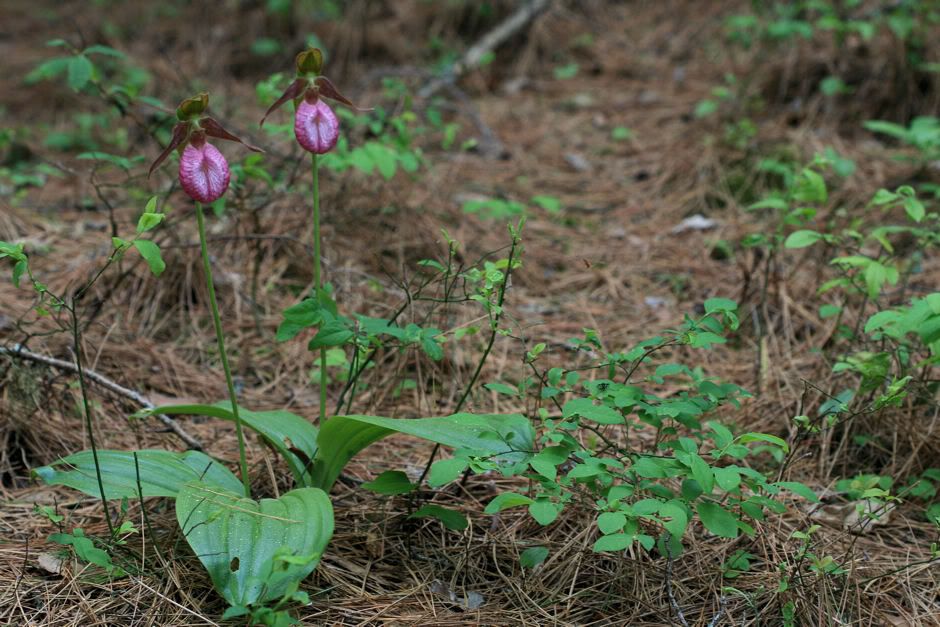 Side shot
Bunchberry (the berries are edible but mealy).
Blue-bead lily (
Clintonia borealis
) in flower (berries are toxic).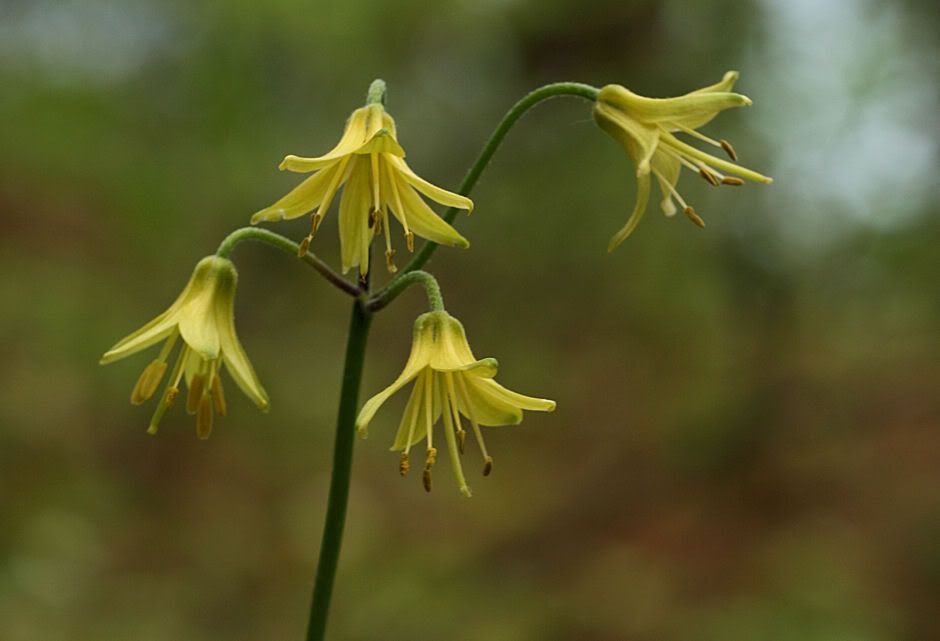 Certainly not a flower (maybe to an engineer or historian) but an odd mechanized remnant. Anybody know what it could be or was a part from (generator?)
After a quick late-morning breakfeast of coffee and instant oatmeal was off down the North River to Clamshell L. Mutt down by the shore.
On the walk down the first portage a female ruffed grouse jumped out feigning an injury. She was trying to distract us from what was surely her nest within a few meters of the trail. She shrieked to get our attention and did the broken wing thing so we gave her a wide berth. I stopped to cast below a few of the 4 portages on the trip down, releasing all small very colourful brookies caught (ranged from 8"-12").
It was a calm day with thick clouds and cool temp, the going was pretty easy. Two female red-breasted mergansers and a blue heron were the only waterfowl we passed.
View upstream from the North River campsite half-way to Clamshell.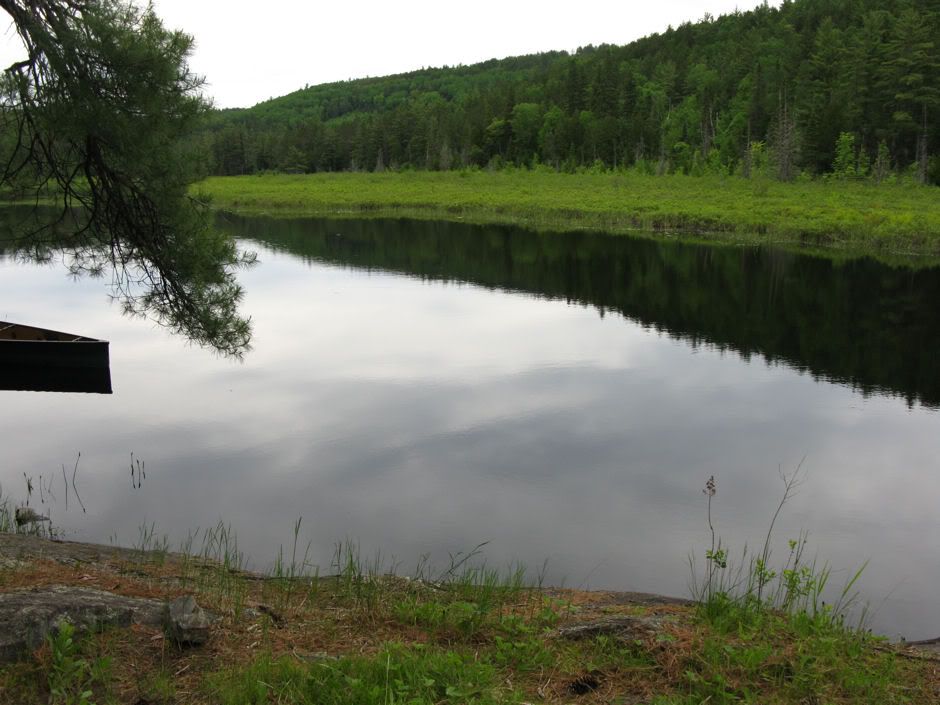 Odd structure found in the woods a few portages up from Clamshell L (it's not a flipped table).
The day grew progressively cloudier and I eventually made it to Clamshell later that afternoon. Sounded the lake for a bit to get a feel for her then made camp. Daisies in the fore-ground
After camp was setup and supper made went out to do more sounding and had some time for a bit of fishing. Caught and released a few walleye from her VERY dark waters: 4' visibility and Im being generous.
A small little guy with sharp conical teeth and big eyes. Although I wasn't fishing for smallmouth (season still closed) nor did I see any nests (water clarity a factor) they could be in Clamshell. Fish sp navigating up from Radiant could make it to Clamshell judging by the river stretches in-between. Likely catfish too, but I didn't target them either.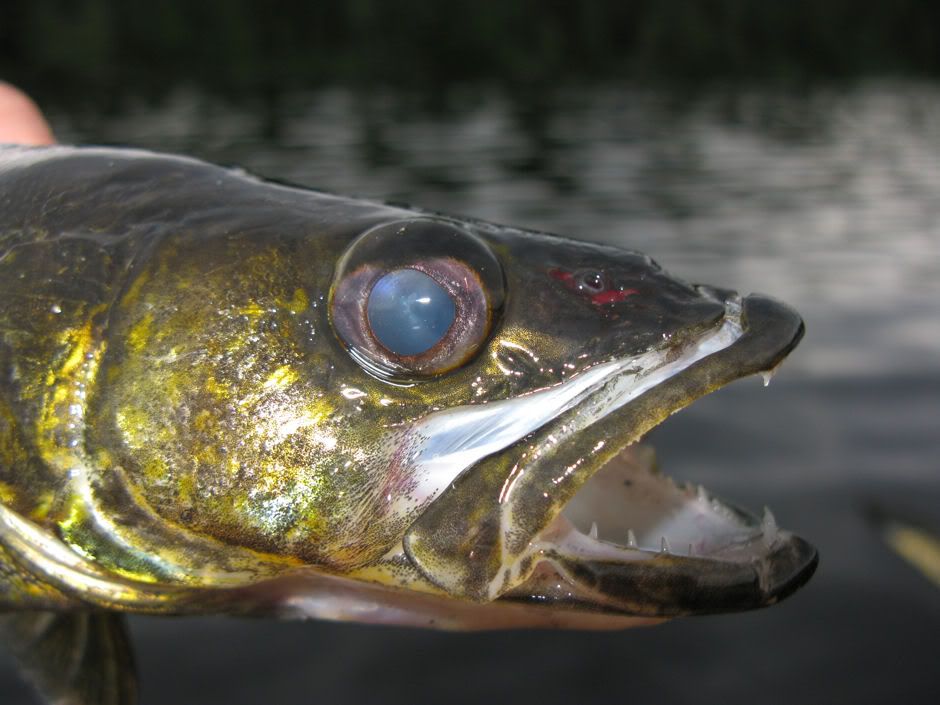 The lake holds a few other surprises - anybody want to guess how deep the lake is? It was getting late so made it back in time to catch the Game 5 on the radio, and listened to it to completion. While sitting out on the open rocks the fireflies across the river were cavorting around on the edge of the forest. But once the pesky no-seeums came out it was time for me to head for the tent.
The next morning the skies were overcast and menacing with winds picking up from the east. I quickly broke camp in anticipation of bad weather and finished sounding the lake.
Another walleye caught and released.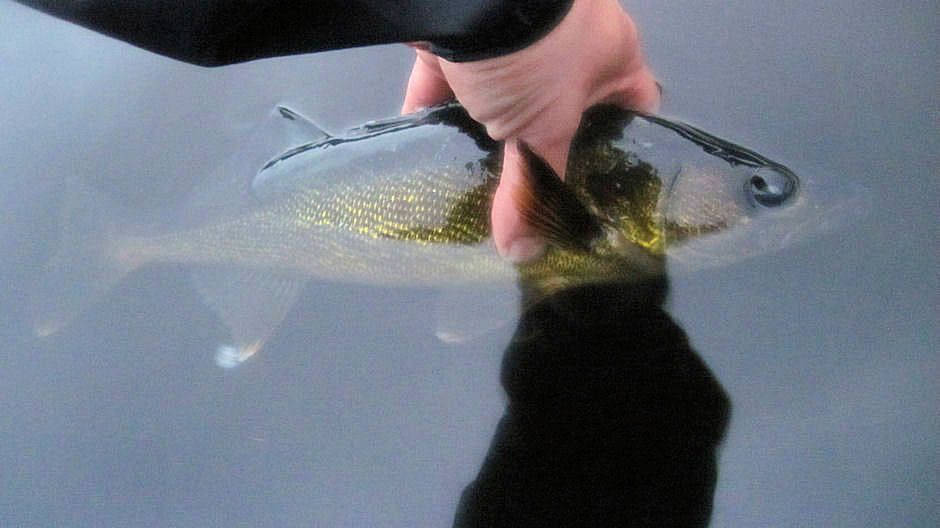 The skies opened up shortly after and for the next 2.5 days it was on again off again showers and winds.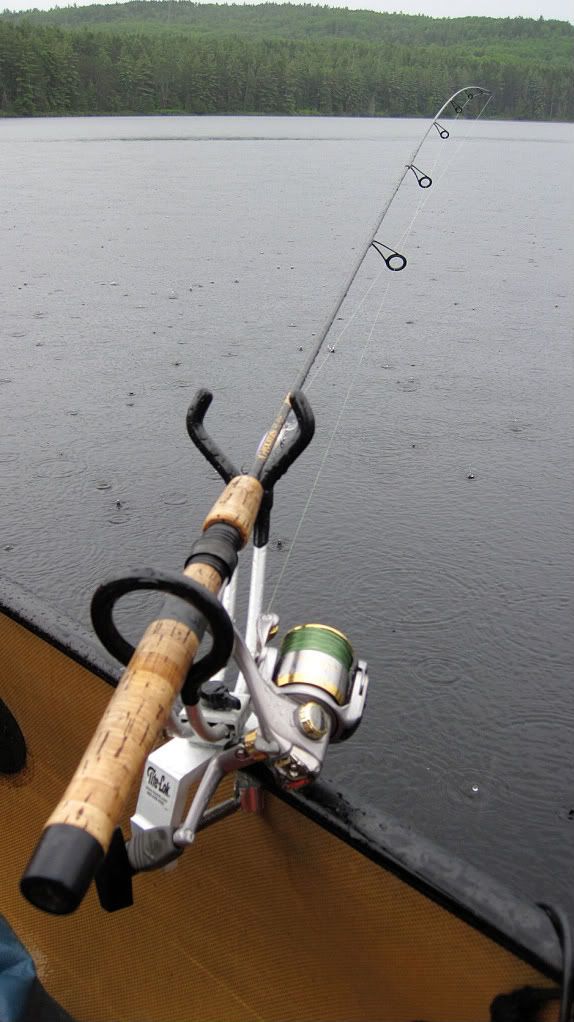 One big fallfish was caught and released before it was time to head to Shoal L.
Made it to Shoal by the early afternoon, a wet Mutt at the portage landing. The short portage between Clamshell/Shoal had a lot of poison ivy growing along her length - be careful.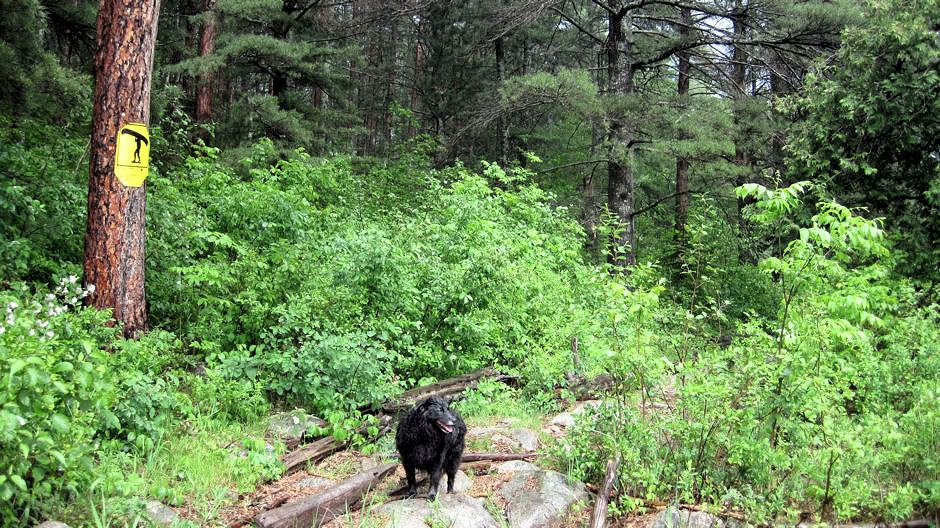 Spent another few hours sounding Shoal lake, saw this little buck on a point as we approached our campsite. I had hoped to get a better shot as we were downwind of him but as I turned the canoe to get closer he disappeared into the forest cover.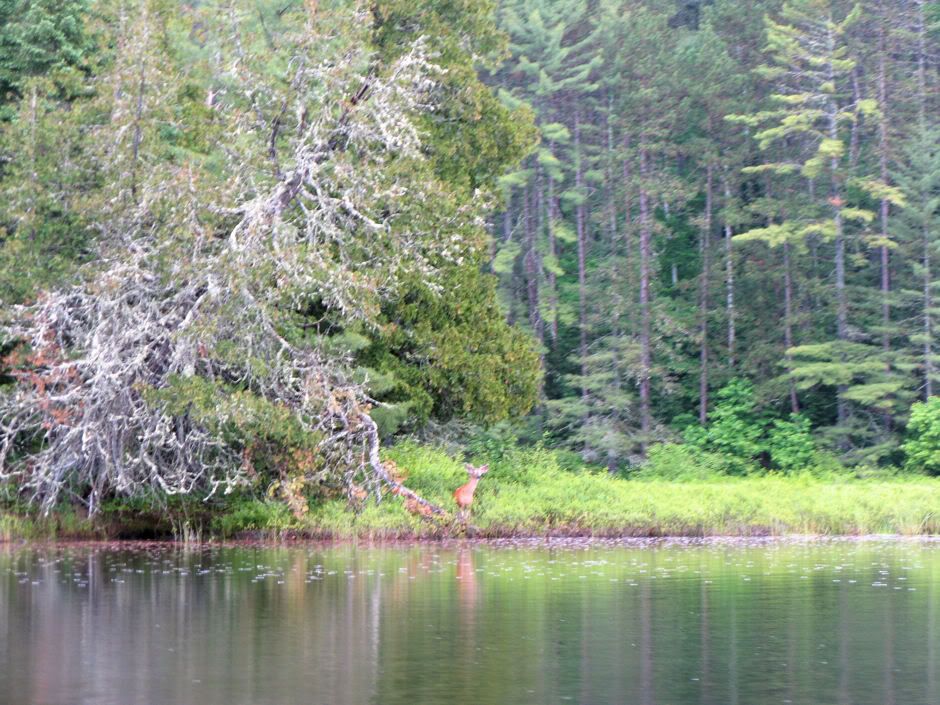 I setup camp, hung the tarp, made some tea and watched the rain and gusts come and go. Found this nice 'relic'(?) - an old style campfire grill, cast iron, a real beautiful item (and very heavy).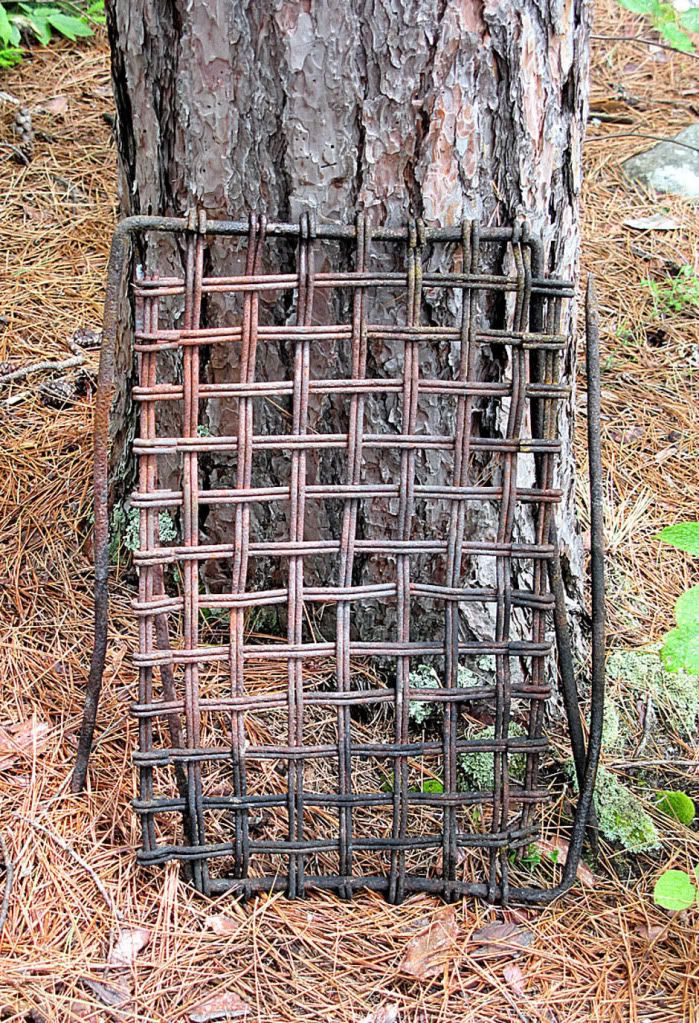 Before dinner I went out to catch the protein for the meal, landed 4 more walleye, keeping the smallest one for the pan.
The biggest was about 2.5 pounds (sorry for the humidity/mist on the lens).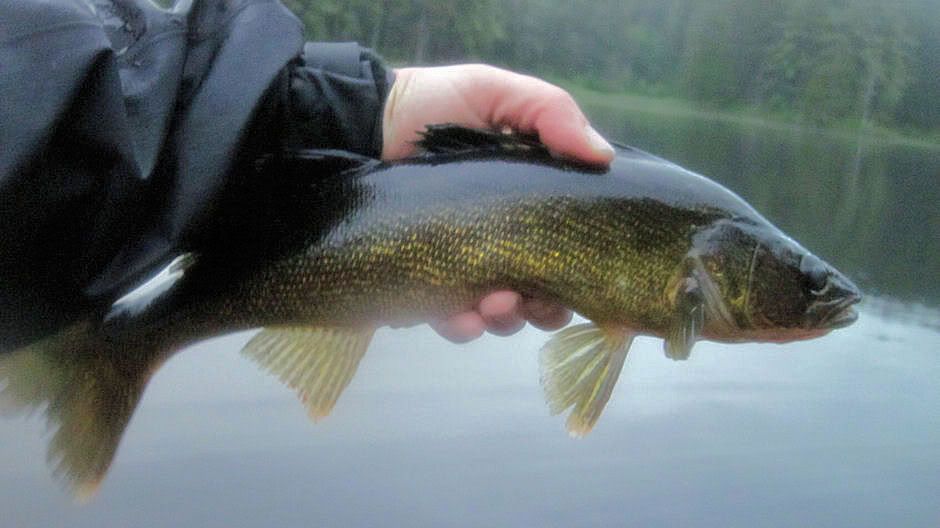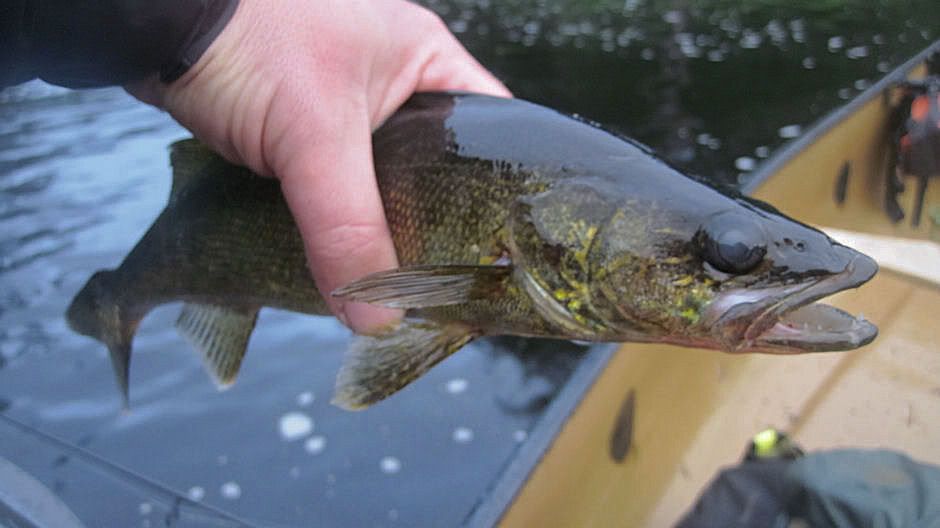 Heading back to make dinner, I decided to do fish'n chips again as the first time it was so good. This time with deep-fried caribe potato chips and hot sauce and more coleslaw.
Also made a caramel cake that night but had the bulk of that for breakfeast with coffee the next day.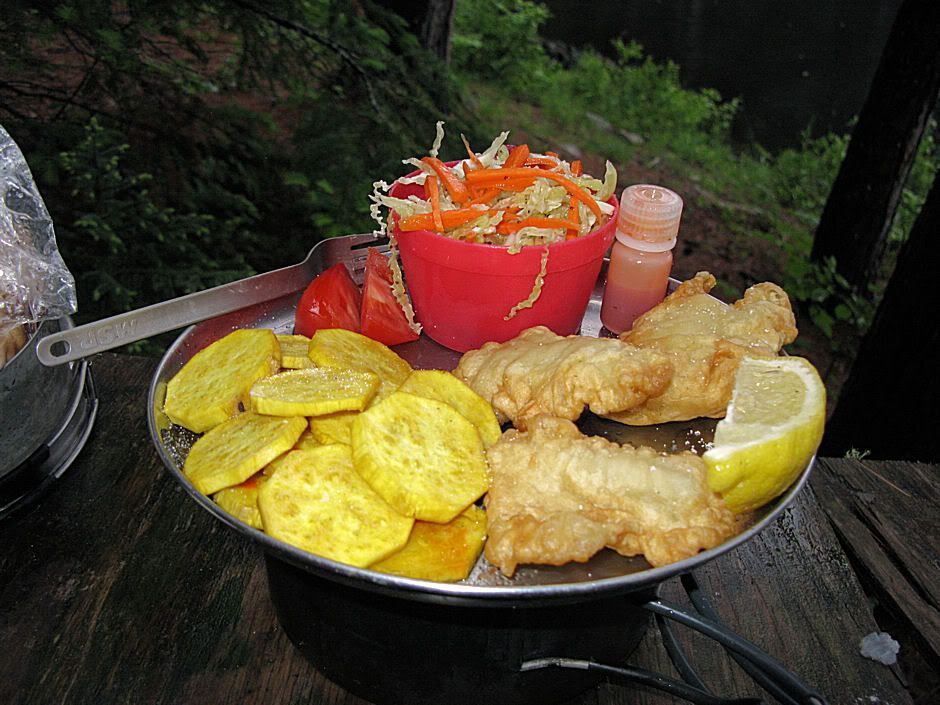 Fell asleep to the sound of drizzle and winds lashing the area. The next morning the rains and mixed weather continued, storm to the west on Shoal Lake blowing south.
The winds were now from the north-east.
Many prickly wild roses grew in the area, enjoying the damp weather as much as the bugs.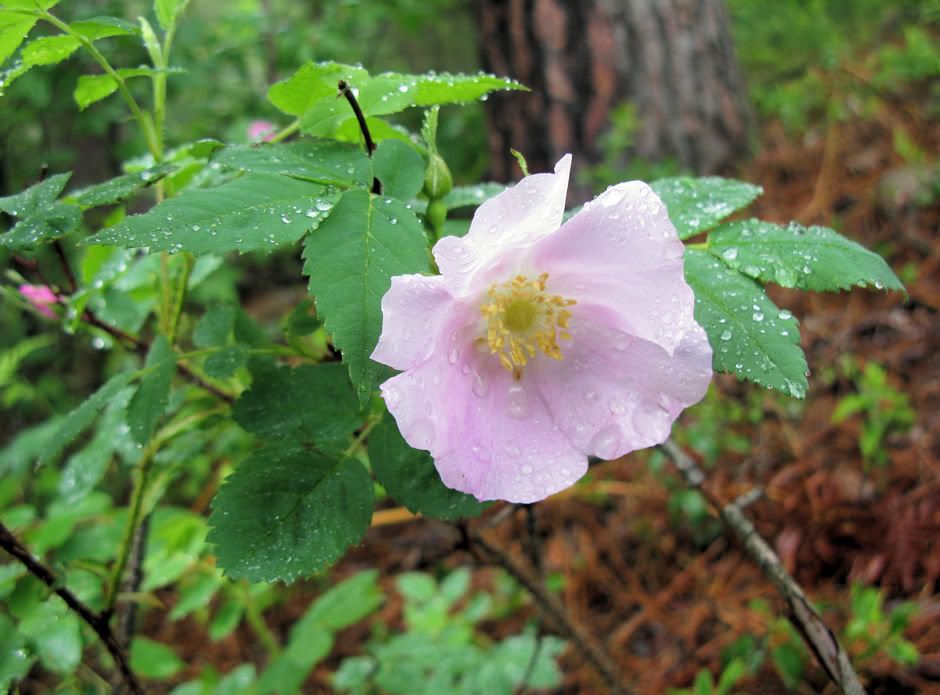 Packed up, finished sounding Shoal and back to the portage to Clamshell. Like in Clamshell, Shoal L contained many dead-head saw logs along her shallow shoreline areas. Just another reminder of the area being a route for the log drives over a half a century past. I had hoped to paddle to Radiant Lake and revisit Odenback but it too will have to wait for another opportunity.
One thing I noticed was the lack of loons on either Clamshell or Shoal. It may be because of the very poor water visibility, but lots of minnows in there. What loons I did hear from Shoal L were those coming from Radiant L.
Newly emerging dragonfly from its nymph casing on the Shoal landing. Bad timing with all the wet weather to dry out his wings, poor guy.
Caught another fallfish on the way up Clamshell to the North River (released). There was also a number of mayfly hatches occurring.
Also landed a beautiful 3 pd walleye. Was supporting her (belly) to get a picture and had the camera out and was about to power it on when she twisted and threw her body into the lake (no picture sorry). It would have been released anyway.
It was slow going on account of the poor weather (rain/gusty north winds) and rocky/slick root-studded portages between Clamshell and North Depot. A bit of an up-current paddle in a few stretches as well. A river bend on the North River two portages above Clamshell L. None of these stretches looked runable or lineable to me- either drops, too shallow and/or log-jammed in spots.
Another rocky landing.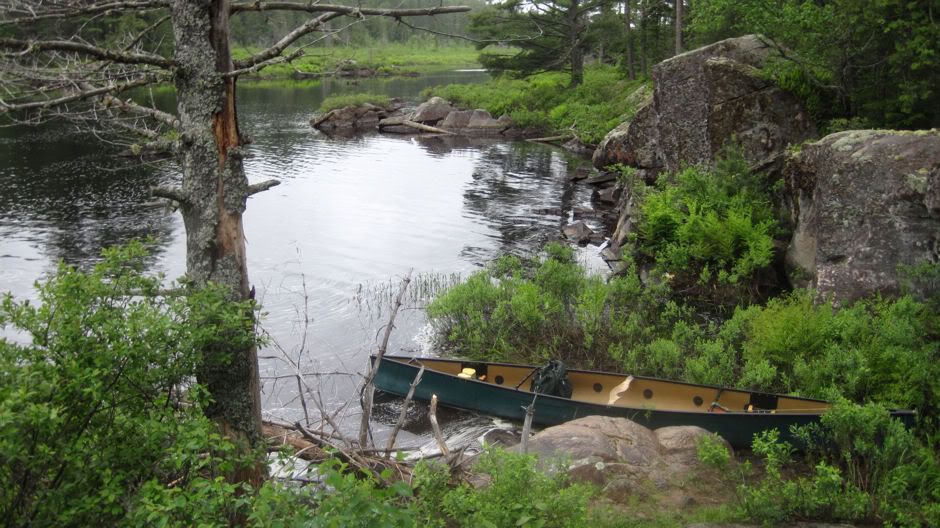 Walking the final portage back to North Depot we again encountered the stoic behaviour of the ruffed grouse hen. Mutt and I were back on North Depot by late evening. I had hoped to do some lake trout fishing but it was too dark. I made camp at night, changed out of my damp clothes, had dinner of fried spicy sausage with penne pesto and fresh tomatoes, finished off the caramel cake with some juice then off to bed.
Next morning was again more of the same with gusty north winds and rain. Packed the rods away, broke down camp and back to Wendigo.
One could easily predict the onset of the rains by the tripling in the numbers of mosquitos youd encounter. Minutes before the rains would begin the density of them would increase considerably whenever on land. Poor Mutt being accosted here at the landing on Allan L from North Depot by a few thirsty for her (or anyones) blood. She toughed it out well though.
Rain squall approaching from the north-end of Wendigo as we made our way back to the landing.
We made it to the access minutes before that particular cold heavy downpour hit us. I threw the dog in the car, packed up quickly and on the drive out again stopped at the Permit office and spoke with the nice Park Warden (lol). Hopefully see him in another month...