So you have a Panerai you want to sell on the Collector's Market on paneristi.com... but how do you do it?
Here's the quick, easy steps, complete with pictures
Text is in red so it's easy to tell what is part of the tutorial vs. what is part of a picture within the tutorial.
Step 1:
First of course you have to get to the CM (Collector's Market). At the top of each page is a list of links, find the CM link and click on it...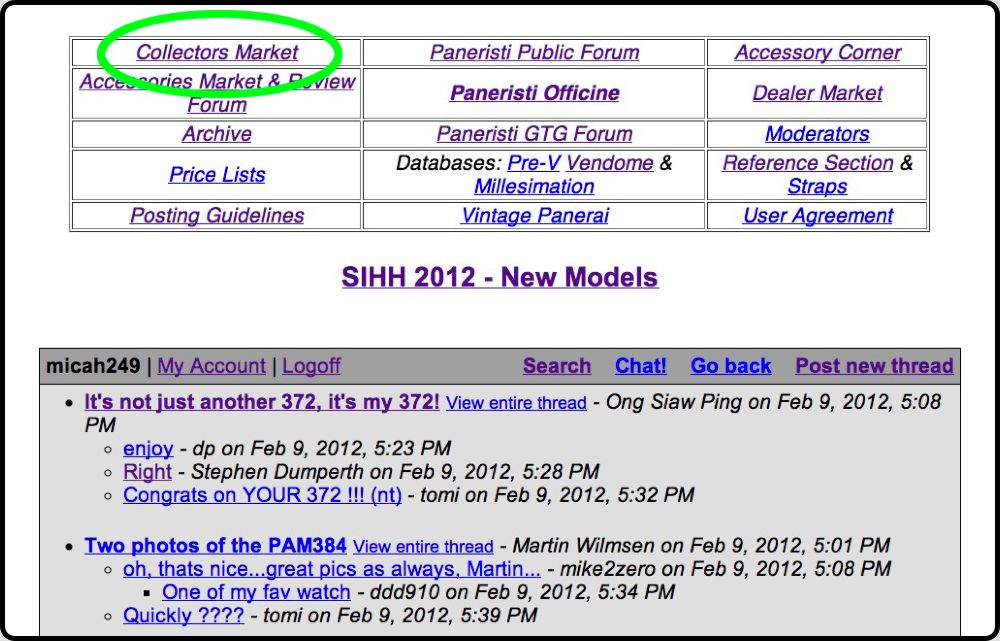 Step 2:
Now you need to log in (If you're not already). If you're familiar with logging in on this website go ahead and do it.
If you don't know how to log in, click the link below for my tutorial on setting up an account and logging in.... the tutorial is for posting on the Public Forum but the principles are exactly the same.
http://www.network54.com/Forum/353391/message/1327078035/How+to+login+and+post+here....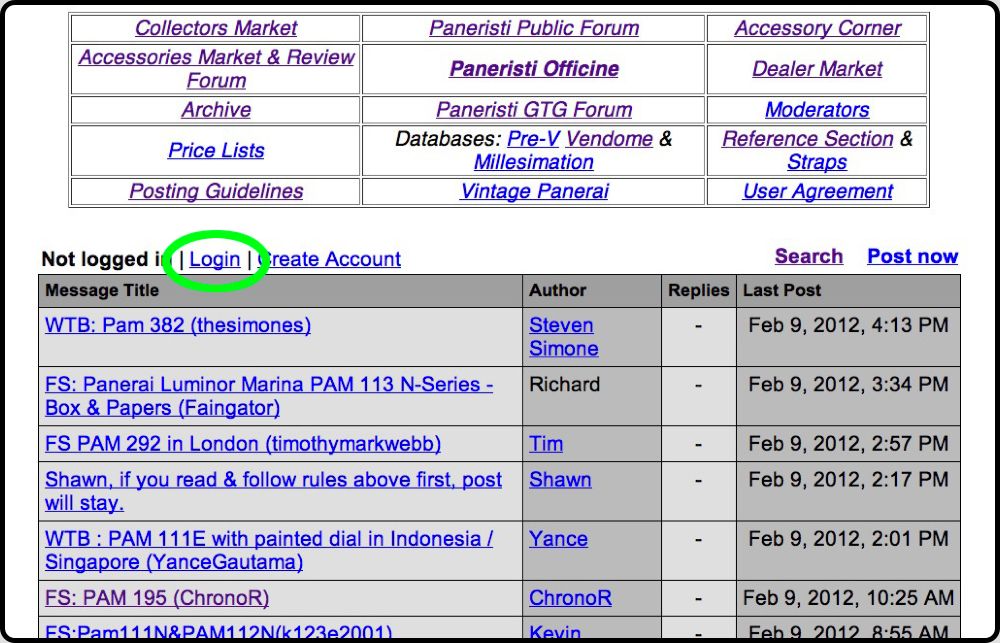 Step 3:
OK now you're logged in.
BEFORE YOU POST READ THE RULES AT THE TOP OF THE CM!
Here's the ones that people seem to have the most problems with:
- The Message Title of your post MUST end with your Login name.
This is the most common reason that posts get deleted. Look in the top right of this post... see where it says "micah249"? That's my login name. Whatever YOUR login name is, you must enter it at the end of the Message Title of your FS post. Example: "FS: PAM 112, cheap! (micah249)"
If you're still not sure what this means keep reading, we go over it again in the next Step.
- You MUST include a picture.
Not a link to a picture, not "email me for pictures" you have to actually have a picture of the watch(es) listed for sale in the post. Read my tutorial on how to get your pictures to show up if you need to:
http://www.network54.com/Forum/353391/message/1323752861/OT-++Updated+version+of+%26quot%3BHow+to+get+your+pics+to+show+up+here%26quot%3B
- You can only post ONE ad per page.
- ONLY Panerai watches can be sold, offered or asked for. Maximum of TWO watches per FS ad.
- You MUST include a valid email address.
- You can NOT use the words "New", "BNIB" or other phrases meant to imply the watch is "new".
Only authorized Panerai dealers can sell "new" watches, and you're not an authorized dealer so don't pretend you are
Unworn, never been out of the box etc. are acceptable, those are facts. But "new" is for AD's and boutiques only, sorry!
There are other rules too at the top of the CM forum, READ THEM! If you follow every rule your post will stay.
So, after reading the rules and internalizing them... hit the "Post now" button...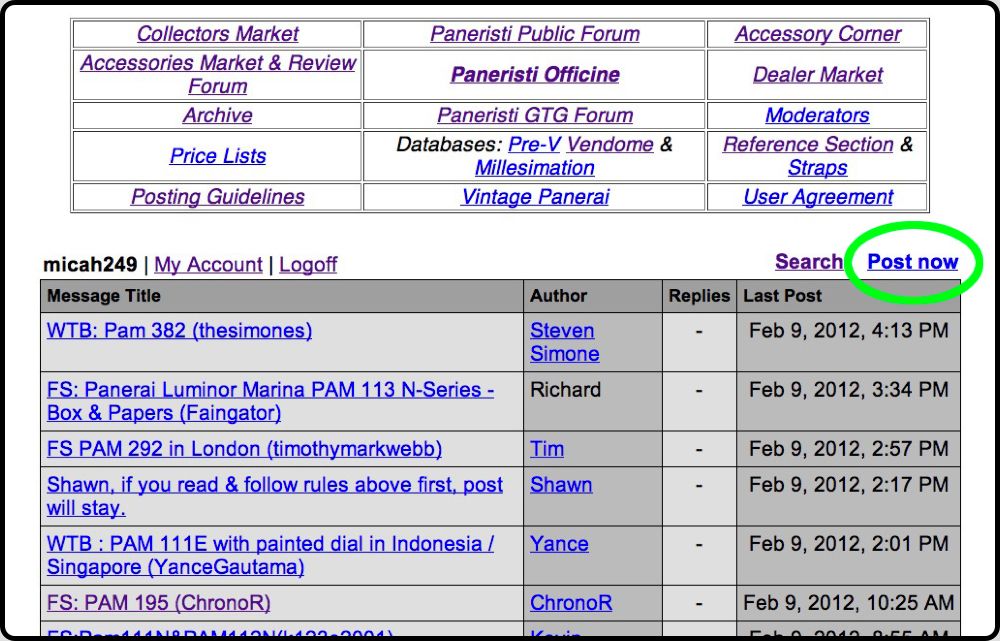 Step 4:
Creating your ad:
The first line is your "Login Status"... the name you see at the end of this line
MUST
be at the end of your Message Title, and YOU have to put it there.
The next line is your Name. NOTE: Name and Login are NOT the same thing! Your name can be whatever you want, but use a consistent name so people will recognize your posts. Your Login is the name of your Network 54 account, this is distinct and different than your "Name".
The next line is Your Email. It says Optional under it, but it's NOT. On paneristi.com you MUST include a valid email for contact purposes or your post is subject to deletion.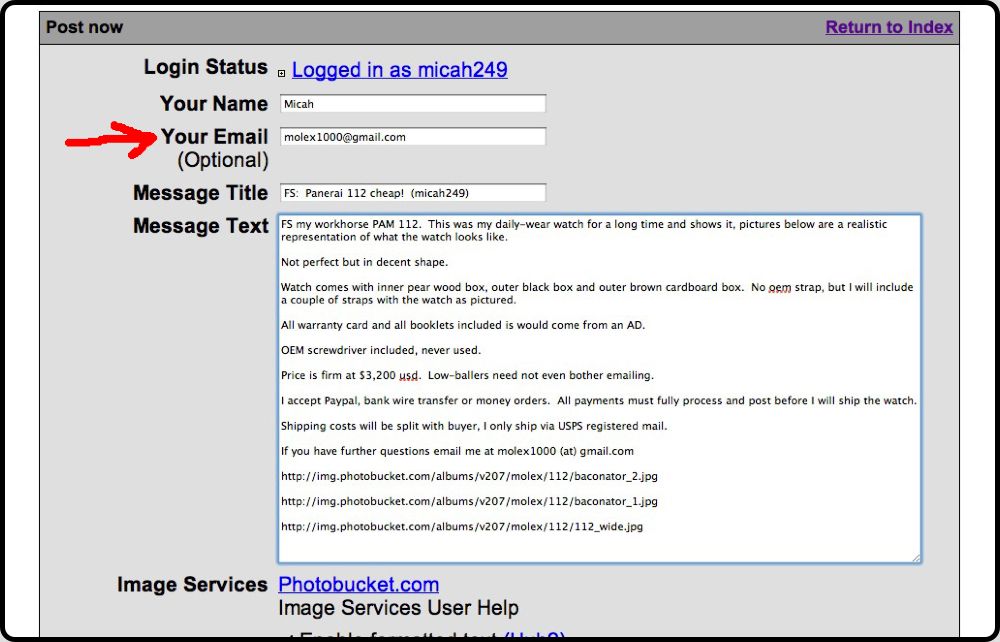 The next line is your Message Title. This is the line of text that will be visible in the forum and that people will click to see your ad.
REMEMBER:
The last thing in your Message Title MUST be your Login (see green circle) Example: "FS: PAM 112, cheap! (
micah249
)" Note the underlined login name micah249... You need to put YOUR login name in this spot.
The last thing, Message Text, is where your ad needs to be typed up. This is what people will see after they click on your message title.
Requirements:
--- Pictures, at least one, of the actual item(s) for sale.
--- Price with currency type... $3,000 usd, 3,000 pounds sterling, 3,000 kroner, etc.
--- Follow all other rules listed at the top of the Collector's Market forum
Suggested to include:
--- Detailed description of watch
--- Detailed description of everything that's included with the sale
--- Shipping policy (who pays shipping, insurance required or not etc.)
--- Method of payment accepted (Paypal, bank wire, check etc.)
--- Location of watch (country etc.) so people can decide of they want to do a deal that far away etc.
Step 5:
Once your ad is typed up hit... PREVIEW! There is NO edit function on this forum, using Preview is your ONE chance to see your ad before you post it and go back and make changes... use it!
Step 6:
If your ad follows the rules laid out at the top of the CM forum and it looks good to you, go ahead and hit post, you're done! Hopefully your watch will sell soon in a smooth, hassle-free transaction.
Thanks!
________________
Micah