With the help of my best friends in Hong Kong & Macau, I got 3 OEM sew-in buckles. I realized sew-in buckles are part of the Panerai history. So I would like to share these 3 pcs with you guys.
Nowadays screw-in buckles are very common but not in the past esp. during the war. I think sew-in buckles are more secured that screw-in one. During that time, the size of the buckle is 26mm & the buckles are made of different materials. Other than leather straps, nylon straps are also to be found in history.
(pics borrowed from Vintage Panerai: Watches with History)
They are made of stainless steel (brushed) or brass coated w/ chrome or aluminium. In general, they are engraved w/ 2 or 3 digits. But most ristis are crazy for the buckle w/ "GPF Mod Dep" (Guido Panerai & Figlio Modèle déposé) engraving. It's flat when they are manufactured but sometimes bent downward for easy & comfort wearing.
(source from: Vintage Panerai: Watches with History)
Let's get back to the topics.
1st one is the OEM strap for 2006 SE 232, 249 & 262. Size is 27/24 125/80. Panerai uses this buckle for 24/24 125/80 tan & black. This one is know as MX buckle.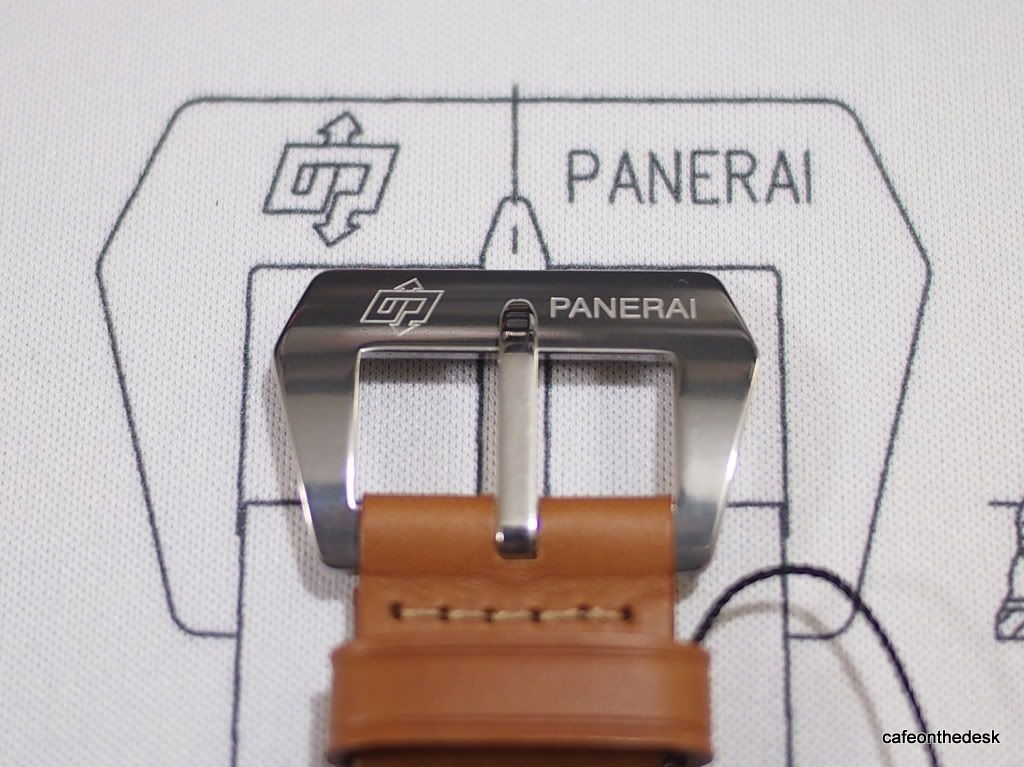 There are OP logo & Panerai engraving on the front left & right side respectively. It's slightly bent for comfortable wearing. Surface finishing does not looks like brushed / polished but looks like zinc-plated. Maybe Panerai based on Pre-V buckles' idea & reproduce such MX buckle.
Other than that, there is some more details
A - 24mm
B - 3mm
C - 1mm
D - 32mm
E - 38.5mm
F - 29.5mm
Here's the key: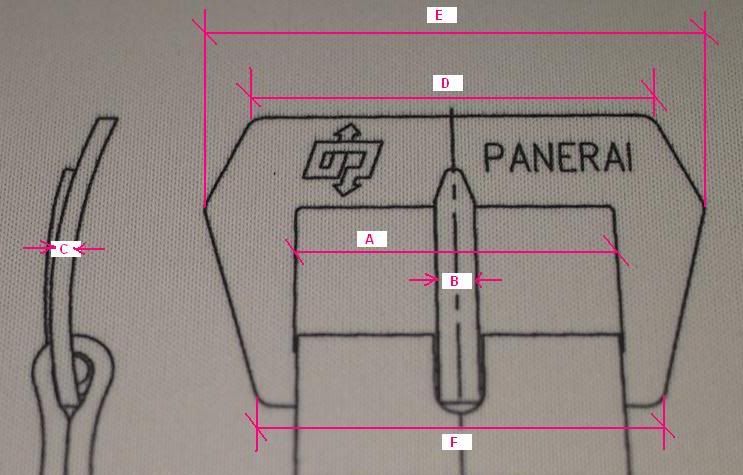 The 2nd one is the OEM strap for 2009 SE 341. Size of buckle is 27mm
Details are as follows,
A - 27mm
B - 4mm
C - 2mm
D - 34mm
E - 42.5mm
F - 34mm
The best part I like most must be the GPF Mod Dep engraving at the back!!!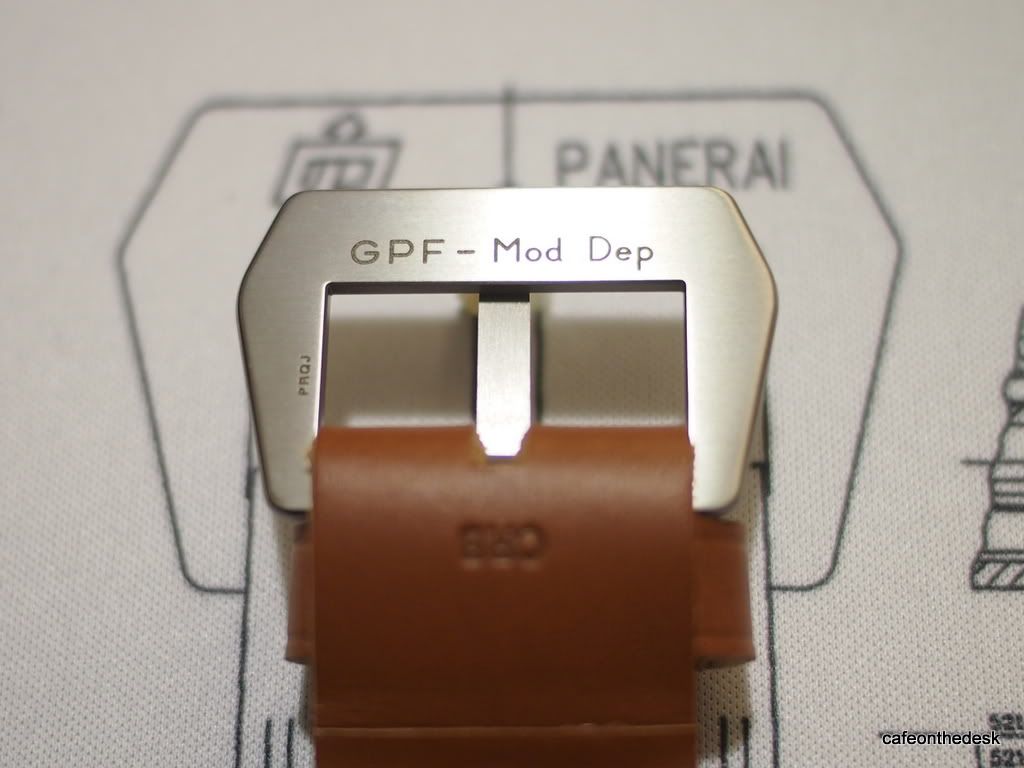 Surface engraving is light brushed. Side engraving is using different way to have a big contrast.
The 3rd one is the souvenir key chain issued at 2011.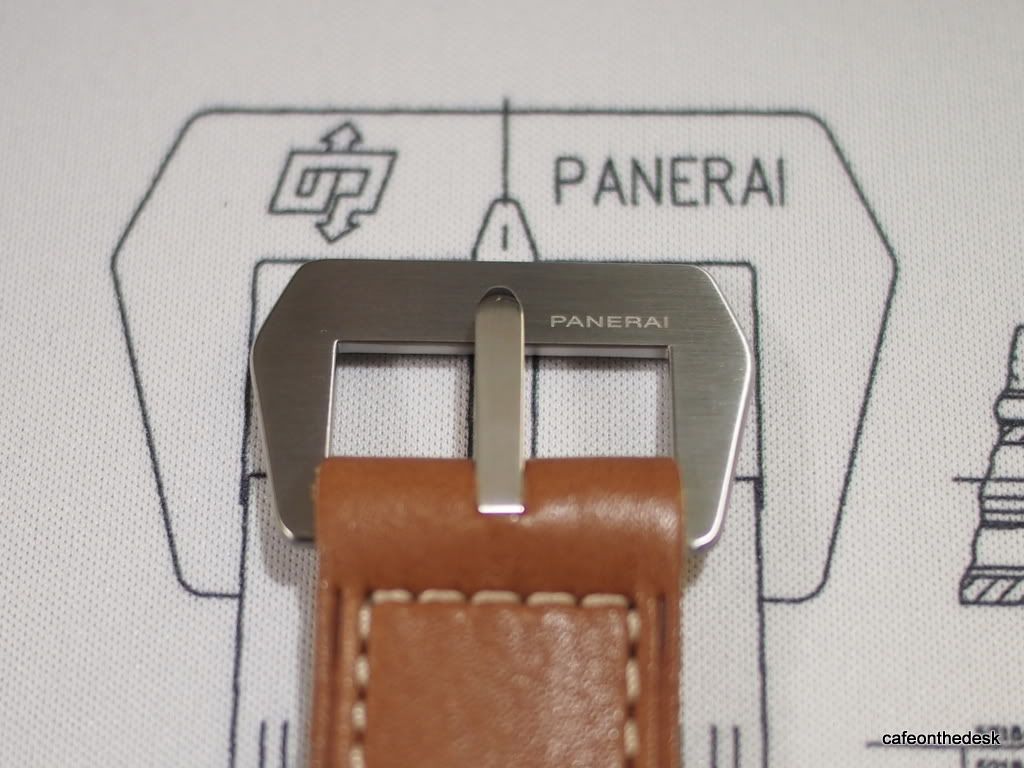 The fonts for the "Panerai" on front right side is similar to the 26mm screw-in buckle. Compared to 341, engraving for this buckle seems to be more rugged brushed. It looks similar to 341 OEM buckle at the first sight. But it's definitely 2 different buckles.
Here's another details proof for a different buckle:
A - 27mm
B - 4mm
C - 2mm
D - 33.5mm
E - 42mm
F - 34mm
(Sorry that I do not have an accurate instrument)
When getting more & more story behind Panerai, the more & more I love this kind of sewn-in buckle, esp. those flat sew-in buckles. Hoping that Panerai would have more & more historical piece including accessories that will launch in the coming year.
Thanks for your reading!!!