are new production run for the big Egiziano and you may be able to get one via one of the boutiques if you have a good relationship and are prepared to pay whatever is requested. The older Gpf buckles from compasses and depth guages and original Egiziano are very hard to come by and extremely costly, they dont come in 24mm or 22mm and its a mine field of original vs quality repro's out there so you need to know what you are buying if you go this route.
Re the logo Pvd 22mm buckles, there is a PreV Pvd 22mm buckle as found on the Pav 99, and again, you will rarely come across one that isn't sewn into the strap and you'll rarely come across the strap for sale, plus you'll be paying uber premium for 'em mate.... but they are the real deal and impossible to beat or replicate...
Good luck with your hunt Adam, hope this helps a little...
LAL
Cheers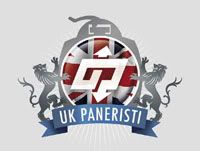 South coast - UK