MY DESERT ISLAND DREAM
Ok … so … I was sitting in the office pretending to be busy …
… when I received a text from "Jpvfx" …
"I'm shipwrecked on a desert island ! Do you think you could come and rescue me ?"
"Err … ok …", I replied.
"I'm a bit bored. There's a dvd player here but I've been watching the same movie over and over again. Can you bring another movie to watch ?"
"Sure"
"Can you bring a couple of CD's, too ?
"No problem. Anything else ?"
"Yeah, some food and perhaps a book ? Bring a photo, as well. Like I said, I'm REALLY bored."
"Ok …"
"And think of a story. Something interesting to talk about – a memory, perhaps ?"
"Done".
EWIT to the RESCUE !!!
Packing 9 items : -
2 watches
2 songs
1 book
1 movie
1 photograph
1 memory
1 meal
Plus taking 1 special person !
Time to get serious …
Watch #1 ?
It sits faithfully strapped to my wrist nearly every day, representing my Passion for Panerai …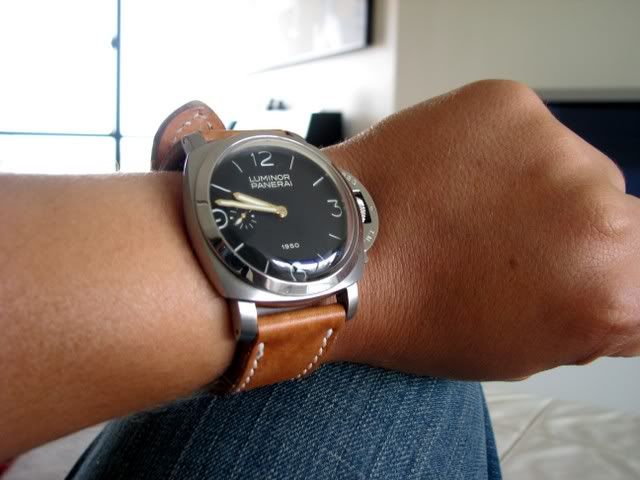 … while the strap symbolises, dare I say, "So much more" ?
http://www.network54.com/Forum/353391/message/1165814625/Hammer+Strap+Auction+Results
!!!
If you look closely, you'll notice part of why this day was labelled "Numpty-Vision"
Watch #2 ?
My "Cali" reminds me of a virtue I am striving to possess – patience. The Melbourne AD can vouch for that !
The strap is made by a man on the Isle who not only understands but embraces the meaning of the phrase "The pleasure is in the giving". It's treasured.
Song #1 ?
Nothing like a bit of home grown DU head bagging to get my blood flowing !
The "correct" pronunciation, by the way, is "Akka Dakka".
There's actually an "AC/DC l" Lane here in Melbourne.
http://en.wikipedia.org/wiki/ACDC_Lane,_Melbourne
Song #2 will only be revealed at the end of my dream !
1 book ?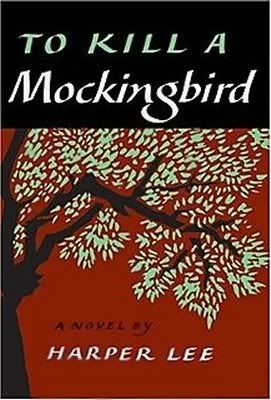 I read this book as a teenager. The main character in the story, Atticus Finch left an indelible impression upon me.
http://en.wikipedia.org/wiki/Atticus_Finch
As an adult I have often thought of and reminded myself of this quote from Atticus : -
"They're certainly entitled to think that, and they're entitled to full respect for their opinions ... but before I can live with other folks I've got to live with myself. The one thing that doesn't abide by majority rule is a person's conscience."
1 movie ?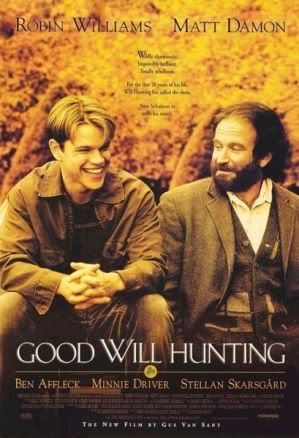 Please allow me to indulge in just two of my favourite scenes ?
There are few things more satisfying in life than "stitching" up someone who deserves to be put in their place. "At least I won't be unoriginal !"
Some of Robin Williams' sharpest work here – "Someone who could level you with her eyes …"
Special mention goes to "Casablanca". "Reverend G" recommended this movie for me a year or so ago because he suspected that I was a "just a rank sentimentalist". He was right.
1 photo ?
As some of you know, I am Edward Wittenberg Junior. This photo is of the original Eddie Wittenberg arriving in Australia from Hungary in 1951. He was 25.
He's still going strong and is a daily source of inspiration.
1 memory ?
Wow, so many memories to choose from.
I could easily settle for a sports related memory like watching the Richmond Tigers win the premiership in 1980. I was only twelve but I was there in every sense of the word.
Or … I could go with several "Magic" moments watching the LA Lakers during the 80's. Gee, I miss Chick Hearn …
… but I was not DIRECTLY involved in any of those events even though I felt like I was !
So, here's a story. 1996 was a bad year for me. Dealing with a relationship break-up and major job dissatisfaction, I turned to taking flying lessons as a means of both distraction and confidence building. As it turned out, it was one of best choices I have ever made. I remember my first solo flight well. I didn't know, on the day, that I would be flying solo. I thought it was just another session of circuits (kind of a lap around the AD with a take-off and landing) with my instructor, Richard.
By the way, the acronym AD applies to an aerodrome in aviation terms !
Anyway, after five or six circuits, Richard asked me to make this one a full stop. No problem. After landing, he took over and taxied to the run-up bay (an area closer to the runways than the flying school) and started to unbuckle his seatbelt. This was unusual but I had no idea what was about to follow. Fully unbuckled, Richard opened his door and stepped out leaving me sitting in the left hand seat alone. "You're ready !", he announced. "Just do one circuit, Eddie. One take-off and landing. I'll be waiting for you here !".
I remember tentatively taxiing to the holding point, making a radio call in a shaky voice and being cleared for take-off. I remember the few seconds after take-off vividly. I remember, for just a split second, thinking "OMG, I actually have to land this thing !". But, I could not afford to focus on that. Instead, I just went through my checks and procedures and flew exactly as if Richard was still sitting there. I can recall various aspects of the flight including the successful landing but, all in all, it was surreal. It was like I was watching myself. Or even watching myself doing the watching of myself. Does that make any sense ?
A few years later, having acquired a CPL (Commercial Flying Licence) with an instructor rating, I remember with MUCH greater fondness the event of sending my own student off for HIS first solo flight. I did it exactly the same way that Richard did it with me. I stood by the wind sock next to the run up bay and watched every moment with absolute pride, and most importantly, confidence. There was nothing surreal about it.
I'm yet to experience the joy of fatherhood. One day it will happen. Until then, I believe that this is the closest I will get to feeling like a father proudly watching his son.
1 meal ?
I'd be happy with a good home made Lasagne.
1 person ?
My girlfriend, Tracey …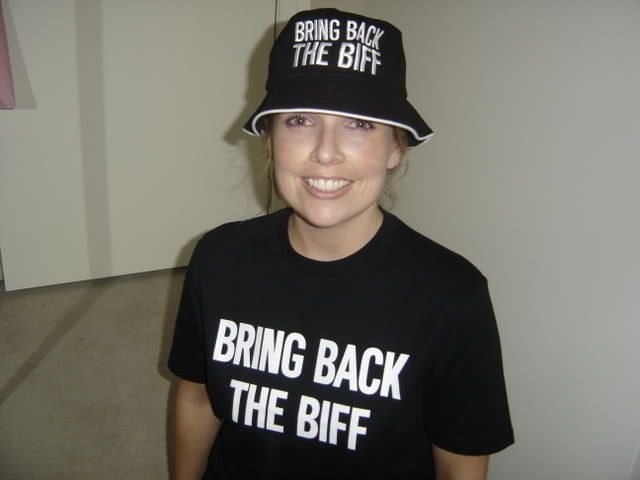 … and here is song #2. It says it all.
SHE'S GOT A WAY.
She's got a way about her
I don't know what it is
But I know that I can't live without her
She's got a way of pleasin'
I don't know why it is
But there doesn't have to be a reason
Anyway
She's got a smile that heals me
I don't know what it is
But I have to laugh when she reveals me
She's got a way of talkin'
I don't know what it is
But it lifts me up when we are walkin'
Anywhere
She comes to me when I'm feelin' down
Inspires me without a sound
She touches me and I get turned around
She's got a way of showin'
How I make her feel
And I find the strength to keep on goin'
She's got a light around her
And everywhere she goes
A million dreams of love surround her
Everywhere
Ok … Enough of being serious. Hold tight, JP !!! EWIT is on his way !!