After the rebirth of the D.I.D in Psti the last two guys who did it were both good friends of mine Greg and Jon.. So when I was from Jon if I wanted to do it I was more than pleased
So the ship is actually sinking? I never thought that would happen to be honest.. but S**T happenz so ... at least I am safe
Washed ashore, 10 items.... Let's start:
2 watches
Well while for all the other questions I find it very hard to find the items, for this one it is easy.. From the moment I found Panerai in 2004 I have never looked back or forward
I am checking the site every day (yes even on vacations).. It is my passion and I am blessed to have 2 of them.. a 112 and a 118.
So I would take both of them with me but honestly I would be happy with only my 118
2 songs
Before starting I have to say that like many of you I LOVE MUSIC.. I have over 1000cds in Greece and I am still figuring a way to bring them to the UK. For now I have ripped some of them in Mp3 :P
Also many of you that have me on facebook know that my musical preferences can be quite dark I started listening to heavy metal the glorious 80s when I was 12 (maiden-metallica-helloween-slayer-kreator-etc etc) and since then it only got darker :P
So heavy metal, black metal, gothic are always the kind of stuff I prefer
But for the DID I have to choose 2 songs that they really mean to me something more than just my favourite music...
The first one has to be Iron Maiden's Caught Somewhere in Time .. Not their best song (not even close) but it was one of my favourites of my youth.. Since the birth of my son every night I was holding him in my arms and put him to sleep singing him this song.. tried different ones too but he was always felt relaxed and fallen asleep with this.. So everytime I hear now this song reminds me of the endless nights I was holding him in my arms..
The second one has to be Helloween's Longing. My wife is not a metal bands fan (although she likes gothic electro industrial etc).. she doesnt mind listening with me but I know she is not extremely happy BUT this song will always be OUR song.. I remember when we first met we were listening to this song over and over again and dreaming of our future without saying much.. On our wedding day we did knew which was OUR song that had to be played but we decided to put something more mainstream because we wanted to keep this to ourselves.. So every time I will hear it in this god forsaken island I will remember those days
1 book
Well I am not the biggest fan of books.. Ironic if you consider I am a published poet in Greece :P
I read books of course but I have met people much more passionate than me..
In one of my books I was the first to translate a certain poem of E.A.Poe in Greek (Dreamland).
I love Poe and I have a collection of his poems that I would really love to have with me in this island..
From the novels Ive read, The mysterious flame of Queen Loana of Umberto Eco is my favourite
(Quote)
I was in Bruges... where fog hovers between the towers like incense dreaming.
A gray city, sad as a tombstone with chrysanthemums
where mist hangs over the façades like tapestries -
My soul was wiping the streetcar windows so it could drown in the moving fog of the headlamps. -
Fog, my uncontaminated sister... -
A thick, opaque fog, which enveloped the noises and called up phantoms -
Finally I came to a vast chasm and could see a colossal figure, wrapped in a shroud, its face the immaculate whiteness of snow...

1 movie
Movies I know that this is something that most of the people have trouble choosing.. I am one of them.. Out of my mind I can mention some of my very favourites Gerry, Koyaanisqatsi, Nostalghia, Wings of Desire, Eyes Wide Shut, Eternal Sunshine of the Spotless Mind, Mulholland Drive, The Fountain .. but I wouldnt choose one of them for the Island.
I am sorry I bend the rules but I have to mention both the 2 movies I would consider..
First will be The Ninth Gate of R.Polanski.. Whatever he may have done this guy when he was young he is one of the best directors of all time.. and the movies he makes are amazing. I have seen this movie more than 5 times and I have even considered tattooing one of the pictures shown in the storys book.. Soundtrack is amazing, story and atmosphere are amazing, Depp, all about this movie are 100% to me..
The second one and probably the winner would have been The Lord of the Rings and if I cannot take the trilogy with me than I would choose the Fellowship of the Ring. I have seen it 8 times in total (3 in cinema 4 in dvd and 1 in tv) and everytime I enjoy it more. Probably the best movie of all time. Peter Jackson managed to make possible and amazing something that in the papers sounded impossible.
1 photograph
Well again only one photograph is difficult.. in our lives we all have thousands of photos and I am not the exception
But I think I would choose the photo of the day I got married.. I remember this day and everytime I look at this photo I remember how happy I was.. almost scared of how happy I really was
The story behind that specific photo though is a funny one... originally my wife had her hand in my chest.. the photogrpher was saying to her to lower her hand.. at some point she said to him that if she goes lower than that we will have to censor the photograph and we all burst out laughing
1 memory
Cliché I know but if you havent been a parent you cannot understand.. it has to be the birth of my son.. everything went according to plan and I cannot express how I felt It was not happiness in the way above (my wedding) but kind of awe.
Now he is 2 and a half and a cheeky little monkey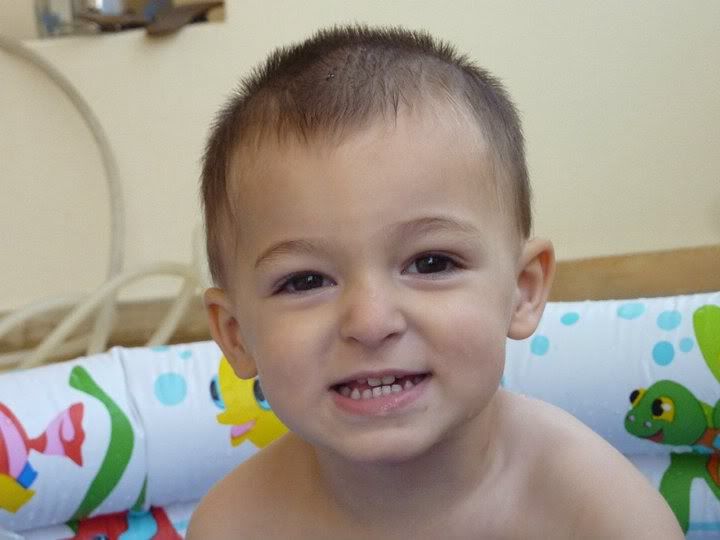 1 meal
Suprisingly I have taken a photo of my all time favourite meal.. I love seafood.. One day I have eaten a seafood platter for 2+ in Harrogate.. Shellfish, crabs, lobster, scallops, mussels it was a 2 stories platter as you can see.. The guy at the restaurant he said that it was too much for one person Paradise!!! I also like to eat the shellfish by the sea so in this Island I will not miss my favourite food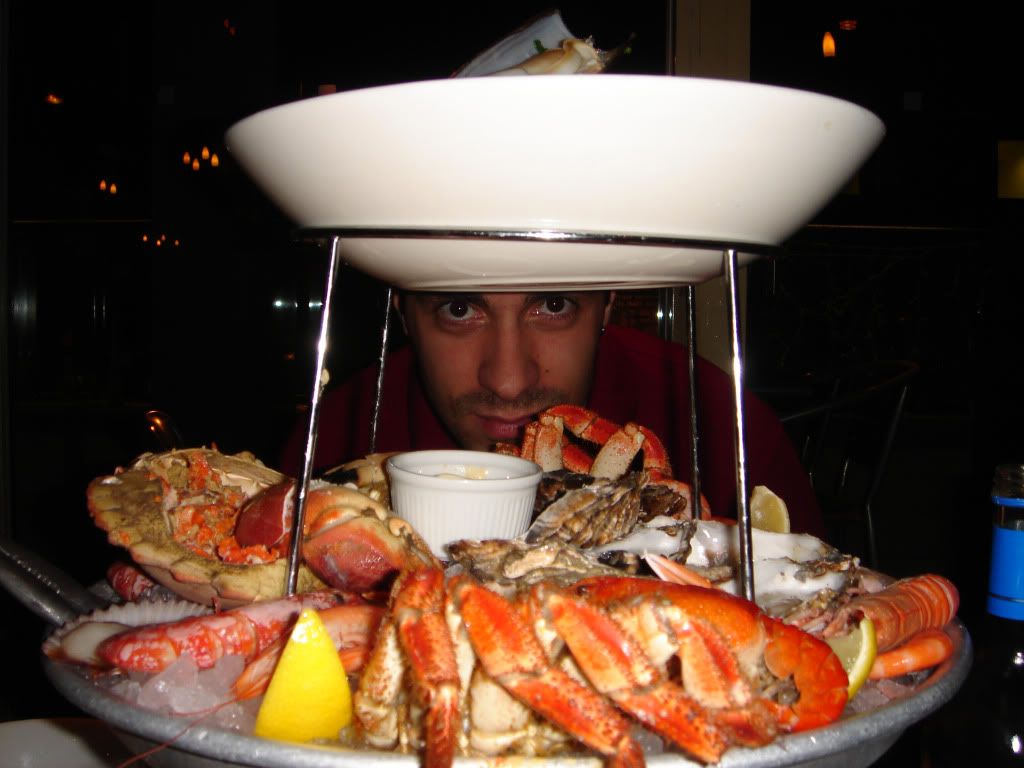 1 person
How do you ask me to choose between my wife and my son?
But although my son is both a part of me and my wife and I would give my life for him the answer is pretty clear.. My wife is my soulmate and my other half supporting me in every step of the way and the other way around Havent slept separate for over 6 years now (yes not even a day) so I will need her in our island..
This photo of her was taken on her 30th birthday this year and we had so much fun the 3 of us in our garden.. I also like the way the sun reflects on her
Hope you enjoyed it guys....
Rules for responders: Just post your name underneath. Prepare your script. Do not post it. I will pick someone to post on the following Monday.
I will pick the next participant on Thursday!