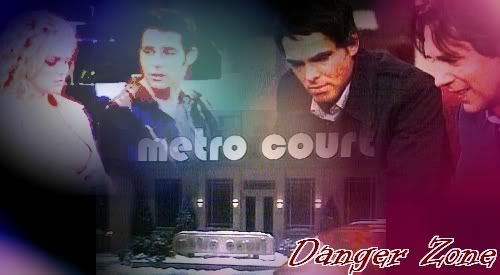 (Thanks to Kelly for the beautiful banner)
Chapter 11
~~Port Charles, 7 Hours Earlier. 10pm~~
~Port Charles Police Station~
"Finally! Where have you been!?! Well, come on! I don't have time for you just to stand there. Bail me out!!" Luke Spencer yelled at his wife Tracey Quartermain.
"And what makes you think that I'm here to help?" Tracey asked.
"Because you know just as well as I do, that every minute I spend in here Lulu is in danger."
"And that's exactly the reason that I'm here to tell you that you're staying put."
~~Outside the Metro Court hotel~~
As Bo called home to check in with the family, Hope stood behind the line of police cars staring at the hotel. She prayed for any sign to let her know if her son and friends were alright. Hope looked at the jewelry box that held Belle's engagement ring, thinking that this was supposed to be a special night for her son. Hope already loved Belle like a daughter, and was thrilled when Shelle told her and Bo that he was going to propose her.
"They're going to be alright, Hope." Came the voice of Shane Donovan, as he laid a hand on her shoulder.
"You don't know that, Shane. They've already shot one person. What makes you think that there aren't going to be any more victims?" Hope said, on the verge of crying.
"Because I know for a fact that John is not going to let anything happen to Marlena, Belle, Shawn, or himself. Just hang in there the best you can." He said giving her a hug. "I'll check back with you and Bo in awhile, I need to get back to work."
After giving Hope another hug, Shane walked back over to where the Port Charles police were awaiting his orders.
Bo then returned, and informed Hope that Rex, Mimi, and Cassie were heading to Salem to be with the rest of the family while they waited for news on the hostages.
Meanwhile, Patrick was granted permission to wait with Mac and Lucky while trying to find out any news on Robin's condition.
"Patrick!!" Came a voice.
"Dad, what are you doing here?" Patrick turned to find his father Noah standing in a crowd of spectators.
"I came to see you. And to find out how Robin was doing." Noah said, with a small smile. And then walked over to stand by his son after Mac gave the okay for him to be there.
"I'm glad you're here. I've been going crazy not knowing what the hell is going on in there." Patrick said, becoming frustrated.
"How badly was Robin hurt?"
"She was shot in the stomach. I had to talk Carly, Emily, and another one of the hostages through a procedure that should've been done in the hospital. How's Mr. Alcazar? Did he make it through the surgery?"
"Yes, Dr. Ford was able to remove the rest of the bullet fragments. And he's resting in recovery." Noah said.
And upon overhearing that Lorenzo Alcazar had made it through the surgery, Shane Donovan ordered some of his agents to stand guard outside Alcazar's hospital room and to keep an eye on Skye Quartermain as well.
"I don't know what I will do if Robin doesn't make it." Patrick said.
"You have to believe that she will. She's a fighter, and she's got a lot to live for. She's got you." Noah said, trying to comfort his son.
"I never knew how much I loved her until I was on that phone, talking Emily through a procedure that could've killed her. Robin means everything to me, dad. And I don't want to lose her." And then what seemed like for the first time in a long time, Patrick turned to his father and cried in his arms.
~~Metro Court Hotel, Lobby~~
"You're thinking of Mimi? After all that she's done!" Shawn exclaimed.
"Shawn, I don't want to be mad at her anymore. I was extremely angry at her for keeping the fact that you're Claire's father for all of those months. But, in case something happens to either one of us...."
"Belle, nothing is going to happen to us. Once this guys get what they came for everything will be okay."
"Look around Shawn. The hotel has explosives all over the place. It'll be a miracle if we all make it out alive. Situations like this makes you realize how important old friends are, no matter what they've done. I'm trying to tell myself that we're going to make it out of here, but then I keep looking over at Robin..." Belle said, as she noticed Lulu sneaking a bottle of liquor to help ease Robin's pain."And I look around and see all of the explosives and I can't help but think that we're not going to make it through this." Belle said, starting to breakdown.
"First of all, you're dad isn't going to let anything happen. When has John Black ever let anyone harm his family? Knowing your dad, he's not going to let anyone miss with us or any of the other hostages. And second, whenever you feel like we're going to make it out of here, just picture our little girl who's waiting for us back home." Shawn said, hoping that the thought of Claire would help Belle relax.
And it did. Belle closed her eyes, and pictured Shawn holding their daughter, and a big smile spread across her face.
"Thank you. That does help. You always know how to make me feel better. And you're right, we make it out alive." She said, and gave him a quick kiss.
"You're welcome. And maybe when we get out of here we can go to Chicago. Maybe look up Rex, Cassie...and Mimi. You're right, we shouldn't be angry anymore. It's time to put the pass behind us." Shawn said, just as Mr. Craig walked up to them.
"Hello there, lovebirds. Your time together is up." He said. And in the background, Shawn and Belle could hear Elizabeth cry out in pain.
~~Outside the hotel~~
Shane Donovan looked at the crowd of people. He noticed that Lucky Spencer was talking with his father and Bo. Shane then got on his cell phone and called Jason Morgan.
"Mr. Morgan, this is Shane Donovan. Get ready to infiltrate the hotel."


(Thanks to Sara for both of the beautiful banners)
Chapter 12
~~Port Charles, 6 Hours Earlier 11:00pm~~
~~Outside the Metro Court Hotel~~
Bo and Hope looked around as news vans, ambulances, and police helicopters circled the general area of where the hotel was. Shane had informed them that he was sending someone into the hotel, but did not tell them that it was Jason Morgan.
Luke Spencer had arrived after his wife, Tracy Quartermain had posted his bail. And he was now talking with his son Lucky, and his step-son Dillon Quartermain. Luke had convinced Lucky to help him sneak into the hotel. As Bo overheard their plan, he walked over and joined in the conversation.
Patrick was still waiting for any word at all on Robin. Noah insisted that he stay there with his son, and was now getting some coffee for them. He noticed how upset Hope was, and walked over to her.
"Are you alright, Mrs. Brady?" He asked.
I'm fine. Thank you Dr. Drake. So tell me, how do you know my son and Belle?" Hope asked, as she remembered Patrick mentioning just briefly, as he was coaching Carly and Emily through the surgery, that he mentioned Belle by name.
"I haven't met your son, but I met Belle just briefly before the gunman stormed the hotel. I was looking for Dr. Scorpio, and she and Belle were talking."
"I know that if Belle and Shawn are looking out for Dr. Scorpio, she'll be in good hands." Hope said, reassuring him.
"Thank you. Is there anything I can get for you?"
"No, thank you. But, I'll let you know."
Meanwhile on the hotel roof, Jason and Spinelli were already working their way in. As they were waiting for the door to unlock, Jason gave Spinelli a gun.
"Dude, I told you. The Jackal does not handle guns real well. I mean, what if I accidently shoot myself..." Spinelli said, as he started to ramble on.
"Look you don't have to worry. See the safety is on. And here's how to work it. Just keep the safety on, and if you feel like you're being threaten take the safety off." Jason explained, and then handed Spinelli the gun. And then the two entered the hotel. Neither of them realizing that Bo Brady, Luke and Lucky Spencer were also making plans to infiltrate the hotel.
~~Inside the Metro Court lobby~~
"Alright you two lovebirds, your time together is up! And now, what do we do with the two of you?" Mr. Craig said, as he pointed the gun at Shawn and Belle.
Shawn and Belle were grateful for the time they were allowed to be together. Shawn helped Belle relax, and reminded her that they will get out of this ordeal alive.
"I know, Mr. Brady is going to keep Dr. Scorpio company. So say goodbye to your girlfriend, and let's go." Craig ordered, and Shawn gave Belle's hand a final squeeze as Mr. Craig grabbed Shawn's arm and lead him over to the couch where Robin was.
"Well, well. Belle Black. I should've known you would be here." The female gunman known as "Six" said, as she walked over to Belle. "I hope you don't get too comfortable, you're not going to be with us for much longer. It's too bad that my boss moved Shawn. I would've loved for him to watch as I put a bullet in you." She taunted, and raised her gun to Belle's head. But before she could pull the trigger, Mr. Craig came over and jerked her away.
"What in the hell do you think you're doing?" He asked.
"Taking care of the person who's been a problem for me eversince high school!" "Six" yelled.
"I told you. Do not shoot any more of the hostages without my say-so." He said back. And as Mr. Craig and "Six" continued to argue, Belle was focused more on the woman's voice, and why it sounded so familiar to her.
In the end, Craig ordered Belle to go and sit with John. And as Belle took her place and sat beside her father, Nikolas noticed a slight change in Mr. Craig. He noticed that Craig's face softened just a little as John put is arm around Belle to comfort his daughter. As strange as it sounds, maybe family was the key to James Craig's weakness.
Meanwhile, Shawn was doing his best to keep Robin calm, and trying to make sure that she wasn't in too much pain. He noticed that she still had Belle's red coat around her.
"Are you alright? Are you in too much pain?" He asked.
"The pain comes and goes. The liquor is helping a little bit." Robin said, as she closed her eyes and winced as a sudden burst of pain shot through her. "I'm not sure I'm going to make it."
"You will. Belle told me that she was in the room when you and your boyfriend were fighting. All good couples fight. Belle and I fight, but the making up is the best part." Shawn said, with a smile. "And when you do pull through, I'm sure that he'll be right by your side apologizing for whatever he said or did." Shawn said, hoping that their conversation was able to distract Robin from the pain that she was currently in. And Robin was grateful that he was trying.
"Not Patrick. He's way too stubborn."
"Yeah, Belle would say the same about me. And my mom would say the same about my dad. What can I say, we're guys. We're all stubborn." And both Shawn and Robin laughed.
And at that moment, a small object on the floor caught Shawn's eye. As he looked closer, he noticed that it was Belle's locket with Claire's picture. And quickly, he picked up and put it in his shirt pocket to keep it safe.
And while he was taking care of Robin, Shawn had no idea that "Six" was watching his every move intently. "Soon Shawn. Soon Belle will be out of the way, and I'll have you all to myself." she thought.
~~Brady Pub in Salem~~
Meanwhile back in Salem, the Brady family was still at the pub waiting for any news on their loved ones. Roman had just gotten a call from Bo, informing him that there is still no word on John, Marlena, Shawn, and Belle. But, he was told that Shane was sending someone in to infiltrate the hotel.
Kate showed up about an hour ago. After she and Roman had gotten back together a few months ago, she had given up the idea of trying to get Philip and Belle back together. Especially after seeing how happy both Shawn and Belle were after finding out that Shawn was Claire's actual father. And for Roman's sake, she was once again trying to mend her differences with his daughter Sami.
Minutes have passed, and all the Brady's could do was stand by, watch the news reports, and wait for any phone call.
The Brady's were all surprised when the door to the pub opened, and in stepped Rex, Cassie, and Mimi. After the three entered, they dropped their bags and began hugging the rest of their family.
All of the sudden there was a voice coming from the top of the stairs.
"What are you doing here?" Asked Chelsea, as she looked at Mimi.
Chelsea still had awhile to go before she forgave Mimi. After finding out that Claire was really Shawn's baby, Chelsea decided right then and there that she was turn her life around, starting with making sure that her big brother shared a baby with Belle. And now she felt protective towards Belle, and any member of the Brady family.
"Look I know that I'm probably not wanted, but I do want to be here for any news about Belle and Shawn." Mimi said, trying not to meet Chelsea's icy glare.
"Of course you're wanted here. I now that Belle and Shawn would want you here as well." Roman said, after hugging Rex and Cassie.
"Fine. I'm welling to put aside my feelings, for Shawn and Belle's sake." Chelsea said, going as far as giving Mimi a semi-friendly hug. Knowing that this wasn't the time or the place to argue about the past.
"Has there been any new news about the hostages, daddy?" Cassie asked.
"Nothing that we don't already know. But, I have been insured that the ISA is sending someone in the hotel to...." Just the Roman got cut off by the ring of his cell phone.
"Brady here. Hope calm down. HE DID WHAT!?!! Alright, I'll try to catch the next flight out. Just stay with Shane until I get there." And then Roman hung up his phone and turned to everyone.
"Roman, what happened?" Caroline asked.
"Bo decided to take matters into his own hands that's what happened. He and a couple other guys decided to sneak into the hotel on their own. But, Hope assured me that one of the guys is on the police force there in Port Charles. I'm going to head there, and see if there's anything I can do." He said, as Grandpa Shawn and Nick, who was carrying Ciara, joined the group in the pub.
"Roman, please be careful." Caroline said, giving her son a hug.
"I will mom. Kate do mind staying here? I don't have to worry about you."
"I'll be fine. You just go, and bring everyone back safe and sound." She said, giving Roman a kiss. And he was then out the door, hoping to catch the next flight to Port Charles.
~~Port Charles, Metro Court Hotel Lobby~~
Meanwhile back at the hotel, the hostages were trying to keep themselves from doing something they would regret later.
Sam, however decided to take matters into her own hands, and sneaked up behind Mr. Craig holding the pairing knife that was used on Robin to his throat. After she demanded that he release Robin, he got the upper hand and forced her to stand against the front doors of the lobby.
Belle, meanwhile was still trying to figure out who the voice of "Six" was. She ran through all the little clues that gun woman said to her in her mind. The fact that this woman knew her from high school. And then noticing the way the "Six" keep looking and hoovering around Shawn, Belle started to figure it out.
She figured out who it was. At first Belle thought it was impossible, because this woman was still supposedly in a coma. But, then after realizing that she could've woken up at any possible time and then left Salem.
'Yes, it just had to be!' Belle thought to herself.
It just had to be the woman who's been obsessed with Shawn eversince they were in high school, and he pretended to the be father of her baby after she was raped on the senior class's trip to Puerto Rico. And then only to return years later to lock Shawn up in a cage for an entire summer.
"Six" was actually Jan Spears!!
Meanwhile, Mr. Craig had ordered Carly and Sonny out of the office in which they were in. And Nikolas and Emily were now tending to Alan Quartermain, who was also ordered out into the lobby. Elizabeth was still having stomach pains, and Lulu was doing her best to keep her calm.
Shawn was still with Robin. And Sam stood in her place infront of the lobby doors, hoping that Jason would find a way to rescue them.
"Now that we are all together, I'm going to some good faith and allow one of the critical hostages to leave. There are two rules though. Number one, it can not be Dr. Scorpio. Because as I mentioned earlier, she's providing with hours of entertainment." Mr. Craig stated, as he looked over at Shawn and Robin. "The other rule is our very own Intern Emily will get to choose who gets to leave our little family."
At that point Emily looked at her father, who was still in a lot of pain after suffering his heart attack. And then she looked at Elizabeth, who if she didn't get any help she was going to lose her baby.
"You what me to choose? How can I?" Emily asked through her tears.
"It very simple really. You will choose or else I'll have one of my men shoot another hostage."
"I can't just choose. He's my father."
"Yes."
"And she's my best friend." Emily said, looking Elizabeth.
"I know. And that's what makes this exciting. Who will it be? Your father or your best friend?" Mr. Craig asked.

(Thanks to Bebe for the beautiful banner)
Chapter 13
~~Port Charles, 5 hours earlier. 12:00 am~~
~~Metro Court Hotel Lobby~~
"So, who's it going to be? Who get's to leave our little family? Your father or your best friend? And I must say, they both look very bad off." Mr. Craig asked Emily.
"I can't possibly chose between them. You can make me." Emily yelled back.
"I can, and I will. Or else, I'll just have to have one of my men put a bullet in one of the other hostages. Six?" Craig turned to 'Six', who Belle had rightly figured out to be Jan Spears. "I understand that you are eager to shoot one of the hostages, so if Miss Emily doesn't make up her mind in the next minute feel free to do so."
"Wait, can I please examine them first before I make my choice?" Emily asked, hoping to buy some time before making her tough decision.
~~Metro Court Hotel, Vault~~
Meanwhile in the hotel vault, Maxie was getting to know Cooper. They pasted the time by telling each other their life's story. But, mainly it was Maxie who was doing the talking.
She had told him about how she had regretted going after Lucky, and getting him hooked on drugs. And she had told Cooper about the virus outbreak that nearly killed her and half the town of Port Charles last year. And she mentioned Jesse, the boyfriend that she loved and lost recently. And she was surprised that Cooper found her life interesting.
"And my sister and I where adopted by my Uncle Mac. But, he's like a real father to us." Maxie said, as she continued to walk around the vault trying to pass the time.
"So, you've got family in there. In the lobby, I mean? You mentioned something about your cousin." Cooper asked, leaving the briefcase on the floor and standing beside Maxie.
"Yeah, my cousin Robin. The doctor that I was telling you about earlier." Maxie was about to say something else, but something in the vault caught her eyes.
"What?" Coop asked, following her eyes.
~~Outside the Metro Court hotel~~
After Hope got off of the phone with Roman over an hour ago, she could do nothing but pace back and forth.
She had noticed that Shane was arguing with the mayor of Port Charles. Mayor Floyd had demanded that the police storm the hotel lobby. And Shane was trying to explain to the mayor the risks, like the gunmen either shooting the rest of the hostages, or shooting the hostages and whoever entered the lobby doors.
"I've given you enough time to get the situation under control Mr. Donovan, now it's time for me to takeover." Mayor Floyd yelled over the sound of police and media helicopters in the area.
"Look they've already shot one hostage. What makes you think that the moment they see someone come near those doors, they won't start shooting again?" Shane yelled back
"Dr. Scorpio was an acceptable loss, but...."
"What the hell did you say!?!! Robin is NOT DEAD you bastard!" Patrick yelled, as he punched Mayor Floyd in the jaw. He had heard everything that Shane and the mayor had been saying. And after hearing Robin being called 'an acceptable loss', something in him snapped. And had Shane and his father not be there to hold him back, Patrick probably would've beaten the mayor to death.
"That's it! Mac, I want you to arrest Patrick Drake for assault." Floyd ordered.
"Forget it. If he hadn't punched you, I would've done it myself." Mac said. "And the police department aren't following your orders on this one Mr. Mayor."
With that, Mayor Floyd left the scene.
"You need to calm it down, Patrick. You're not helping Robin by getting yourself into trouble." Noah said.
In all of the chaos going on, noone noticed that Roman Brady arrived on the scene. As he made his way towards where Hope was standing, Mac told him to step back from the crime scene. However, Shane gave the okay to let him pass, telling Mac that Roman was also a police officer back in Salem Illinois.
"Shane, it's damn good to see you again." Roman said, shaking Shane's hand.
"You too, Roman. Although, I wish it was under better circumstances." Shane said.
"Looks like you had your hands full with the mayor a few minutes ago."
"It's nothing I can't handle. It's Hope that I'm worried about. Her oldest son is being held hostage, and Bo decided to sneak in the hotel to try and get the hostages out." Shane replied looking over at Hope, who was standing with Mac, Patrick, and Noah.
"Yeah, she called and told me what Bo did. What was he thinking? He's going to get himself or those hostages killed."
"We do know that Belle is alive. One of the hostages was shot, and Belle along with two of the other hostages were forced to do an operation there in the hotel lobby. As for John, Marlena, and Shawn there's still no word on them."
"Well, we know that John won't go down without a fight. And he'll do everything he can to protect his family. But, we still need to get those people out of there." Roman said, looking at the hotel lobby doors.
"Roman, you're here!" Hope said, as she came over to him and gave him a big hug.
"Of course I'm here. Who better to bail my little brother out of trouble. How did Shawn, Belle, John, and Marlena end up in there?" Roman asked.
Hope then told him about finding out that John was on an ISA mission to capture someone. How Belle, Shawn, Marlena, and John where to met her and Bo in the hotel restaurant, but never showed up. She told Roman that John had a short meeting in the lobby, and that Shawn and Belle made two new friends and that's why they were all in the lobby at the time that gunmen entered.
"I'm also scared to death for Bo. I can't believe that he would put himself , not to mention all of those hostages in danger like that!" Hope ranted.
"You know Hope, if I was in the same situation I would probably do the same thing. If Rex, Cassie, Sami, Eric, and even if Kate was in there. I would want to find a way to get my family out of there as well. What can I say, the Brady men we like to be heroic." Roman said, trying to ease Hope's fear.
~~Metro Court Hotel ~~
Meanwhile, Jason and Spinelli had made their way into the hotel. Once inside, they hide in one of the offices. While Jason was in the air duct trying to look for a way from the office to the lobby, Spinelli had to hide and watch as "Five" beat up Sonny. After making his way back into the office, Jason was able to overpower "Five", and Jason had a plan that he would disguise himself as one of the gunmen that way he can get into the lobby with no trouble. Unfortunately by the time Jason had gotten back, Sonny was already ordered back into the lobby.
After giving Spinelli instructions to stay put until he hears from him, Jason put on the mask, grabbed the gun, and headed towards the lobby.
~~Metro Court vault~~
"Oh, look at this!!" Maxie exclaimed, as she walked over to the fashion line that was donated by Basic Black for the charity auction. "It's a wedding dress! It must be Carly's, since she had Basic Black design and make her dress."
"Look there's a card on it." Coop pointed out. And Maxie picked up the card that had the single name on it, "Isabella Black".
"Who's Isabella Black?" he asked.
"Someone who your friends decided to take hostage along with her mother, her father, and her boyfriend. But what do you care? All you care about is getting paid for this so-called 'job', and not caring who gets hurt in the process."
"I thought we talked about this. I promise you, I'm not going to hurt anyone. And I swear to you on my life, I will protect you." Coop said, looking into her blue eyes.
~~Hotel Lobby~~
Back in the hotel lobby, Mr. Craig had given Emily the go ahead to examine both her father and Elizabeth.
While she was examining them, the hostages were once again switched around. Shawn was now sitting with Max over by the door. Belle was sitting next to a beat up Sonny, and she did her best to clean his wounds as Jan kept an eye on her. And Sam and Elizabeth were now taking care of Robin.
Jason, now in disguise, made his way into the lobby and made his way over to the couch where Elizabeth, Sam, and Robin were. Mr. Craig ordered him to stand guard, and shoot if anyone got out of line.
"Well, Miss Emily. Are you ready to make your choice? Because I must say, your father is looking quite pale. And "Six" is very anxious to shoot Miss. Black over there." Craig asked, lightly kicking Alan in the side.
"I've made my choice." Emily said quietly, looking down at her father and over at her best friend.
"Good. So, who will it be? Your dying father or your pregnant best friend?" He asked, both looking at Emily, and then looking at Jan who had her gun on Belle.
"My father." Emily answered softly. And Belle breathed a sigh of relief as Jan moved away from her.
"Very good. Now see, that wasn't a hard choice." Mr. Craig said, and he ordered Carly to help Emily left Alan up and move him to the lobby's front doors.
While Carly and Emily got Alan ready to leave the lobby, Craig was talking with his men, and that included Jason.
As Emily moved to help her father out the door, Mr. Craig stopped her.
"Oh no you don't my dear! You're staying right here with our little family. One of my men will help your sick father to the door. "Five" help Dr. Quartermain out the door, and then make him walk the rest of the way."
Jason did as he was told, trying to be as gentle as he could with Alan and not blow his cover. Before stopping at the he locked eyes with Sonny and gave a small nod. Sonny picked up on the signal, and realized that Jason had made his way into the hotel without any trouble.
Once the door of the hotel lobby was open, Jason gave Alan's shoulder at light squeeze and then Alan stumbled out of the lobby, out into the hotel parking lot.
Behind the police barricade Mac, Shane, Hope, Roman, Patrick, Noah, and the rest of the Port Charles police department watched as Alan Quartermain took weak steps towards them.
Then all of the sudden, gunfire erupted around him. He then grabbed his chest in pain, and collapsed on the ground.


(Thanks to Jessica for both of the beautiful banners)
Chapter 14
~~Port Charles, 4 Hours Earlier. 1am~~
~~Outside the Metro Court hotel~~
As the gunfire erupted and Alan fell to the ground, Monica Quartermain tried to breakaway from the police barricade and get to her husband. She had arrived at the hotel after finding out that both Alan and Emily were among the hostages.
As Alan laid there still on the ground where he collapsed, she begged Mac to go and get him. Her prayers were answered however, when Bo, Lucky, and Luke came out the side door and carried Alan to safety.
"Is he alright? Has he been shot?" Lucky asked.
"No, it looks like he had a massive heart attack. Come on, let's get him to safety." Luke said. With that Bo and Luke carried Dr. Quartermain as Lucky kept an eye out for any of the gunmen.
As they made their way towards the barricade, Mac and Shane ordered the police not to shoot. As Mac ordered to have a gurney ready Hope and Roman made their way to meet up with Bo.
"Oh Bo! Why did you risk yourself going in there?" Hope asked, holding on tightly to her husband.
"I had to Fancy Face. I had to see with my own eyes that Shawn, Belle, John, and Marlena were alright." He replied, hugging her just as tight.
"And did you? Is everyone alright?" Hope asked, looking up at Bo.
~~Metro Court Hotel lobby~~
While Emily watched, terrified for her father's life, Mr. Craig and his crew were laughing at the sight of Alan Quartermain grabbing his chest and collapsing on the ground.
"You MONSTER! Why did you shoot him!?!" Emily shouted, as she began to attack Craig.
"I told you earlier my dear, I do get a big kick out tormenting you all. And just to let you know, I didn't shoot your precious father."
"He fell all on his own." "Eight" said.
"So it seems that the little jolt that your father didn't work at all." Craig said.
"Emily, you need to calm down. I know that you're upset about your father, but if you don't calm down very single one of us is going to die." Carly said, trying to comfort Emily.
"Why? His going to kill us anyway." Emily looked at Mr. Craig with anger in her eyes. "You don't care about human life. If you did you wouldn't have sent a man with a bad heart walk out on his own, and not to mention you shot at him."
"That's the purpose of a hostage. They die for my cause."
"And what cause would that be?" She shot back.
"You all seem to forget that I'm in charge here. And you don't need to know what I'm after. And you are correct about one thing, I couldn't care less if you live or die, or if any of you claw your way out of the wreckage after I blow this place up. I do however suggest you control your hysterics if you don't want your boyfriend Nikolas to end up with a bullet in his head." James Craig threaten.
He then looked over at Lulu, who was trying to hold in her tears. Marlena was now sitting next to her trying to comfort her.
"Six, take Miss Lulu into one of the back rooms." Craig ordered Jan. Jan then looked back at Belle, who was looking up at her with hatred in her eyes. "I don't think Miss Black will be going anywhere. Go!"
Jan then grabbed Lulu by the arm, and took her to the office where Spinelli was hiding in. As soon as Jan left the office, Spinelli popped out from behind the desk.
"Never fear Blonde One. It is I, the Jackal. I've come to rescue you." He said.
And then Lulu surprised him with a grateful hug, which he gladly accepted.
Once back in the lobby, Jan took her place guarding Belle. Both Sonny and Carly noticed the way that Belle was looking at Jan. To them it was as if Belle knew the identity of "Six".
"You're never going to get away with this you know." Belle told Jan.
"Oh yeah. I wouldn't worry your pretty little head about me. It's your own life you should worry about. My boss promised a hefty reward for this job." Jan said, looking over at James Craig.
"What makes you think he's not going to leave you here to die with the rest of us!? You heard what he said to Emily and Carly. He doesn't care who lives or dies. Just as long as he get what he came for." Belle shot back.
"Belle, calm down. You don't want to make it worse for yourself or your family." Sonny told her, laying a hand softly on her arm. Wanting to protect John Black's daughter.
"Don't worry, Mr. Corinthos. She's not going to shoot me. She knows of other ways to hurt me. Don't you, Jan?" Belle said, as she looked from Sonny over to Jan.
"How did you..."
"Figure it out? You made a little slip earlier. Saying that you've had a problem with me since high school. Then I figured out that you must've woken up from the coma, and left Salem without anyone finding out."
"Well, lucky for me you won't live long enough to tell anyone that I'm awake. After this job, I plan on faking Shawn's death. I'll make it look like he died in the explosion, and then I'll take him as far away from you as possible." Jan said, taking great pleasure in telling Belle her plans.
"I won't let you take him away from me again. You took him away from his family once. And what makes think you'll get away with it?"
"Look around you, Belle. You are all sitting ducks as far as I'm concerned. Noone will believe you if you tell them that I'm alive. As far as yours and Shawn's families are concerned, I'm still in a coma and may never wake up. And don't worry about your daughter, I have plans for Shawn and I to rise her as our own." Jan whispered.
That did it for Belle. She moved away from Sonny, and ripped Jan's mask off!
John, Marlena, and especially Shawn were all shocked to see that Jan Spears was not only awake from her coma, but also one of the ones that was holding them hostage.
"I will not let take my daughter and Shawn away from me!" Belle said, and then punching Jan as hard as she could.
Then the hostages along with Mr. Craig and his men watched as the two ladies fight. As "Eight" raised his gun to shoot Belle, Craig ordered him to lower his gun and let them go.
"What's going on?" Robin asked, as she heard what was happening.
"Apparently, Belle knows one of the gunmen. And they are now fighting." Elizabeth told her.
After about five minutes of watching Belle and Jan wrestling on the floor of the hotel lobby, on Craig's orders Jason pulled Belle away from Jan. And the ladies would've continued their fight had Mr. Craig not stop it. Jason took Belle over to where John was standing with Nikolas.
"Well, I must say Miss Black I didn't think you were the kind to act on your anger. I would try to keep your daughter in control, Mr. Black. I wouldn't want to have to shoot such a pretty young woman." Craig said, as he grabbed a hold of Belle's arm and roughly dragged her over to where Sam and Elizabeth were. "But for now, you stay here with these two, and your father will be taking care of the wounded doctor."
As Belle, Elizabeth, and Sam moved to sit infront of the desk, John left his spot and moved over to take care of Robin.
Jan, who still had her mask off, was ordered to guard Sonny and Carly. And Jason ended up guarding John and Robin, along with Elizabeth, Sam, and Belle.
"How did you her? "Six" I mean." Sam asked Belle.
"Shawn and I went to highschool with her. She and I were both cheerleaders. On our senior trip to Puerto Rico, she was raped. And Shawn found her afterwards. When we got back home, Jan found out that she was pregnant, and Shawn did the noble thing and claimed that it was his. We broke up, and she lost the baby. To make a long story short, eversince then she's been obsessed with Shawn. She even held him in a cage one summer."
"But, at least you and Shawn found your way back to each other." Sam said.
Just then, Elizabeth doubled over in pain. She knew that she was having a contraction, and that it was too early for the baby to be born.
~~Outside of the hotel~~
"Bo, tell me! Did you see Shawn?" Hope asked, pleading with her eyes. And hoping that Bo would tell her that he saw their son or John, Marlena, or Belle alive.
"We could only see inside a little bit. There was a small part of the camera that wasn't blacked out, but I did see Marlena and John. They appeared to be fine. I couldn't see Shawn or Belle." Bo told his wife.
He then looked over at where Patrick and Noah were loading Alan Quartermain in an ambulance, and then turned back to Hope.
"I did get a glimpse of someone lying on one of the couches. It might've been Dr. Scorpio." Bo said.
At the sound of Robin's name being mentioned, Patrick rushed over to where Bo, Hope, and Roman were standing after telling Noah that he would keep him posted.
"Did you say that you saw Robin in there? How did she look?" Patrick asked Bo.
"I just got a glimpse of someone, I'm assuming that it's Dr. Scorpio. Listen, she was moving around, so she's alright. From what you've told us of her, she's a fighter. And she'll get through this." Bo told Patrick.
"Thanks, Mr. Brady."
Then they went over to where Ric was yelling at Lucky for making such a risky move. However, Shane had told Ric that Lucky went into the hotel on his and Mac's orders. Shane was upset that Bo went in with Lucky and Luke, risking not only himself but possibly Shawn and the other hostages as well.
Shane then gave the D.A. a warning. Either do as he was told, or he would be removed from the site again.
In the meantime, Skye Quartermain arrived on the scene. She was ordered out of the Lorenzo's hospital room after the ISA showed up to guard his room. And her family were blaming her for Alan's condition, so she decided to see if there was anything she could do to help get the hostages released. There she ran into someone who had always been a great friend to her no matter what. Luke Spencer.
~~Inside the hotel. Hotel lobby~~
Meanwhile, the hostages were holding up the best they could. John was still taking care of Robin. Marlena was sitting in one of the corners with Emily. And Shawn, who was sitting infront of the lobby doors with Max, with throwing disgusted looks at Jan every chance he got.
Belle and Sam where trying their best to ease Elizabeth's pain. They would talk to her, and telling her to breath through the pain.
"You mentioned that you had a daughter. Is she here in Port Charles with you?" Elizabeth asked Belle.
"No, she's back home. Shawn's grandparents are taking care of her along with his little brother and baby sister." Belle said.
"I don't want to have this baby here. Not in the middle of a hostage takeover."
"Elizabeth, you need to relax. I'm sure that it's just false labor. We're going to get out of here, and you're going to have your baby in a hospital." Sam said, trying to reassure the young mother-to-be.
"Claire was born in a church. Sorry, you probably don't hear about having a baby somewhere other than a hospital right now." Belle said.
"No, it's okay. The story might distract me from the contractions." Elizabeth said, letting Belle continue with the story.
"Well, my sister was attempting to get married..."
"Wait, attempting to get married?" Sam asked.
"Don't ask. It's a long story. Anyway after the wedding was called off my water broke. So, mom and a good friend of the family who's a doctor took me into the brides room, and delivered my beautiful little girl."
"At least you didn't miscarry. How did you handle it, Sam?" Elizabeth asked.
"First of all, you're not going to loose this baby. And second, it was hard. Sometimes I can still picture her. Who she looked like, and who's personality she would have." Sam said, thinking of the baby she had with Sonny and then lost.
"Mine and Shawn's other baby probably would've looked like me. I miscarried about a year ago." Belle said.
"I'm sorry to hear that. Were you and Shawn planning to have another baby?" Elizabeth asked.
"We didn't even know that Claire was his until after her first birthday." Belle said.
She then went on to tell Elizabeth and Sam that the summer that Jan had held Shawn captive in the cage, she had dated and then married her friend Philip. She told them about conceiving Claire with Shawn during a snowstorm. Belle had mentioned that she and Shawn were both suffering from hypothermia that night, they both thought it was a dream of them making love in the barn.
She then mentioned how Shawn had married her best friend Mimi, and they were trying to have a baby as well.
"Around that time there was someone going around making our lives miserable. And when it came time for Mimi's surrogate mother to be injected with the fertilized embryo, Mimi got implanted with hers and Philip's baby. And I got implanted with mine and Shawn's. One day I started having bad stomach cramps. Shawn took me to the hospital, and I was in danger of losing the baby. I told Philip to save the baby no matter what happened to me, but he told the doctors to go ahead and take the baby. Sometimes, I can see his point of view. I would've died if they hadn't taken the baby. But, I couldn't get rid of it. Not an innocent unborn baby."
Belle then went on to explain how they found out that Claire was Shawn's daughter. All the while, Jason was looking on as the three women bonded.
Suddenly, there was a noise coming from outside.
"Mr. Craig!! This is Luke Spencer. I have the code, and I want to make a deal with you." Came the voice of Luke through a distance mike.
"Spencer? "Five" go get Lulu Spencer and bring her here." James Craig ordered Jason.
And within a few minutes Jason was out and back with Lulu.
"There is a man outside with the name of Luke Spencer. Any relation to you?" Craig asked, holding his gun on Lulu.
"He's my father." She answered.
"Your father? Very good. Let's go." He said, grabbing her around that waist and taking her over to the front door. "And don't any of you try to escape. The first one that moves towards the door. Shoot them."
~~Outside the hotel~~
"Everyone hold your fire!! He's got a hostage!" Mac yelled, as his men were about to shoot.
"James Craig?" Luke asked, as he saw the man holding his daughter infront of him.
"Luke Spencer. I must say, you daughter here as been a good hostage. A little annoying for my taste, but she's become very valuable. What kind of a deal are you welling to make?"
"The briefcase that you're after is an equinox model, correct? It needs a code to open it, and just so happen to know it."
"Nice try, but only Lorenzo Alcazar knows the correct code."
"Yeah, well Alcazar is feeling a little under the weather. So he sent me instead." Luke said, hoping that Craig would buy his bluff.
"You mean that he sent his girlfriend." Mr. Craig said, noticing Skye standing next to Luke. "So, I bet that you're welling to tell me the code in exchange for your daughter. Am I correct, Mr. Spencer?"
"That's right. How bout it? If I tell you the code, will you let Lulu go?"
"Here's how it's going to be Mr. Spencer. You either tell me the code, or I'll shoot your daughter right here infront of all of you."
Luke then looked on as he noticed the terrified look on Lulu's face as she hand a gun to her head.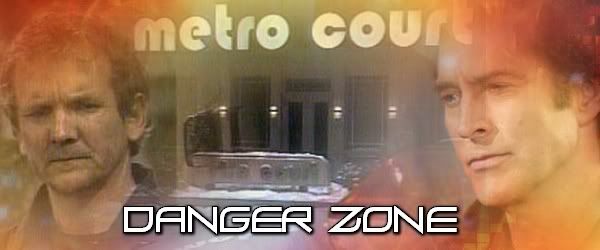 (Thanks to Kelly for the beautiful banner)
Chapter 15
~~Port Charles, 3 Hours Earlier. 2am~~
~Metro Court Hotel~
Patrick, Bo, Hope, Roman, Skye, along with the Port Charles police department watched as Luke Spencer made contact with James Craig.
"What's it going to be Mr. Spencer? The code, or Lulu's life? I could bring Elizabeth out have you watch as I kill your daughter, Nurse Elizabeth, and the little brat that she's carrying all at once."
"Give him the code, Luke. He's already shot one person. He won't hesitate to kill Lulu if he doesn't get what he wants." Nikolas shouted from the inside of the hotel lobby.
"Finally, the hothead- I believe his name is Nikolas, is making some sense. He is right you know? I will not hesitate to pull this trigger, and end your daughter's young life if you don't give me the code."
"This is crazy. Luke doesn't know the code. Only Lorenzo knows it." Skye said to Mac.
"Time's up, Mr. Spencer!! Say goodbye to your precious Lulu." Craig said.
"DADDY!!!" Lulu screamed.
"Alright, alright! The code is 7-6-7-2-8-5." Luke said, hoping now that Lulu would be released.
"Thank you very much, Mr. Spencer. And I'm a man of my word, I'll let little Lulu here live. For now." Mr. Craig said, as he moved back in the hotel with Lulu.
"Damn it!" Luke swore under his breath. And he made his way back to the police barricade, angry that he wasn't able to get Lulu release.
~~Metro Court Hotel- Lobby~~
"Alright everyone, the show is over." Mr. Craig said, as he brought Lulu back into the lobby. He had noticed that all of his men, except for Jan, and the hostages all gathered to watch the scene outside. John, however stayed by Robin since she was in pretty bad shape.
Craig then dragged Lulu over to where Nikolas was sitting with Marlena.
"You should be grateful to your brother. He made a very effective, and I must say an overly dramatic plea to your father. Now, be a good girl and say "Thank you"."
"Thank you, Nikolas." Lulu said softly, and she was allowed to hug her brother. And she then began to cry in his arms.
"Hey, it's okay. I promise, we're going to get out of here." Nikolas said, trying to comfort his little sister.
"Now, that I have everyone's attention. I think it's time to change partners. Let's see, 'Sweet Sam' over there with the priest. Shawn Brady, you and Mr. Corinthos over there in front of the desk." Mr. Craig ordered.
He then finished pairing everyone up. John was back with Marlena, and they were close enough to Shawn and Sonny that they could talk quietly. What Craig and no of his men noticed is that before John had been ordered away from Robin, he picked up the pairing knife where Sam had dropped it earlier.
"As soon as I give you the signal, you grab Belle and make a run for it." John told Shawn.
"What about you and Marlena?" Shawn asked.
"Don't worry about us. You just grab my daughter, run like hell, and don't look back. Once that vault opens these guys aren't going to waste any time setting off those explosives."
"It may be a little easier than you think. My right hand man, Jason Morgan is the one that just took Lulu back into one of the offices. He was the one that was guarding you, Robin, your daughter, Sam, and Elizabeth just now." Sonny told John.
"Keep an eye on him. I'm going to try and make a move against one of these guys, and I don't want to attack Jason by mistake." John told Sonny.
"John, I don't like you going up against this guy. What if he punishes you, like he did Sam McCall? From what we've seen, this guy seems five times worse than Stephano and EJ put together." Marlena said.
"Doc, I can't let this guy get away with shooting anymore hostages. If he...."
"His name is James Craig. I overheard Lulu's father call him that." Shawn said.
"I know who he is. Shawn you have to keep this quiet, don't react in any way. If you do, we all could be in even more danger." John said. And he went to tell how he was there on an ISA assignment. That charity auction was a cover story, and how he figured that Belle and Shawn would be celebrating their engagement by the time the shipment that he was after took place. And John also mentioned that he'd been working with Sonny to help bring down Lorenzo Alcazar.
"So, what are you going to do? Catch one of these guys by surprise?" Shawn asked.
"That's the plan, kid. Did you know that Jan Spears and woken up from her coma?" John asked Shawn.
"I had no clue. The last I heard she was supposed to have been in the coma for good. Noone figured that she would ever wake up." Shawn explained.
"She's going to take advantage of this situation to get back at Belle. If you see her make more threatening gestures towards her you grab Belle and run." John ordered.
"There's Jason. He's back guarding Robin, Nikolas, and Emily." Sonny said to John, pointing to where Jason was.
"Alright, as soon as Craig returns I'm going to grab one of his men. And try to get him to release at least Dr. Scorpio. You know what to do kid." John said, and Shawn nodded and looked over at Belle who was now paired up with Carly.
Just then James Craig returned with Lulu and Spinelli, who were caught trying to escape from the office where Lulu was being held and Spinelli was awaiting orders from Jason.
"Attention everyone. It seems that Miss Lulu here was trying to escape. And while I was able to stop her from leaving our little family here, I came across this young man. It appears that 'The Jackal' has been hiding in one of the offices. And since he was trying to help Miss Spencer escape I'm afraid he's going to have to die." Craig said, getting ready to shoot.
"No wait! I told you he could open the vault." Lulu said.
"Spinelli used to manage Alcazar's computer systems. He works for me now. And there is nothing that he can't find in cyberspace." Sonny said.
"But, can he open the vault?" Craig asked, turning his attention to Spinelli.
"If I can find a computer terminal, then it would be no trouble for The Jackal." Spinelli said, hoping that Jason would find away to help him out.
As Jan led Spinelli and Lulu to the computer at the front desk, Jason made his way over to Sam and Elizabeth. He bent down to check on them, and it was at that moment that Sam had realized that Jason had made inside and was right there with them.
Sonny was keeping an eye on Jason as well, and letting John know where he was. That when John made his move, he wouldn't grab Jason by mistake.
"Mr. Spinelli, how long before you can get the vault open?" Mr. Craig asked.
"Dude, I'm working on it. It takes time." Spinelli replied, as he worked the keyboard on the computer.
"You're a slacker, Mr. Spinelli. You need some motivation. How about if you don't open the vault in one hour, that would make it 4:30 a.m., one of the hostages and let's make it Lulu, will die."
With that, James Craig left the front desk and went to check on the other hostages.
"Why doesn't Stone Cold just shoot Mr. Craig right now?" Spinelli asked Lulu after Craig was out of earshot.
"Because he as this place wired with explosives. And if Craig doesn't have the detonator, the gunmen who has it could blow up the lobby." Lulu said.
"Oh, that explains it." Spinelli replied, then going back to work on the computer.
"Uh, boss? BOSS!?!!" Jan yelled.
"What is it?" Craig asked, turning around to see John Black holding the pairing knife at Eight's throat.
"I would highly advise you to put down that knife, Mr. Black. You wouldn't want anymore hostages getting shot now, would you?"
"Come any closer Craig, and I won't hesitate to kill him. Let someone take Dr. Scorpio out so she can get the proper medical attention she needs. NOW!!" John ordered.
"Mr. Black, do you honestly think that I care if you kill one of my men? I don't! So go ahead and kill him. But I must warn you, you kill him and will take great pleasure in killing you beautiful daughter right infront of you and your lovely wife." Craig said, holding his gun right against Belle's head.
"You son of a...." Shawn started to say, but Sonny held him back.
"I would watch it, Mr. Brady. You're just as reckless as Mr. Black over there. What's it going to be 'Mercenary John'? And do make up your mind quickly, your daughters life depends on it."
With that John dropped the knife and stepped away from Eight. He would've taken Eight out, but not when it would cost him Belle's life.
"Good man. But, I'm afraid that one hostage must suffer from your actions." Craig said.
He then started waking around the lobby, aiming his gun at the hostages. He then found his target, and fired the gun hitting Max in the shoulder.
"And for his outburst earlier, Mr. Shawn Brady will now tend to Max."
Shawn then moved over to where Max was lying on the floor. And took off his tie to help keep pressure on the wound. Shawn then looked around and found that Carly and Belle were close by. Close enough so he could grab Belle, and make a run for it when the time came.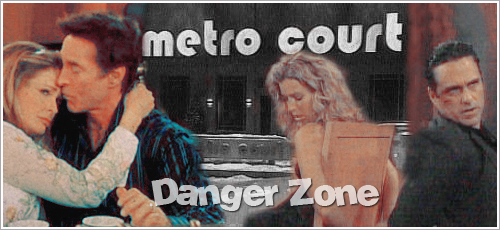 (Thanks to Chantal for the beautiful banner)
Chapter 16
~~Port Charles. 2 Hours Earlier. 3am~~
~Metro Court Hotel-Lobby~
While Shawn was tending to Max, who was just recently shot in the shoulder, Carly did her best to keep Belle calm. Belle was grateful that John was trying to get the hostages released. But coming close to getting shot in the head for the second time during the evening was starting to cause her to break down.
"Belle, you need to calm down and try to relax. I know that you're scared, but...."Carly said, trying to soothe Belle before Mr. Craig came back to check on them. However, he was distracted by watching Spinelli at the front desk computer.
"I know. It's just I've had a gun held to my head twice already! Once by that psychopath Jan Spears, and then again. I don't know how much longer I can handle this." Belle said.
"You can do it. If you're anything like your father, then you'll be able to handle being stuck here. But, you can't break down. If you do, then you're giving these guys the power to keep torturing us with their mind games." Carly explained to Belle.
"You're right. We all need to be strong, and we can't let these guys win." Belle said, then looking over at Jan with hatred in her eyes. "I'm not going to give Jan that satisfaction."
"Tell me about your daughter. Does look more like you or Shawn?" Carly asked, hoping to detract Belle from the situation.
"She looks so much like Shawn. She's definitely her daddy's little girl. Although, Shawn says that she has my nose. Everytime I look into her eyes, I see her daddy." Belle said. It helped talking about Claire. Just the thought of returning home to her little girl motivated Belle to stay strong. Belle also found it comforting that Shawn was close by.
~~Metro Court Hotel- Vault~~
Meanwhile back in the vault, Maxie and Coop passed time by talking about themselves. Maxie was surprised about how much Coop opened up to her about his past. The one then that he wouldn't talk about was how he met Mr. Craig, and got involved in this so-called 'robbery'. Maxie then decide to start guessing what was in the briefcase.
"Let's see, it's small enough to fit in a briefcase, and worth a ton of money. Do you think it's something that you can wear?" Maxie asked.
"I have no idea. But I doubt it." Coop said.
"Well, let just open it up and find out." Maxie said, moving towards the briefcase only to have Coop snatch
"No don't touch it! It has a self-destruct timer on it. And I don't want to see you get hurt." Coop warned Maxie.
And Maxie's heart fluttered and she smiled to herself that he cared enough about her, and not wanting to see her hurt.
~~Metro Court Hotel-Lobby~~
Back in the lobby, Sam was telling Elizabeth that Jason was there and pointed him out to her. However, before she could say anything else, James Craig had worked his way back to them.
"What are you two chatting about? Is there anything that you care to share with all of us?" He asked.
"No, it's just I thought that I heard a noise outside. And I was hoping that the SWAT team was moving in to blow your head off." Sam lied to Mr. Craig.
"I must say, your impulsive streak must really keep your boyfriend on his toes. But I have to warn you, you better learn to exercise some restraint. After all you've already got eight demerits."
"Demerits?" Elizabeth asked.
"Oh yes, I may have forgotten to mention that all of you are operating on a point system. For example, 'Sweet Sam' has eight demerits. She as four for triggering the silent alarm button and shutting the vault. Two more for pulling my mask off with asking. And two more for pulling that stunt with the knife. I should warn you, you get a total of ten demerits and you die." Mr. Craig explained. He then walked over to Belle, who had pulled herself together and was acting more brave. " And as for 'Perfect Girl Belle', she has four demerits so far. Two for pulling off Six's mask, and then two more attacking her."
"Yeah, and I probably couldn't done a lot worse if you hadn't pulled me off of her." Belle snapped at Craig.
"Do you want another two demerits, Miss Black?" Mr. Craig asked Belle, made his gun clearly visible.
"Not really." Belle said.
"Good. Now be a good girl, and keep your pretty little mouth shut."
While Craig was explaining his 'point system', Spinelli continued to work feverishly on the computer. Hoping that he would be able to save his Blonde One from certain harm if he didn't get the vault open.
He froze for a moment when Emily then was forced to remind everyone that the hotel was wired with explosives on a 60-second delay timer.
Shawn was still taking care of Max, now had the help of Father Mateo Ruiz. The bleeding from Max's shoulder wound for the most part had slowed down, thanks to the pressure being applied to it. However, he was still in a lot of pain.
"Hey! What's going on over here?" 'Seven' said, after hearing Max groan in pain.
"Nothing. I'm just in a bit of pain. Not that you would care." Max said.
"Awww, looks like your prayers aren't working Father. You should pray harder." 'Seven' said to Father Ruiz. He then turned to Max and said, "Tough it out."
After the gunman left Shawn studied the priest. He thought that it was a little odd for a priest to have tattoos all over.
"Are you really a priest?" Shawn asked.
"I am." Father Ruiz answered.
"Then what's with all of the tattoos?"
"They are a reminder of my brother, Manuel. The people of Port Charles knew him by the name of Manny. He lived and died by violence. We were identical in every way. I probably would've died in the same way he did, but then I discovered the Lord. After I was released from prison, I continued to serve God and became a priest." Mateo explained.
For some reason, Shawn found that to be an interesting story. His attention was drawn over to Sonny. Shawn noticed, what appeared to be one of the gunmen talking cautiously with Mr. Corinthos. Shawn then noticed the same gunman go over to Carly, and talk to her in the same cautious manner.
~~Outside of the hotel~~
There has been no progress with negotiations where still going nowhere. And Shane had ordered Mac to have a SWAT team ready just in case they had no choice, but to force their way into the hotel.
Patrick stepped away for a moment to get some coffee with Roman when they both heard that Luke offering up the phoney code was a bust.
Bo was beginning to feel useless. He wanted to try and go back in. But after a threat from Ric Lancing to have him arrested, and a stern warning from Shane, Hope, and Roman, Bo decided to stay put.
Hope had gone to update the family back in Salem. She hated that she had nothing new to report, aside from hearing another gunshot go off about an hour ago.
Bo and Roman were now standing with Hope behind the police barricade, while Patrick was talking with Luke.
"How's everyone back home?" Bo asked.
"Aside from worried and scared for Shawn, Belle, John, and Marlena, they're doing fine. Mimi, Rex, and Cassie are helping Chelsea and Nick with the kids. Zack saw the news reports when went into the pub for some milk. He knows that his big brother, Belle, Marlena, and John are in danger." Hope said, turning towards her husband. "He asked me if they were going to get out safely, but it was hard to promise him that they would."
"How about you try negotiating again?" Patrick asked Luke, as they both looked on at the hotel.
"There's no negotiating with this guy, doctor. I tried to offer up a phoney code, and it didn't work. If Craig doesn't get want he wants, I guarantee he will kill all of the hostages. The cops and the ISA are just wanting for the vault to open, hoping that it'll by some time to get some of the people out of there."
"Which works fine for Lulu, but not for Robin. She's so weak and barely move. Her only chance right now is if manic lets her go." Patrick said, with tears threating to start spilling again.
~~Metro Court Hotel- Lobby~~
"Patrick? Where are you?" Robin said softly, as she began to wake up.
"Shhh. Robin it's okay. Patrick's right outside. Are you okay?" Emily said.
"The pain is back. But, it feels different somehow." Robin said weakly.
"Different? Like how?"
"I don't know. It feels like someone that I love is sad or in emotional pain." Robin then turned and saw that Nikolas was there helping Emily take care of her.
"Is everyone else alright?" Robin asked.
"Well, John Black tried to get you released by threating to kill one of the gunmen. But, Craig threaten to kill his daughter if he didn't let his men go. Unfortunately, Max was shot as a punishment for Mr. Black's actions." Nikolas explained.
"And then Lulu tried to escape, and got caught. A kid who works for Sonny was also caught helping Lulu. And now he's being forced to open the vault earlier than scheduled or Lulu will be killed." Emily said.
"Wait? A kid that works for Sonny?" Robin asked.
"Yeah. About college aged, brownish hair, works with computers." Nikolas said, trying describe Spinelli.
"You must be talking about Spinelli. I would see him at Sonny's coffee shop once in awhile. I think he calls himself 'The Jackal'."
"That's me!" Spinelli piped up, as he heard his name.
"Excuse me, who gave you permission to stop working on trying to get the vault open?" Mr. Craig said, coming behind the front desk and putting his gun to Lulu's head.
"Sorry, sir." Spinelli said quietly, and quickly went back to work on the computer.
"Good boy. Now that I have everyone's attention. Four of you are going to be leaving our little family for a much quieter location. And not to worry, I'm not going to kill any of you....yet. So, when I call your name please stand up. Let's see, who should leave our little group? How about Mrs. Corinthos, Mr. and Mrs. Black, and Port Charles' own Michael Corinthos, Jr."
After Mr. Craig called out their names Carly, John, Marlena, and Sonny all got up from their spot, and walked over to where Jan and Craig were standing.
"I see that some of you are now without partners. So, just sit tight and when Six and I get back we're going to play another round of musical hostages." And then Mr. Craig led Sonny, Carly, John, and Marlena away with Jan trailing in back.
Jason saw this as his chance to communicate with Sam and Elizabeth. Sam saw Jason walking towards them, and she got Elizabeth's attention.
"How's it going over here?" He asked.
"I'm better. The cramps have stopped, thanks to Sam. She and Belle really helped keep my mind off the pain." Elizabeth said.
"That's good. Sam the first chance you get, you slip out through one of the side doors and warn the cops that this place is wired." Jason instructed his girlfriend.
"How do you expect me to get passed these guys?" Sam asked.
And Sam got her answer when Jason pulled out a mask out of his black jumpsuit. He then handed it to her, and then she hid it in her black jumpsuit that she was forced to put on earlier.
"Just wait for my signal." Jason said, and he moved away to check on the others.
~~Metro Court Hotel- Vault~~
"Man, it's like a sauna in here. The least you could do is thank me." Maxie said, as she paced around in the vault, sweating.
"Thank you? For what?" Coop asked.
"For what? How about taking that mask off of your face, to keep you from sweating to death." Maxie replied.
"Well for my gratitude, how about I return the favor." Coop said, handing her a fan.
"You found a fan! Thank you so much. How much do think it's worth?" Maxie asked, beginning to fan herself and then Coop.
"I don't know. As long as it moves air around, that's all that matters. I found it over by your friend's wedding dress."
"You know, if I get out of this alive I'm catching a flight to some tropical island somewhere. Maybe Hawaii or maybe even Purteo Rico. I don't care just as long as I'm away from Port Charles for awhile. How about you? How do you plan on spending all that money that you're supposed to get from this job?"
"I don't know. I'll find something useful to do with it." Coop replied.
And then, Maxie and Coop passed the time talking about their families.
~~Metro Court Hotel- Office~~
"The three of you have been a royal pain throughout this whole operation. Now, 'Doctor Marlena' has been a good hostage. She's done what she's been told. But, Mr. and Mrs. Corinthos, and Mr. Black have been making my job very hard. You've either been making stupid moves against me or one of my men, or trying to motivate the other hostages to make stupid moves themselves. And the only reason why I brought 'Doctor Marlena' along for this little journey, is because if the vault is opened before it's scheduled to, and if Mr. Spencer gave me the wrong code I will be back here to put a bullet in each one of your heads. And I wanted to give Mrs. Black a chance to say goodbye to her husband." Mr. Craig explained, as he and Jan tied up them back-to-back in the office chairs.
"If you kill us, it could be the biggest mistake of your life. And that's because you need us to get into that briefcase." Sonny said, looking at Mr. Craig.
"Your bluffing. Mr. Spencer already gave me the code. So, what makes you think you can be any help?"
"Because, I know that Luke Spencer would say anything, including giving you a false code, in order to save his daughter's life. He gave you six numbers, but not the correct code."
"We'll just have to wait and see now, won't we?" Craig said, then turning to Jan. "Let's go."
After making sure that the ropes were good and tight, Mr. Craig and Jan left the office.
"Great! Not what do we do?" Carly asked, as she began to try getting the ropes loose.
"We try to figure out that damn code is, that's what we do. And we better do it fast." John answered.
"Carly knows it." Sonny said.
"What! I don't know the code anymore than Luke did. What makes you think that I know it?"
"Because you were married to Alcazar. He must have said something...."
"Look Sonny, Lorenzo never told me a six digit code for programming exploding briefcases. So I'm sorry if there's nothing I can do." Carly yelled.
"There's no need to yell. And you know a lot more than you know."
~~Metro Court Hotel- Outside~~
Meanwhile outside of the hotel, Shane and Ric were going over the final details to get the hostages out and to safety. Time was beginning to run out, and the two men had to put aside their differences and find a way to get the hostages out. And that included making sure that Robin Scorpio made it out as well.
"So, what's the plan?" Roman asked.
"The vault is scheduled to open in two and a half hours. When it does, Mr. Craig will get his hands on the briefcase and will try to open it with the false code. When he's trying to improvise, a SWAT team will storm the hotel and get the hostages out." Shane explained. He then turned to Patrick, who was listening. "Don't worry Dr. Drake. We'll make sure that Dr. Scorpio is carried out. I promise."
~~Metro Court Hotel- Office~~
Back in the office where Marlena, John, Carly, and Sonny were being held, Sonny and Carly were arguing about how she could possibly know the code to the briefcase.
Sonny had suggested that maybe Alcazar had a plane or a boat that had a six digit code with the first numbers being 7-6-7. But, Carly said that she couldn't remember anything. Frustrated, she took off her shoe and knocked the office phone off of the table.
"What are you doing?" Sonny asked.
"What does it look like I'm doing? I'm trying to call for help." She shot back.
"They cut all of the phone lines except for the one in the lobby."
"It doesn't hurt to try. Maybe they forgot one. Damn." Carly sighed, as she was met with a dead dial tone.
"Told you so."
"Guys, what if the code doesn't represent numbers? Maybe the code represents letters instead." John suggested, as he got a look at the phone keys.
"Okay, so what are some names that Alcazar would use as a code? We've got Diego, Skye, Lila Rae..." Sonny said, thinking out loud.
"Those seem too short. And the last one is one letter too long." Marlena said. "What are the letters we have so far?"
"7 is P, Q, R, and S. And 6 is M, N, and O." Carly said, reading the letters off from the phone key pad.
"Okay, do any of those letters mean anything to you?" Sonny asked, as Carly began studying and trying to figure out what the code could possibly be.
"Yes! S-O-P. Sophie. She was Lorenzo's very first love." Carly answered.
"Are you sure?" Marlena asked.
"I am positive. I know that Lorenzo never got over her death. And I'm sure that I'm the only person he ever mentioned her to. That's it! Sophie is the key to getting that code."
"Okay, what other numbers are we needing?" John asked, trying to see the phone's key pad over Carly.
"The rest of the code is 4-4-3." Marlena answered.
~~Metro Court- Lobby~~
Back in the lobby, Jason was now standing guard over by Spinelli and Lulu. Spinelli had been working feverishly on getting the vault open as Mr. Craig ordered. His beloved Blonde One's life depending on it. Suddenly, there were beeps coming from the computer.
"Whoa, I did it! Sometime's I'm so good I scare myself. Okay, all I need to do is hit this one button and the vault will open. Stone Cold, should I stall or go ahead?" He asked Jason.
"Open it." Jason replied back.
"Blonde One?" Spinelli asked, looking over at Lulu.
"Open it." Came her reply.
Meanwhile, 'Seven' had been guarding Shawn, Max, and Father Ruiz. And while on his watch, 'Seven' noticed that the priest had been staring at him for the entire time.
"What's the problem? Why do keep looking at me like that." 'Seven' asked, rising his gun.
"I've been praying for your soul." Father Ruiz said simply.
"Awww, I wouldn't worry so much about my soul Father. But, you should worry about your own. I'm not the one who had a freak for a brother. His soul is burning in hell, while you're up here wasting away your soul."
"Why don't you just leave him alone." Max said, standing up to the gunmen.
"Why don't just sit down and shut up! Do you want a bullet in your other shoulder? Or how about one in your head?" 'Seven' yelled at Max. He then turned towards the priest with his gun still on Max. "Come on Father, turn the other cheek. I dare you. Do it for you looser brother."
And finally, something inside of Father Ruiz snapped. Looking up at 'Seven', the priest stood up, grabbed a knife that the gunman was carrying, and stabbed 'Seven' right in the stomach.