Great start pic! Your skin looks lovely to me, and such rosy cheeks! I'm envious! I'm growing my bangs out too, so if you come up with a good alternative for the "parted down the middle" style, let me know!
Thanks,
Sara
1cF/Mii
CO washing most days, shampoo 1 or 2 times a week. Detangler as needed. Deep condition about once a week with jojoba in summer, coconut oil in winter. Exfoliate scalp with sugar mixed into cheap conditioner approximately every other month. NO hair dryers, curling irons or other heat styling ever applied to hair.
23/27.5/terminal length (hopefully at least to tailbone!)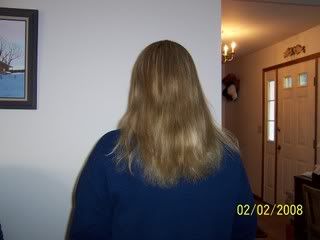 My hair right about the time I started
Aug 6 2008, even with 1/4" trims every 8 weeks I still grew this much! No I didn't bleach it again, the dye I put in months ago to try to get the bleached parts to match the roots better washed out after a few weeks and I decided it would be better to just stop dyeing and deal with 2 tone hair.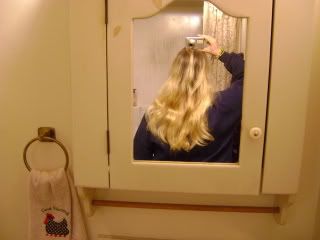 November 2008 since I started using cassia. Not much growth since August but I Love the shine I'm getting from the Cassia and it seems to really be protecting my ends
Thanks everybody for your help!