Thai Lakorn : The Princess (Leard Kattiya)
by gergoz

Lakorn is Thai ( may be Laos also ) word meaning "a stage performance, a play, a drama".
When they move from stage into televisions, Thai ppls still call as the same.In America they be called series, soaps...
It's really suppose to be La-khor, but Thai can't pronounce it without having to add the N at the end.

onLine:
http://thailakorn.tripod.com/
http://www.polyplustv.com/fanclub_02.html
http://www.geocities.jp/thaidramafan/
http://www.geocities.com/lakornadmirer/
http://singnhoth.proboards29.com/index.cgi?board=Talk

The Princess (Leard Kattiya)




Casts: Tik Jesadaporn, Oom Phiyada

This is a story of a soldier Anothai who was born to die for his country and was willing to give up everything for princess Tipparath Dara Kumaree or "Little Princess" of Yasoton province, the girl that he loved more than his own life.




Anothai always knew that he would become soldier protecting his country like his father before him. In the military school, he was the top student of the class. Anothai practiced on his own on a small deserted island. Here he saved a beautiful young girl named "Dara" from being drown after her boat tipped over in the storm. They became friends and made the island their secret meeting place.




The Crown Prince Sithipawat was kind, weak and hated fighting. Anothai helped the Prince all though 3 years of military school and they become best of friends. On the 20th birthday, the Little Princess was given the title of 3rd heir in line of the throne. Anothai was shocked to find out that Dara, the girl he loved, was the same person as Little Princess. Although Anothai and Dara belonged in different class, they shared love that was wonderful and pure. Anothai and Dara still could not stop their hearts from loving each other. However, the love for their country was above all else. Anothai helped the Crown Prince marry Princess Dara, which made her very angry at him. Anothai told her he loved her dearly but he could not betray Yasothon and its people. He would always be her servant for life. dia. kalo nak baca, highlight jek ok! When the Crown Prince died and Princess Kekijarad married off to the foreign prince, Little Princess become the first heir to the throne, backed by support from Anothai. Prince Chaiyan and Princess Kaekai tried to prevent Dara from being elected the Leader of united nations by trying to murder Dara and spreading rumors about the forbidden love between Anothai and the Princess. Anothai lured the killer out by putting himself on trial. Dara became the Queen like Anothai had planned. Choosing death, Anothai died in execution protecting the honor of the woman he loved.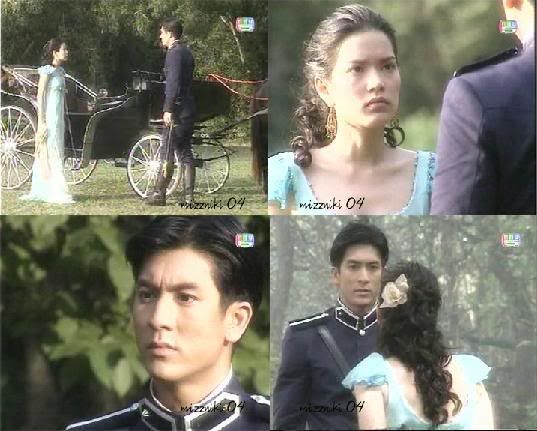 Videos

Opening:
http://www.youtube.com/watch?v=1yz6D_WQcEM

special Episode:
http://www.youtube.com/watch?v=JYPCkSNE56c
http://www.youtube.com/watch?v=2Vp0CWiaUTg






Posted on Feb 16, 2007, 8:28 PM
from IP address 222.127.56.137

Respond to this message

Return to Index

Responses