A few Archer models I make use the screwed pins that you have to hold at each end, so I am familiar with this issue. I have probably unscrewed hundreds of these, so you do get used to it after a while.
In terms of breaking the Loctite bond, more heat might be needed and possibly a small flame under the screw would work - be careful of course not to burn the strap, or discolour the parts. Now usually I don't have to use heat, and I can apply enough torque to get the screws undone. I use a case holder, and place the watch in it for some stability. If you don't have one maybe have someone hold the watch for you so it won't move - the watch moving is what you really need to avoid. I put the watch in my case holder, then use my left index finger to hold the case holder, while holding one screwdriver in my left hand engaged in the slot. I then use the right hand with the second screwdriver to do all the work. The left hand is completely still and the right is used to unscrew the screw. If you try to use both, it will lead to everything moving and likely scratches where you don't want them.
A picture might help....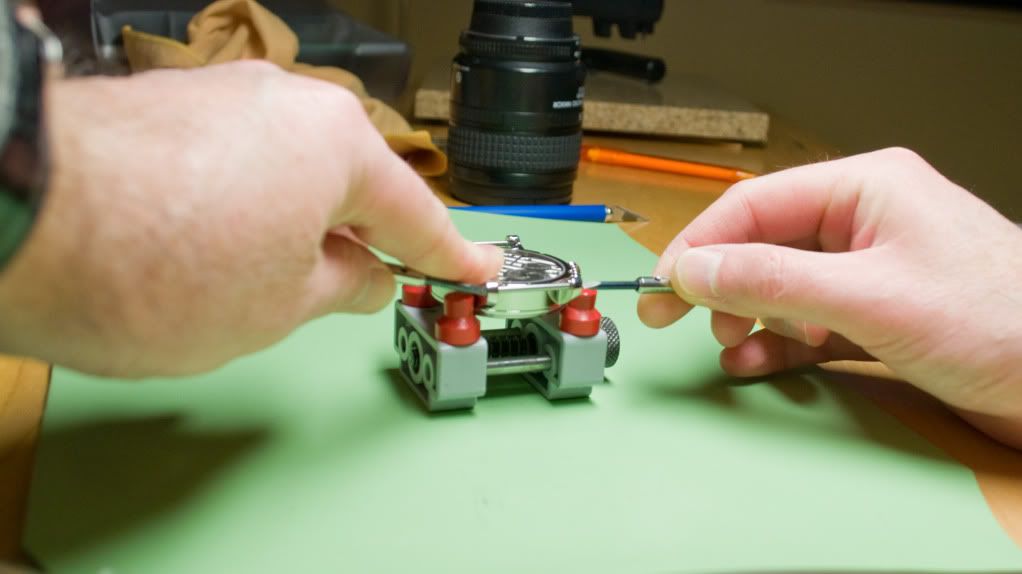 Let me know how you make out.
Cheers, Al