BROCKEN SPECTRE: Climber Arne Danielsen was scaling Sicily's Mount Etna in Sept. 2003 when he turned around and saw this ghostly apparition: (continued below)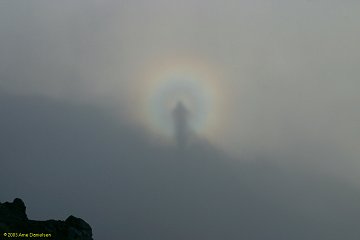 "I have seen this many times from airplanes, but this was the first time I was able to see and photograph it from the ground!" he says. It's not really a ghost following Danielsen around. It's the Brocken Spectre--so named because of sightings on the Brocken, the highest peak of Germany's Harz Mountains.
Atmospheric optics expert Les Cowley explains: "The Brocken Spectre appears when a low sun is behind the climber who is looking down from a ridge or peak into mist." The colorful rings are glory--sunlight backscattered from tiny water droplets. And the ghostly figure? "It is no more than the shadow of the climber projected forward through the mist."
http://spaceweather.com