Fantastic example Garvin! What a lovely rifle...I've only seen pics of one other Weihrauch beech Tyro. A most unusual feature is the angled cut on the front lower corner of the breech block--a bit Walther-like, and I have never seen anything like it on any other HW 55. What a graceful accent it lends to the overall lines.
FWIW, there were two different styles of triggers in the early short-block guns, one pre-Rekord type in the long-block guns, and several subtle stages in the development of the Rekord itself. The newest 55 I have without a Rekord trigger is no. 711 from the second serial sequence (i.e., long trigger block guns).
The oldest one I have with a Rekord trigger is no. 029426. It's quite interesting in several respects, beginning with the trigger block that was originally cut for the previous type of trigger. The Rekord itself has a blued steel weight adjuster screw, a light stamped main sear, and a very slender trigger blade. Judging by the serial on your gun, this rather frail-looking setup may have been rather quickly superseded.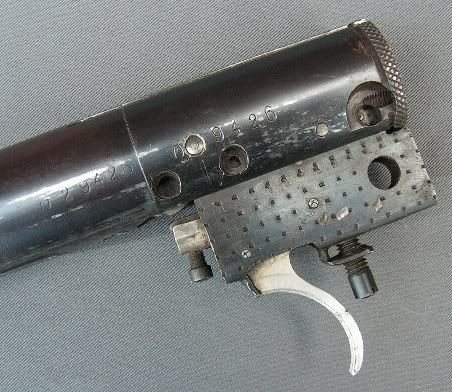 Note the differences compared to a somewhat later trigger module. I lean toward thinking the Rekord is OEM, though I can't prove it wasn't retro-fit at some point. And look how the front Rekord mount pin goes right through the serial--which may be why this stamping was moved "above the wood" on later examples.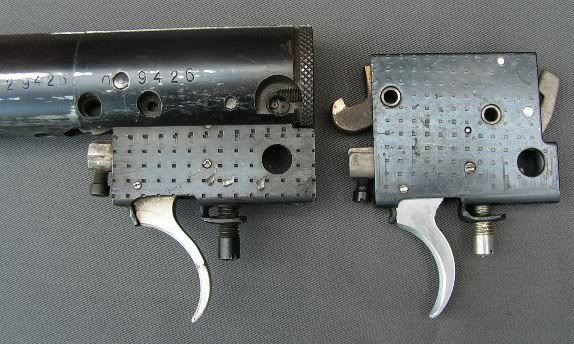 The number under the breech block is necessarily smaller because the surface there is narrower, and the typeface differs.