Frank, if I'm not mistaken your "HW 50S 2000" stock is none other than the fabled Beeman R8! A lot of gents over on this side would pay a pretty penny for one of those.
Your collection never ceases to amaze...I am pretty sure I've never seen your "1999" or "2005" stocks either.
The new gun is really lovely! This year at Roanoke I handled some new HW's courtesy of Paul Watts, and I must say the quality of the finish work is absolutely outstanding on these guns. In particular the fine metal polish and blueing is the equal of any guns of Weihrauch's past.
For what it's worth, here's two more HW 50 stocks:
Upgrade stock from the 50's pre-Rekord days, I'm sure you know more about it than me! Similar to the standard stock, but with checkering and buttplate: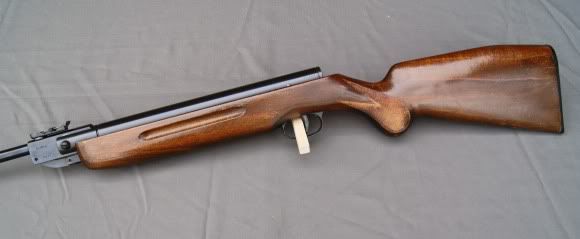 "HW 50 E", an early-1970's gun from Air Rifle Headquarters here in the US. This is beech but duplicates the walnut HW 35L stock of the day: