The Forbidden Ammunition
by Ken Walker
26 May 2012
In our present-day view, to those with any shooting sense, air gun darts are considered 'forbidden' ammunition since their steel bodies can cause undue wear on the rifling of modern barrels. Their use has fallen out of favor for all but the cheapest of airguns, even though they were once in the exclusive realm of the most expensive rifles of their day.
Air gun darts have been in use since before the advent of lead airgun pellets. What was probably the very first air gun, the basic blowpipe, or blowgun, shot dart-type projectiles (almost always poison-tipped for hunting all but the smallest species, since penetration is minimal). The first type of a shoulder-mounted air gun, appearing sometime in the 16th century, was a bellows gun and was a dart shooter. These complicated, ornate, and expensive smoothbores were used by the wealthy for the sport and pleasure of short-range indoor target shooting. These guns were typically large-bore (up to .50 caliber) and the darts hand-made. Later darts often used horsehair for the tufts and would feature a single differently colored hair at the circumference of the tuft to allow the shooter to align the dart in the breech the same way each shot (to maximize accuracy). These darts could also be fine-tuned by removing individual hairs from the tail.
Jump forward a few centuries and you still have darts for airguns. Most early modern airguns were smoothbore and the use of darts was normal (even preferred, since darts were easily recovered and re-used, unlike lead round balls and pellets). Most of the post-Civil War American gallery guns were (.25 to .30 caliber) breech-loading dart shooters. Many boxed guns included a claw-head tool for safely removing darts from the target.
Starting around 1874, Henry Marcus Quackenbush made darts under his own name using his patented design, as well as acting as a supplier and packaging them for others under different names (a practice which continued well into the 1970s!). This popular design comprised a steel front section with a mohair wool tuft staked into the pocket and trimmed to a uniform length. The very first Quackenbush darts came in wooden blocks; they were then packaged in boxes, then glassine envelopes, and later (under the Benjamin name) even blister packs.
An early box of .175 Quackenbush darts, made sometime prior to 1918.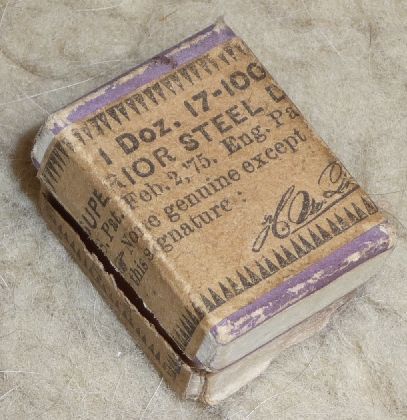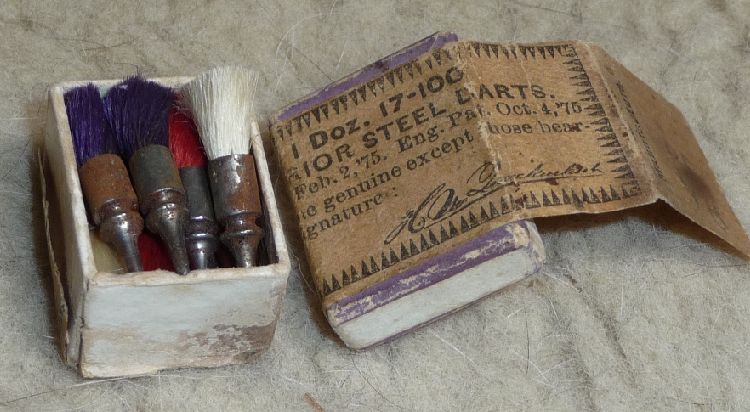 A mid-century package from England, The Britannia Dart, in No.1 size (.177 cal). These are obviously English-made.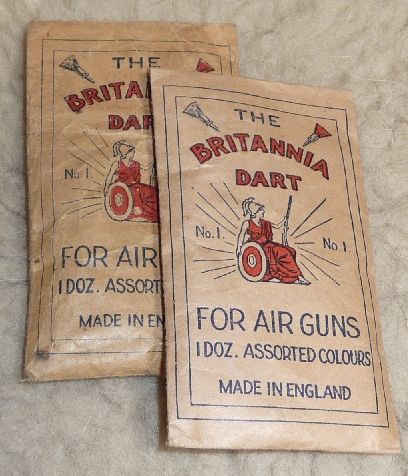 An early envelope of Benjamin darts. These were Quackenbush-made (almost any early dart package which is "Made in U.S.A." is likely made by Quackenbush).
A simple stamp on the back of the envelope to indicate the size allowed the use of generic envelopes.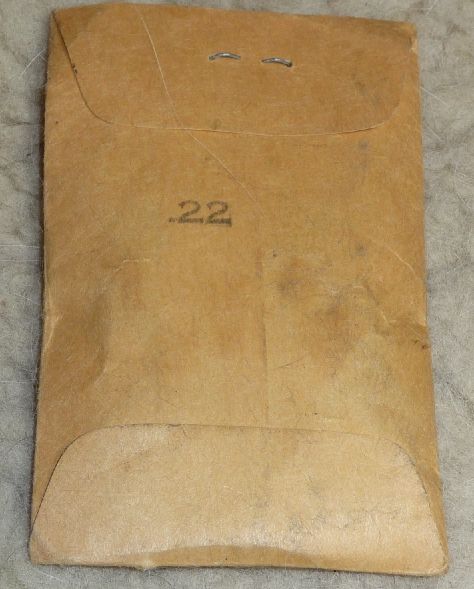 A few early packs of Hy Score darts; these are made in Germany (not sure by who) and were imported by Steve Laszlo of the Hy-Score company. Note the typo on the .22 packet: "Hy Scord"; also they mistakenly identified the envelope as containing "1 Gross" instead of 1 dozen (they came in boxes of 1 gross: 12 envelopes of a dozen darts per envelope). The .177 packet corrects both mistakes.
A few later packs of Hy-Score darts. Still made in Germany, but the address of the Hy-Score company has changed.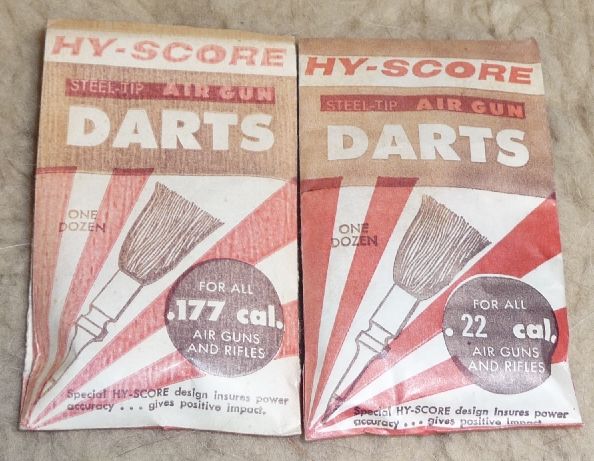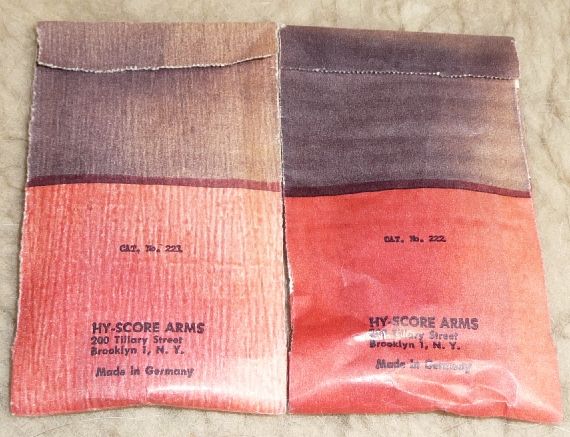 Some envelopes from Marksman. Although not specified as "Made in U.S.A.", by their appearance these are likely made on Quackenbush machinery.
Marksman darts are sometimes found in (unmarked) plastic tubes.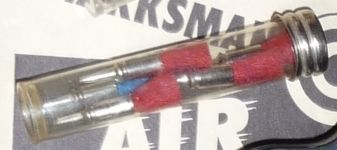 These were included in original boxes (along with bb and pellet tubes) for the Marksman Air Pistol.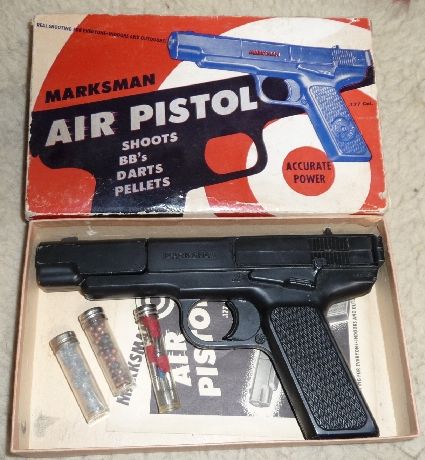 The Benjamin Air Rifle Company was still using the almost 100-year-old original Quackenbush machinery to manufacture darts when this blister pack was sold. They purchased the machine from the H.M. Quackenbush company in 1976, and used it until 1993 when Crosman bought the by-then Benjamin-Sheridan Corporation and moved operations to East Bloomfield, NY. The dart machine didn't make the trip, but rather was sold to noted collector/author John Groenewold, where it remains in his private collection.
While it is safe to use darts in almost any smoothbore, breech-loading gun, few examples of this style gun are common today, as all modern weapons are rifled and intended for the use of lead pellets. The use of darts in these weapons is indeed considered 'forbidden'.
Many other examples of this 'forbidden' ammunition exist, and provide yet another interesting tangent for air gun collectors.
----------------------------------------------------------------
Please remember all who serve but especially those who gave all, on this Memorial Day weekend.