The "missing link," perhaps?
What happened to WTC-6? You never hear this building mentioned but it too ... seems to have experienced some major type of explosion.
To set the stage, I'll paste links here to several pictures so the reader can get a mental picture of these buildings and where they were located.
Here's a diagram of the WTC layout ... turned 90 degrees counterclockwise. North is to the left on these 2 top images.
The left image shows the complex layout and right beside it is an infrared image of the aftermath. (Notice how selectively, WTC-7 has been carved out by itself.)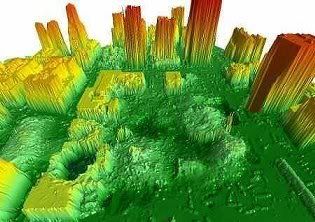 Notice the deep crater in the infrared image. This is no fooling; the following images show just how deep these holes were...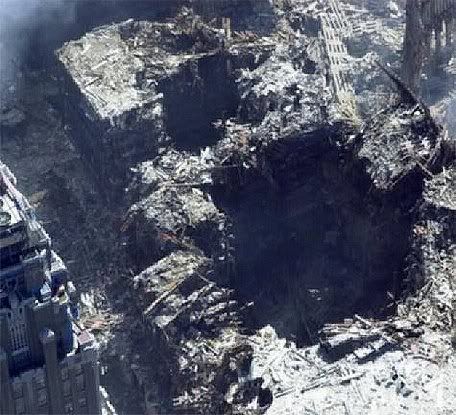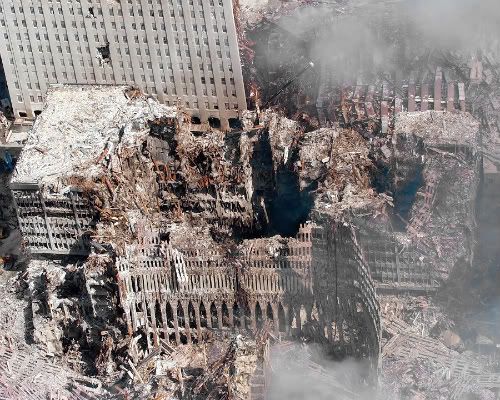 ( In the foreground is the remains of the north wall of the north tower. Right behind it is the remains of WTC-6 and then at the top right is -assumedly- the remains of WTC-7.)
Now, the official explanation is that "something" very heavy from WTC-1 right beside it, DROPPED on this building and punched a hole down into it. (The hole goes way down into sub-basement levels). However, there is no such hole right under the 2 towers ... or anywhere else. The two towers pummeled the building BETWEEN them -the Marriott hotel (building #3)- but despite cutting it in half, neither tower created a sub-basement hole under the Marriott.
Here's a picture of the Marriott hotel after all was said and done.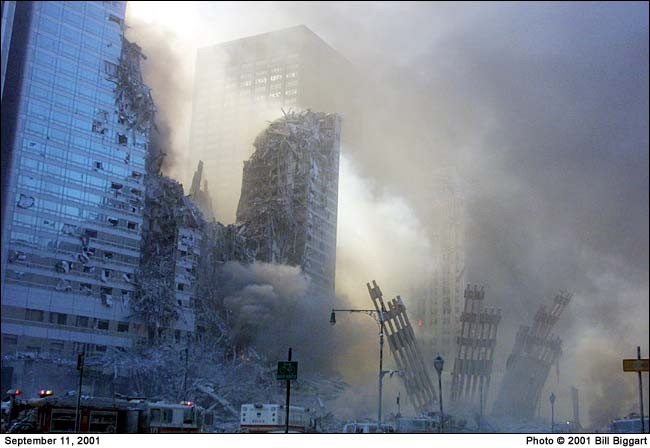 Now, this photo was taken by photographer Bill Biggart ... who -unfortunately- DIED when the north tower fell. He was pummeled by falling stuff and his cameras were also destroyed but a flash card in his digital camera was still ok and contained about 128 pictures. He was shooting photos from West Street ... very close to the towers and caught pictures of scenes that no one else dared to stick around and get.
Biggart also happened to catch several pictures of the south tower falling -(nearly on top of him)- and ONE of them showed something very peculiar. It was a picture of the pyroclastic cloud rolling towards him as he was standing fairly close to WTC-6 building. (WTC-6 is the blackish looking building to the left in the foreground in the pictures below. The north tower is right behind it -still standing).
First, this one ...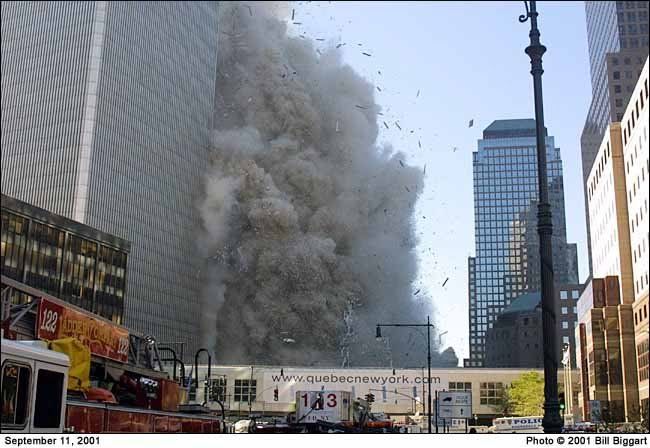 ...and then this one...
(These can be found
in this Biggart archive
).
Now you may be asking, as my wife did, looking over my shoulder as I'm composing this, "what is all that WHITE smoke in the front?!?"
Well that IS a good question. It appears to be coming OUT of the ground and not as part of the rolling black smoke behind it. It has no excuse to be white instead of black UNLESS it's NOT part of that black smoke in behind! Since a good deal of it appears to be coming from the left -closest to the WTC-6 building- could it be possible that this is actually an event occurring IN building 6?
Remember that the entire WTC complex "ground" level was actually just a large concrete platform covering over several other levels underneath the "ground". There were tunnels and trains and basements all underneath the street level.
Now we switch to another story.
Emergency Medical worker Patricia Killtown
was on the scene right about this time, having arrived with her ambulance shortly before the south tower fell. She has a rather bizarre tale to tell. I'll pick up a few quotes ...
[I reported to a staging officer who told me to park the ambulance along Vesey Street. I ended up parking along the street in front of the 6 World Trade with several other ambulances. We were going to get any injured people who were brought out of the burning buildings to transport to the hospital.
(Vesey Street in front of WTC 6 would be right next to WTC-7 building).
...we were staged waiting for the triage teams to bring us patients when an officer in a white shirt and blue pants (don't know from what agency) said that there was a radio transmission that stated, "Another plane was headed towards us!" We were told to get to our vehicles and get ready to move fast, but it wasn't fast enough. All of a sudden there was a lot of activity within the several agencies there and everyone started to scramble to ready their respective vehicles.

...they just told us to get our equipment, put it back in the vehicles and "get ready to move...fast". At that point, they seemed to realize it just wasn't a safe place to be.

... it did seem odd that after being there for some time all of a sudden everyone had to get ready to get out. I personally never expected the buildings to come down. ... We were simply told to get to our vehicles and get ready to move.

... there was a loud "roar" -- lots of crashing sounds. I was attempting to put my stretcher back into the vehicle. The ground was shaking and I saw a sea of people, mostly the various agencies on scene, Fire, Police, EMS, all running towards me. I had no idea what they were running from, but I decided I'd be ahead of them and just started running west towards the river. As I was running, parked cars were blowing up and some were on fire, the street was cracking a bit as well. Very shortly after I started running, everything became one big black cloud. I was near the West Side Highway and I couldn't see around me anymore. ]
Let's pause here and review what she said. She said that there was a loud roar and crashing sounds. She said the ground was shaking and yet ... she still
DIDN'T KNOW what the hub-bub was about
... so evidently the tower still hadn't started to fall! That would indicate that what she was hearing was explosions and likely underground explosions as well.
Then she said that cars were blowing up and that the ground was cracking. Well, what would account for THAT? An underground explosion? Sure, an underground explosion could come up through cracks, rupture gas tanks and cause cars to explode too! Remember that what she saw was exactly the same vicinity that Biggart's camera saw ... with that white smoke coming up out of the ground.
But then she goes on ...
[ After passing the cars on fire, I was trying to find someplace safe. I tried to run into the lobby of 6 World Trade, but there were federal police -- maybe 4 to 6 of them -- standing in the open doorways. As I tried to run in, they wouldn't let me, waving me out, telling me "you can't come in here, keep running." As I turned to start running west again, I saw a series of flashes around the ceiling of the lobby all going off one-by-one like the X-mass lights that "chase" in pattern. I think I started running faster at that point.

KT: Did you hear any "popping" sounds when each of these flashes in the WTC 6 lobby were going off?

PO: Yes, that part was like a movie. The pops were at the same time as the flashes.

... I was in the doorway, but not inside the lobby. I remember being able to breathe the somewhat cleaner air coming from inside the building. They stopped me as I was trying to get past the threshold.

KT: You said you saw "federal police." What exactly do you mean and did you find it strange they were in there and that they wouldn't let you in?

PO: Well, they were in light brown uniforms and "Smokey the bear" hats. I assumed they were federal police because NYC police don't look like that and I knew there was a lot of federal offices in the WTC as well as the surrounding area, so it wasn't strange to me to see them there, but I did find it very odd that they wouldn't let me in to get cover.

... KT: Did you think these explosions in the lobby were maybe lights popping out as in an electrical surge, or did they seem more like explosives going off in a timed manner?

PO: I immediately got the impression they were timed explosives. I have never thought they were anything else, not then, not now.]
So she saw these flashes going off in the lobby of building 6 AFTER she had experienced the cars blowing up on the west side of Vesey Street.
What in HECK was going on???
Was that explosioning on the street -just prior to the collapse of the south tower- ANOTHER attempt to bring the core of WTC-1 into a collapse condition submission?
I believe that the overall plan went pretty badly that day. The controllers had NO INTENTION of having so many "random" explosions going on for people to hear and talk about later. They never intended for Gulliani to tell reporters that he was warned, the towers were going to collapse. They had no intention of telling people to get away fast because a third plane was coming in. They had no intention of leaving WTC-7 so late in the afternoon, to "pull." But their plans didn't work out and there was likely some VERY NERVOUS people at the controls, trying desperately to bring things on target again. They HAD to create cover stories on the spur of the moment which -in retrospect- were pretty dumb. Since so many people had been warned that building 7 was going to collapse ... what could Silverstein SAY later but that ... the fire dept. did it as a last resort.
I don't think they planned to cause so GDamned much devastation to the surrounding area. They wanted to bring those buildings down in a much neater way. Start the cores collapsing -which would face the floors almost vertically- and THEN set off the floor charges to demolish them. That way the force would go upwards instead of sideways.
But in numerous instances, it seems evident that secondary explosions were masked behind main events.
-Initially the north tower was (likely) supposed to have a basement demolition charge go off slightly AFTER the plane struck at the top and not BEFORE.
-An
explosion went off in or under the north tower
just AS the second plane hit the second tower. (watch the right side of the right tower about the middle of the screen immediately following the bird flying off the near rooftop. There's a flash ... then the camera shakes ... and then the fireball shows from the left tower ... and then there is MORE heavy shaking -so bad, it throws two people right out of the north tower.
-There's the explosion which this woman experienced just as the south tower was about to collapse and WAS collapsing.
Why the demolition charges going off in the lobby of WTC-6? Well, to be honest, I don't have a clue ... yet. Maybe I will someday.
-Vince