Let's ban these 'hallucinogenic nasties' these 'psychoactives', these darned healing plants that do nothing for us money makers. All they do is keep folks healthy and cure pain and all that nonsense.
Bah bloody humbug to 'em all.
What about a butter ban! What about a total dairy ban! Do people realise what killers these little gems are?
Ah...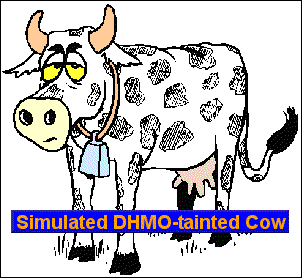 Dihydrogen Monoxide in the Dairy Industry
The use of Dihydrogen Monoxide (DHMO) by farmers in the U.S. and internationally is prevalent. Typical of this is the widespread use of DHMO in the U.S. dairy industry. The facts surrounding DHMO's presence in the nation's milk supply are surprising. What may be even more surprising is the silence of the U.S. Government on the issue of DHMO in the milk our families drink every day.
For the rest of the article: (And I do recommend a visit
)
http://www.dhmo.org/milk.html
Healing is a crime, of course, in this topsy turvey false picture of a 'world'.
DHMO...
Thanks J. (Nice to see you back again
).
Very detailed post. Very scarey, but no way a surprise.
In the lasy year of so, I have taken a real xlose llok at all we have in our hose, food and cleaning wise. At first, I thought, this is impossible. How am I going to have a toxic free house. I guess I never will. But we can offset some toxicities in various ways. Will these little changes help in anyway when we are being so bombarded? I don't know.
My son was / is the hardest. He loved his Lucazades and such like drinks. The supermarkets seem to have hardly a thing that does not have a 'nasty' in its juices, so to speak.
But we can only use out common sense and not get too paranoid.
(Say she with brimming certainty...!)
Love
Jackie
"Not everything that is true need necessarily be divulged to all men."