May need a little update here, Mondo and folks.
Where do people stand on anyone from Earth ever have landed on the moon.
Is it just that the 1969 landing was a hoax, or not?
There have been subsequent landings, definite space walks...
*****************************************************************************************
I enjoy reading Ed Mitchell's stuff.
Here is his web site:
http://www.edmitchellapollo14.com/
************************************
Welcome to Ed Mitchell Apollo 14.com
On January 31, 1971, Navy Captain Dr. Edgar Mitchell embarked on a journey into outer space that resulted in becoming the sixth man to walk on the moon. The Apollo 14 mission was NASA's third manned lunar landing.
This historic journey ended safely nine days later on February 9, 1971. It was an audacious time in the history of mankind. For Mitchell, however, the most extraordinary journey was yet to come.
**********************************************************************************************
Obviously, his 'global consciousness' perception warms me, also Ed is a 'psychic explorer'. Ed also believes in the 'Roswell Incident', he says he KNOWS that aliens are real, and of the government cover ups.
ALIENS HAVE MADE CONTACT...
ALIEN INTENT IS NOT HOSTILE
Some others involved in the Moon landing also know the truth.
http://www.thelivingmoon.com/47john_lear/02files/Edgar_Mitchell_Disclosure.html
)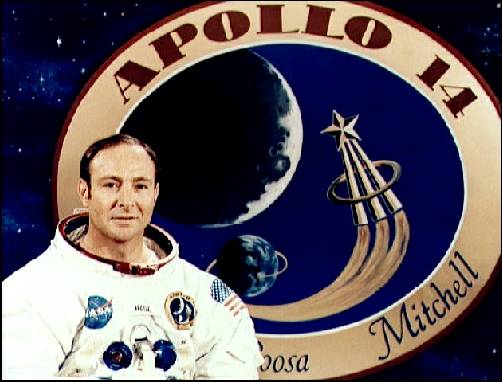 ******************************************************************************************
QUESTIONS
Have there been ANY moon landings
Have there been and surprise, surprise, 'others' were already there
What about the moon rocks?
'NASA' has 'apparently' (
) lost hundreds of its moon rocka (the fact that the crap media HAS been printing this particular story needs to be taken into consideration, when Ed Mitchell admitting there ARE aliens, which one would imagine is a BIG story from a guy that walked on the moon, well,
I know it made the science page of the UK's Daily Mail, but the Font Cover was I would guess left for something more sleazy. Smile.
Oh, anyway, LOADS of questions.
Basically, did Ed walk on the moon? Would he lie? Is there more to him than meets..etc.
Not really questions for anyone, just some of the ponderings I have regarding Mr Mitchell and the moon landings in general.
BTW, Timothy Good, I guess he is my favourite UFO 'authority' does believe in the moon landings.
OK!
So...
First man on moon dies along with secrets of what he saw
During the Apollo 11 moon landing, there was a two minute period of radio silence. According to NASA, the problem arose from one of two television cameras overheating, thus disrupting the reception. What really happened, according to various sources, was that Armstrong and Aldrin saw something else watching them! According to Timothy Good, author of Above Top Secret (1988) HAM radio operators receiving the VHF signals transmitted from Apollo 11 to NASAs Houston headquarters, intercepted the following message which NASA screened from the public in the missing two minutes:
Mission Control: Whats there ? Mission Control calling Apollo 11.
Apollo 11: These babies are huge, sir enormous.Oh, God, you wouldnt believe it! Im telling you there are other space craft out there lined up on the far side of the crater edge theyre on the moon watching us. (Above Top Secret, p. 384.)
The HAM operators radio intercept was widely dismissed by the media, but in 1975 it received unexpected support. Maurice Chatelain, is a retired NASA communications engineer who helped develop the communications system used in the Apollo moon missions. In his 1975 book, Our Cosmic Ancestors, he wrote:
[O]nly moments before Armstrong stepped down the ladder to set foot on the Moon, two UFOs hovered overhead. Edwin Aldrin took several pictures of them. Some of these photographs have been published in the June 1975 issue of Modern People magazine. (p. 25)
Later, in 1979, Chatelain said that Armstrongs sighting of two UFOs over a lunar crater was being deliberately kept from the media and public by NASA: The encounter was common knowledge in NASA, but nobody has talked about it until now. l Even more remarkably, Chatelain claimed that:
all Apollo and Gemini flights were followed, both at a distance and sometimes also quite closely, by space vehicles of extraterrestrial origin flying saucers, or UFOs, if you want to call them by that name. Every time it occurred, the astronauts informed Mission Control, who then ordered absolute silence.
Was the missing two minutes of radio silence during the Apollo 11 moon landing an attempt by NASA to cover up what Armstrong really saw on the moon? Were UFO sightings a common occurrence during Apollo missions?
According to Buzz Aldrin in a number of press interviews, Apollo 11 was indeed watched by a UFO during its journey to the moon. Aldrin describes how the Apollo 11 astronauts avoiding mentioning the word UFO in reporting what they were witnessing, and instead asked Houston about the location of the Saturn V launch rocket. Aldrins admission that Apollo 11 was being shadowed by a UFO does give credence to belief that UFOs did witness the moon landing, and Armstrong had reported this to NASA in a radio communication that resulted in the missing two minutes of radio silence. Aldrins admission also supports Chatelains claim that one or more extraterrestrial vehicles watched the Apollo 11 moon landing as Chatelain claimed in his book.
http://news.exopoliticsinstitute.org/index.php/30401/
**********************************************************************************************
Loads more of course, but I haven't that much time. I have a hedge that demands attention. Smile.
The Moon and the Earth!
Amazing!!