Train with the best... Check out Prodigy Coaching and Prolific Athletes
Tonie Cambell (Prodigy) and Ryan Flaerty (Prolific) have put together some great programs to take you to the next level.
Check out the two links above.... Prodigy is in the South Bay area, Prolific is in Carlsbad.

Kids Ongoing:
2nd Recess Youth Running Program (Tuesdays in Balboa Park)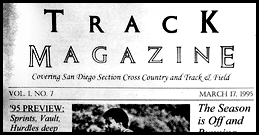 The original Paper Issues.