I am working at an old farm and I saw a potential problem yesterday, and I took care of it today after lunch.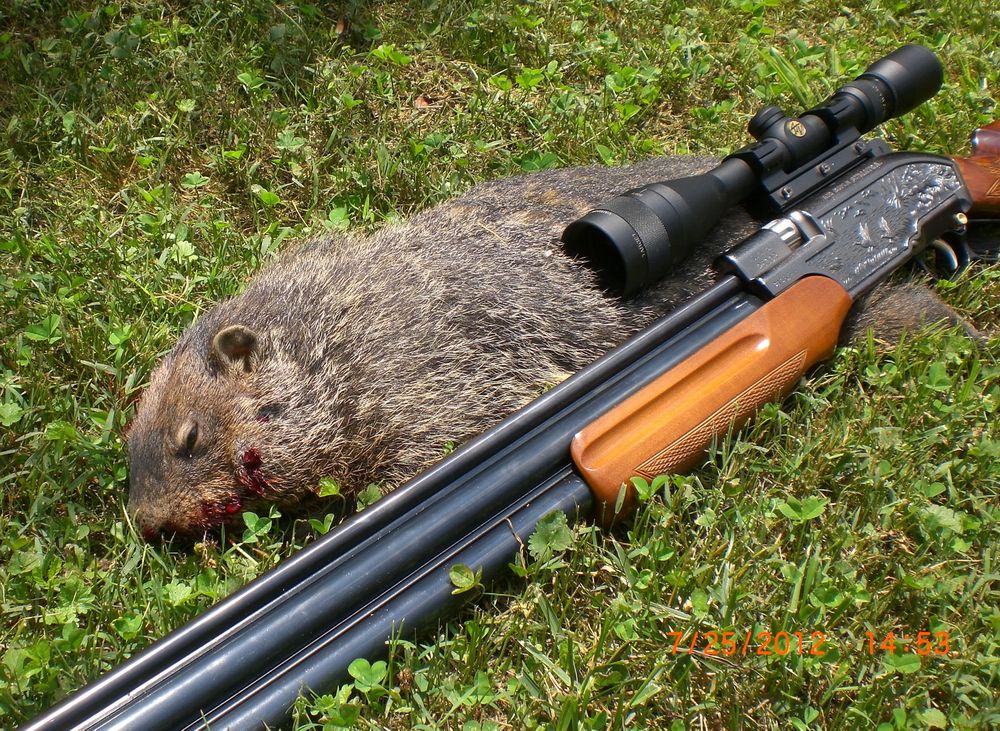 Went out back door, around to truck that already had case open and the .25 Sumatra magazine loaded, ready to drop in and close the action.
I already had the attack rout set up, and it was perfect. I got into the sitting position with a mulch pile between the hole and myself. I knew she was out on the lawn, behind a bush that would not give me a shot, but I was pretty sure that as soon as she sensed me near, she would run home, and then peek out to see if all was clear.
The mulch pile is about 20 yards from the hole (that I had found yesterday)
and I was behind another tree, about another 30 yards further back from the mulch. I got comfortable and sat for only about a minute, and sure enough, a little head sticks out and looks for me. with the scope already focused @ 50 yards, and set to 14 power, I can clearly see the eyes, still small from 50 yards, but clear with the bight sun shine.
I steady myself, control my breathing, and let one fly. The muzzle report on my Sumatra is toned down and I am shooting with only 1600psi to keep the Crow mags at there preferred speed. Pooof, THWACK, and flop is all it took.
She was still laying half way out the hole in the same direction that I saw her in as I triggered the Lobotomy.
She is a decent size Ground Hog, almost no fat on her. so whats the best way to prepare?
Cheers, David.
Big Bores.
More than just a way of life.
It's not a sickness, I can quit anytime I want.
I just don't want to.
Besides, they aren't big enough yet.