Sometimes the old grind is not so bad! Had to go on a call yesterday morning and wouldn't you know it, it was 3-quarters of the way to one of my pest control properties. Yeahhhh!!!
Arrive at about 2:00 and took things very slowly. The humidity was at 99.9% but the slight breeze at 78 degrees was pretty comfortable as you sat. Walking was a different matter, but I've been in worse...
I've done well at times on this property, but not consistently well. Maybe the critters are just smarter than me over here. This property doesn't produce the squirreling numbers of other places that I hunt, but it is the most serene, excluding my old hunting grounds back home...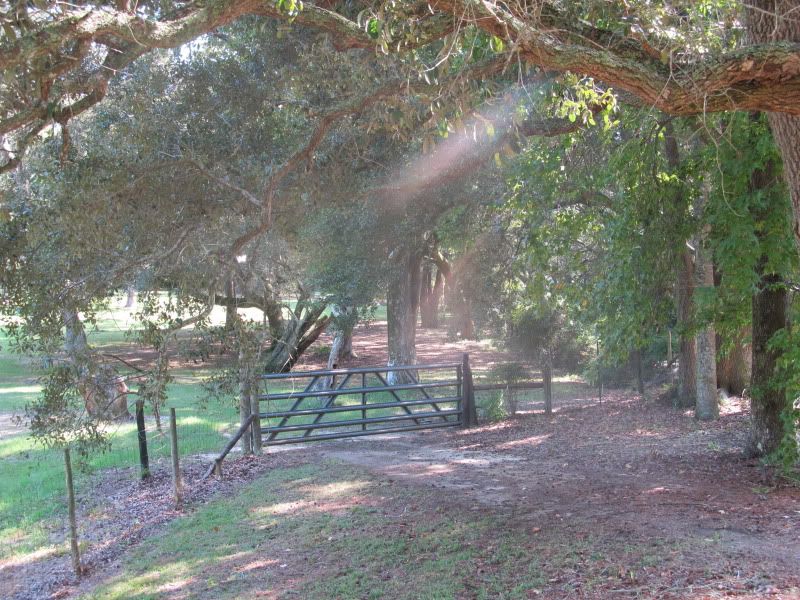 It has a nice oak grove on the west side with a majestic eeriness that makes your mind wander. I tend to sit, totally at peace and sometimes let the hunt take a secondary reasoning for being there...
On the east side sits a beautiful 60-acre pecan orchard that makes you guess where the critters will be at any given time. Which trees become feeder trees for a particular season, means your guess is as good as mine. (insert opinions, suggestions & reasoning here)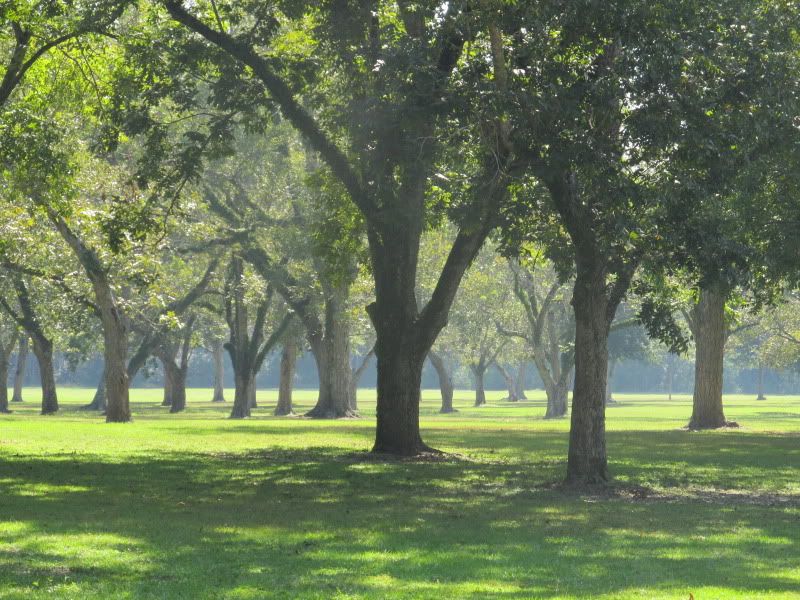 I entered the property slowly and the slight drizzles the last two days had me becoming part of nature which would have made an Apache Warrior take note. This mattered little as even the birds stirred not. The only movements out there, were the mosquitoes which weren't that bad. The breeze kept them mostly in check and the few that were around, didn't really care about penetrating my force field, set up by my deet cologne...
The first inning was done with me walking silently through my favorite spot, without luck. I decided to move toward the back and walked maybe 20 yards before startling up a year-old male, not 15-yards away. If you're wondering how I knew it to be a yearling male, well that answer is easy. He paused long enough to give me a 15-yard, slightly held under, headshot that added him to my carry weigh; One down...
After walking the entire property with pauses here and there, including about a 15-minute chat with Mr. T, I ended up back in my favorite spot, although sitting at a new angle, with intent to sit peacefully for the last hour of hunting time. Without much wait time, a little springtime fuzzytail, began playing about 65-yards away. I decided to sit, whip out my squirrel call & try to bring her in a bit closer. This didn't work very well, as the next 30 minutes saw her run up and down the same two trees several times. She paused at my calls a few times but stayed it the vicinity. I decided at that point, that I was seeing her too many times to believe that she was alone. I moved in closer and she froze for a spell. The 33-yard, free-handed, headshot was too good to pass up, so I let lead loose. The resulting sound, told of a perfect smackdown; Two down...
At that point, a high roller from 60+ feet high, tore out and into hiding mode, never to be seen again. Another small-fry, gingerly eased down the tree to check on her playmate. This time, I crept an extra, 6-feet to try a tree assisted headshot. Close one eye, squeeze, jerk, curse under my breath. Did that 30-inch diameter tree trunk just move? Well maybe not. The shot, sent her scurrying around the other side. My call seemed to bring her back 2 or 3 times before she would pause long enough for the shot. This time, I told the tree to stay put while I sent the Kodiak downrange 30-yards toward the heart; Number three...
I did figure out a new carry technique, using my shoulder strapped chair, which I was quite proud of until the smallest of the small fries fell to the ground, slipping out of the gap in the legs of the chair. I guess I will just have to shoot bigger game or finally break down & get a gamebag...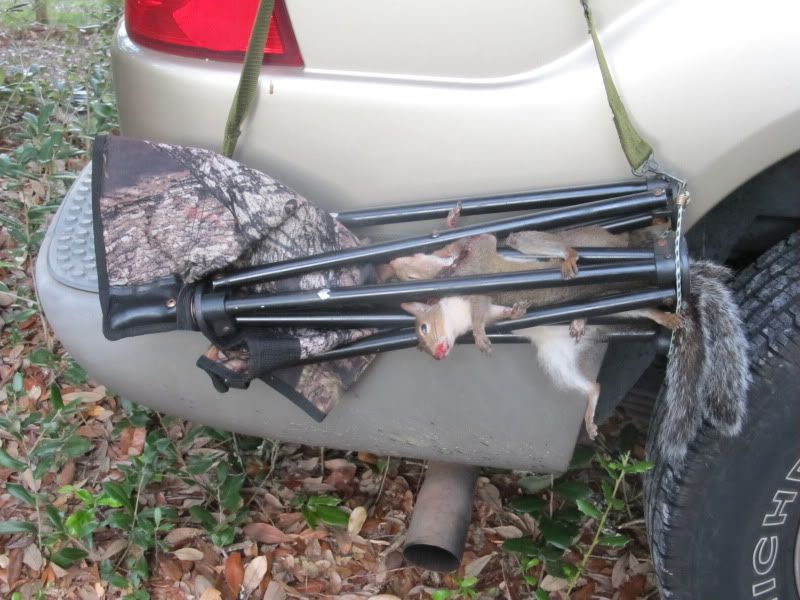 Okay so I lied!!! It wasn't an unassisted triple play. It was a single put out, & a downed-squirrel/tree assisted double play.
__________
Keep On Blastin'