If you've accessed this thread via the Master Index, you may be hearing the background music over top of the video from Hatteras (in the following post). If so, copy the link below, back out of the master index, and then access this link independently, and you'll be able to hear the video message from Hatteras, it's very interesting,
http://www.network54.com/Forum/424840/message/1149783578
You may have to copy it, and paste it into your address bar in order to hear it, but it's worth it, since there's a LOT of good information about painting fiberglass hulls here.
Enjoy!
Paul
and now.......................for the rest of the thread (without the video attached)
Want to paint your Commander?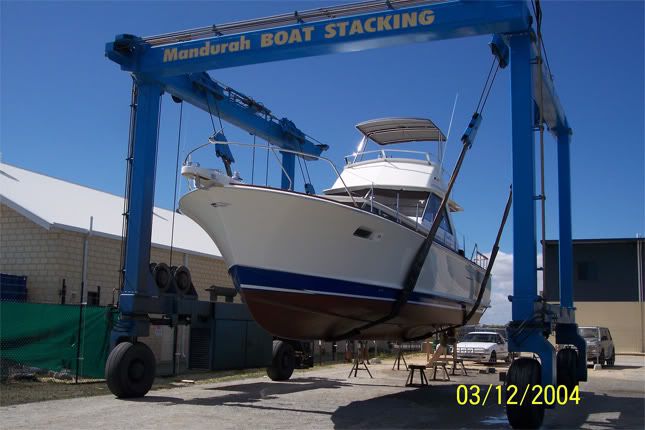 ABOVE: Warren Pateman's totally refurbished and repowered "BAMBI" running off the coast of Australia.
I'm not recommending painting a Commander, however, there have been some painted, and the results are, well, SPECTACULAR when it's done right.
I visited a great marine facility a little ways East of Hessel, Michigan, and was quite astounded to see a Commander that had been totally gel coated again. The entire hull had been gel coated, and sanded to perfection. It was then waxed and buffed. The results were about enough to make me want to cry, because the boat looked bran spanking new.
However, since Hatteras paints ALL OF THEIR BOATS, I thought I'd look up their spec to see what they're using. Here is an interesting video from Hatteras, please be patient while it loads.
Like anything else, trying to do this on the cheap, may produce cheap looking results. Therefore, if you are planning on painting that hull, be prepared to put in the sweat equity or pay someone to do it right. Otherwise, it may look like a cheap paint job on a nice old car.
The following is from the Hatteras site, as a point of information
Boats are meant to be on the water, not in dry dock awaiting exterior maintenance. Only Hatteras paints every exterior fiberglass surface above and below the waterline. Our process provides a hard outer surface with a beautiful high sheen and a longer lasting hull finish. The benefits -- less waxing, increased UV resistance and less exterior maintenance.
From the waterline down, Hatteras uses both a vinylester blister-resistant gel coat and vinylester resin in the skin coat. This process provides additional blister resistance and reduced water intrusion.
Hatteras utilizes two other gel coats: an exterior white gel followed by an interior black gel. Both gels are resin-based. Application of the black gel provides a dark backdrop that improves the fiberglass lay-up quality during construction.
exterior fiberglass surfaces above the water line are painted. First, we sand the entire exterior, then apply two coats of primer, re-sand the surface again, and finish by applying three coats of polyurethane paint. This process has several advantages:
• Produces a high sheen finish
• Provides UV resistance
• Requires less exterior maintenance
• Retains luster without continuous re-waxing
In the event of any damage to the boat, this finish is also easier to repair. Unlike a porous gel coat that may yellow or oxidize over time, this finish retains its color and is much easier to match.
The last finish that is applied to every Hatteras hull bottom is an ablative anti-fouling paint. While some anti-fouling paints lose their effectiveness with age, an antiblative paint sloughs off inactive components of the aging bottom paint.In turn, this exposes new anti-fouling agents. The bottom paint process consists of a two-part polyurethane primer, two coats of epoxy primer and finally two coats of copper-based anti-fouling paint.
The maintenance advantages of our paints and processes are evident in other areas of our boats as well. We coat all walkways and decks with a non-skid finish utilizing polymeric beads. While the beads obviously improve footing, they also remain white and do not blacken with wear. Hatteras also paints engine rooms and bilge areas with white polyurethane to produce a smooth finish that is easy to clean.
So now after having seen what Hatteras does, take a look at what Warren Pateman has done with his Commander, and you may want to call "him" for advice, rather than Hatteras. Fantastic, Warren, it makes everything else look bad.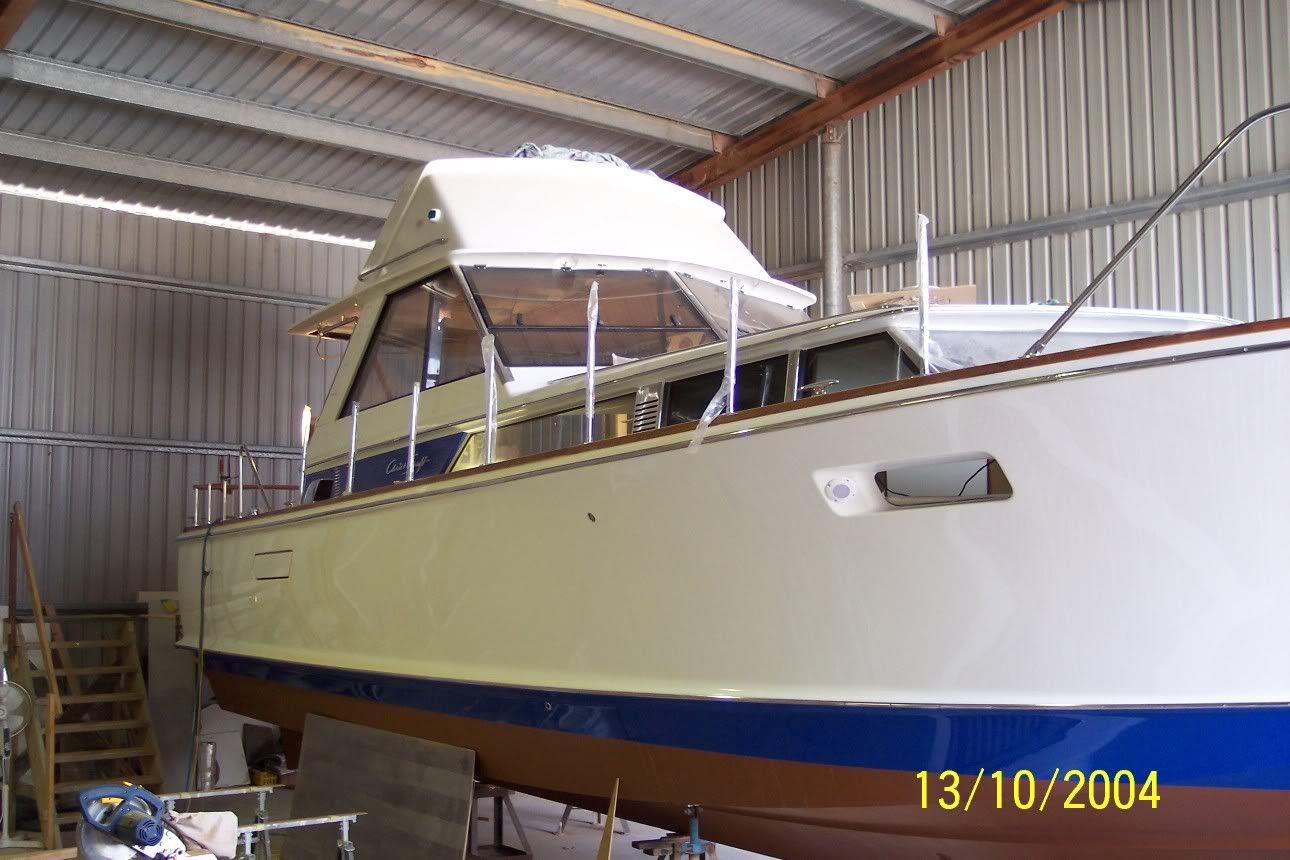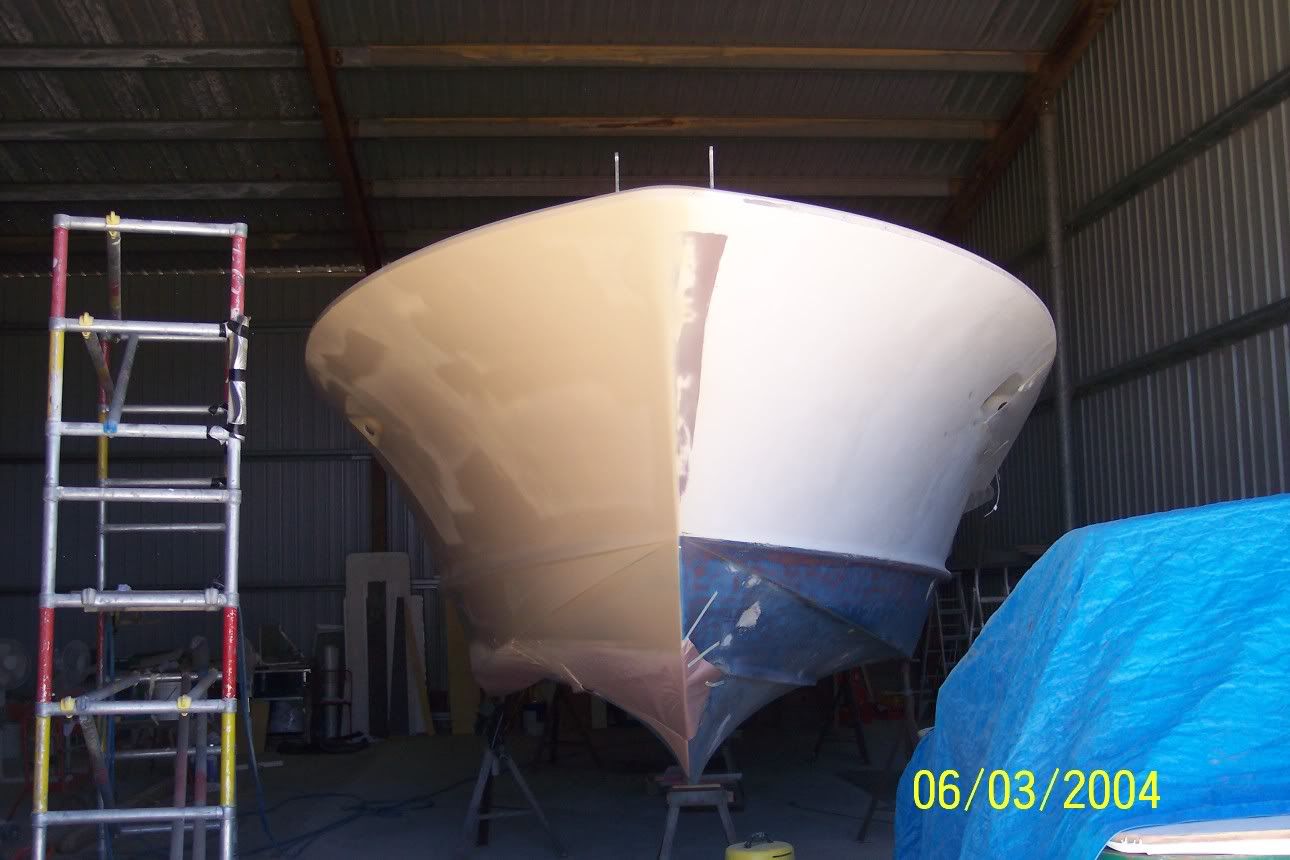 Awlgrip 2000 Acrylic Urethane was the paint of choice in stark white. Many hours were spent rubbing back the original gel coat and filling the few blemishes to the hull.
First coat on was the sealer, which proved to be very hard and it took a lot of effort to rub back
This was followed by 2 coats of high build each rubbed back with hours of work on the long "Agony boards" A coat of primer was applied again to be rubbed back followed by 4 coats of the final Awlgrip 2000 finish….. The end result looks too good to put into the water.
The non skid on the deck was in pretty bad shape as the gel coat had given way over time so we ground off the non skid dimples and made the deck good before painting with the same applications as the hull. The old non-skid area was masked off and finished in the same Awlgrip 2000 containing Griptex Non-skid particles.
Painting finished we ordered in the selected Burmese teak for the toe rail which was carefully bedded into Sikaflex bedding compound this was then finished with the Awlgrip system lll which started with 4 coasts of Awlspar varnish rubbed back then coated with 10 coats of Awl-bright plus
What would you pay for this boat now? There are few boats out there that "are worthy" of this kind of refurbishing. The Chris Craft Commander is one of them. These results speak for themselves.
Many thanks to Warren Pateman, of Australia, for showing us the way. Warren, you not only get a tip of the hat from me, my hat is off to you! (EDIT NOTE: Warren sadly passed away in July of 2006, and you can find a tribute to him in the link below. It is surmised that the BAMBI consumed around $500,000 cash and lots of personal time, and the boat is now for sale for what I believe is $375,000 in Australia.)
BE SURE TO SEE THE VIDEO in the following thread !!
Regards, Paul
Anyone interested in seeing a huge treasure trove of information about Warren Pateman's refurbishing, take a look at this thread (and links)
http://www.network54.com/Forum/424840/message/1136636730
In addition, there is another great thread on painting the Commander hull, sent in by George Klein. I am adding this one to the link here for reference purposes. Enjoy! (Thanks George!)
http://www.network54.com/Forum/424840/message/1145912019