I did.
This is a photo of the port motor in my 38 Express, as it was before I purchased the boat. I took this photo to document what kind of power the boat had, and I actually planned to pull em out because I was almost sure by looking, that they were junk. Here it is almost ten years later now, those engines are cleaned up, painted, sporting chrome valve covers and electronic ignition, looking great and running sweet. I suspect there are MANY such cases, where the "new" owner of the boat decided the engines surely must be worn out and should come out. These big dogs are actually pretty difficult to wear out if they are run with good oil, and adjusted to specifications. One thing about synthetic oil, I believe it provides better protection to valve stem rusting too, when a boat sits in a humid environment (like the bilge) for sometimes weeks without running.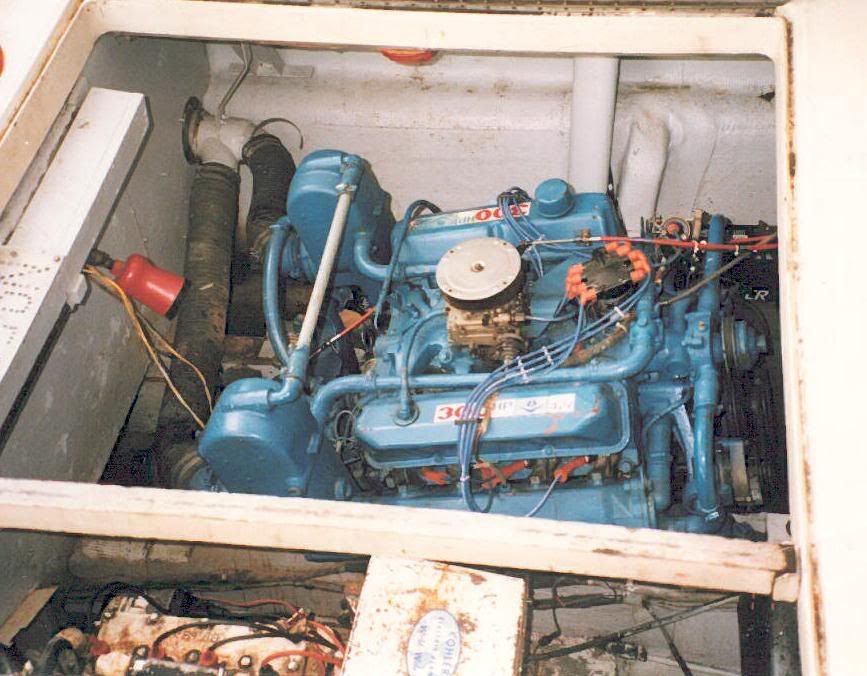 The previous owner had the valves set so poorly, one cylinder had zero compression. Luckily it was an intake valve and it was very tight, not fully closing. As a result, the motor was inhaling a fair amount of fuel in that cylinder, but it was exhausting raw fuel into the exhaust manifold and there is where it would ignite.
I ran the boat a while before discovering this, and I knew it was not performing well but it would still (even on 7 cylinders) run up to 3500 rpm. Upon reaching the higher rpm range, all that unburned fuel would ignite on occasion, and it scared the daylights out of me (LOUD popping sound). Naturally, I didn't do this but a few times.
Upon discovering the problems with this motor, which included bad impeller, worn out distributor (rebuilt at the Mallory plant), horrible aftermarket points availability (switched to Pertronix), very poor valve adjustment, carbs needing rebuilds, oil and fuel filters dirty, wrong spark plugs, bad spark plug wires, and a poor paint job by Dick Morland standards, things finally began to work out. The motors are actually performing beautifully, and they were a victim of neglect, rather than over-use. Fortunately in this case they appear to have survived well.
I don't know the full history on these motors, but they were "majored" at some time in the past. As with old cars, "condition is more important than milage (or hours)", and the actual "condition" if you measure compression, oil pressure, and performance, appears to be quite good.
Part of the total clean up in the bilge, included engine flushing and conversion to synthetic oil. These big dogs have been running on synthetic oil for several years now and they're quite happy.
What's next? Well I have some beautiful log-type exhaust manifolds for these guys that I'd love to install, and I have some beautiful copper collectors that would take the place of those twin parallel exhaust hoses. Those hoses, by the way, were replaced a while back, and THAT was a wrestling match.
The Generator has been "restored" but I am actually planning on pulling it out of the boat. I never use it, I've installed an inverter bank that is a lot more fuel efficient and more safe in many ways, and the darn generator is just dead weight I've been hauling around. I've actually thought about installing it at the house, professionally with an automatic transfer switch, but we'll see how that goes.
Paul
1966 38-foot Commander Express
Original 427 power (date of motor manufacture is 1965; side-oiler casting, center-oiler tooling)