Hi Paul,
I am fresh water cooled (raw water pump supplying water to a heat exchanger which engine coolant also runs through). I just bought new raw water pump impellers (Jabsco profile "X" for Sherwood Chris Craft raw water pumps) and installed them on both sides.
I now have the boat in drydock for below-waterline survey, hull cleaning and painting -- here is a pic. This boat has been sitting in river water for the last 25 years without being pulled, so the old bottom paint is kind of tired: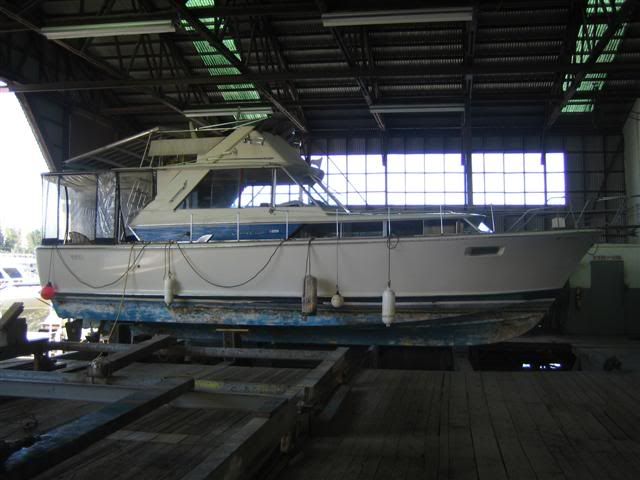 Regarding timing the 427 engines -- I found a window with a pointer at the back of the engines looking down onto the flywheels. On the flywheels there is a round drill-divit, and then a few degrees away a little tick mark. Can you tell me if the drill divot is where the timing should be set at idle? I set it there, and then when reving the engine up the timing advances to the tick mark. So I'm guessing I have figured this out right, but I don't have the original instructions so I'm not sure.
Also, the distributors on these engines appear to be capable of holding two sets of points each, but we only have a single set installed in this boat. I assume that is OK. I have the point gap set about 0.020"
Thanks!
Curt in Portland OR..