Hi all, I got the boat out of drydock this morning after it had been there more than a week. It hadn't been pulled in 25 years. Even in freshwater, that is a long time. The hull paint was in sad shape, so we had her sanded down to the gel coat -- it looked like there was parts of about 7 layers of paint on there. My wallet is real skinny after paying for the work, but it came out looking really good.
After sanding the complete hull, I had them put on a primer of epoxy barrier coat which should seal the hull in case we went thru the gell in any place, and then before it was completely cured added the anti-fowling paint so it is bonded into the barrier coat. The hull looks very clean and good now. The good news is that the hull structure was in fine shape, with zero blisters or other problems.
In the excitement to launch I forgot to take a picture of the completed hull. But below are pics of the boat while in drydock and then one after launching this morning. The 3rd pic (rear view) is after the hull sanding was done. In the last pic you can see my new black fenders and holders (the drydock owner let me get them from a wholesale distributor at his price, which was about 40% less than I could get them for).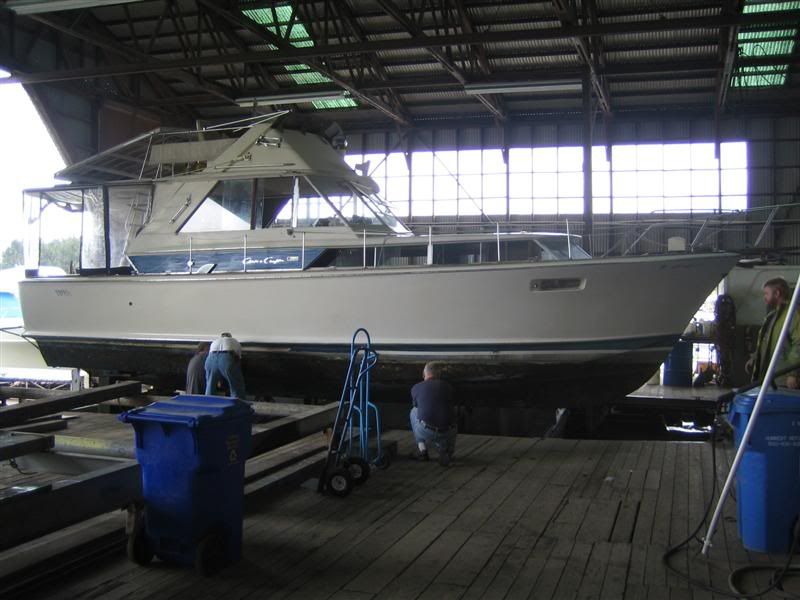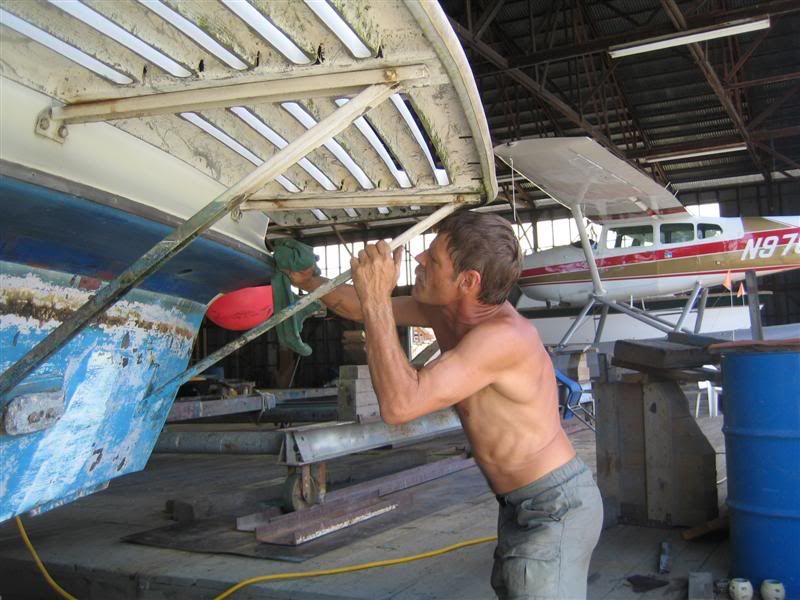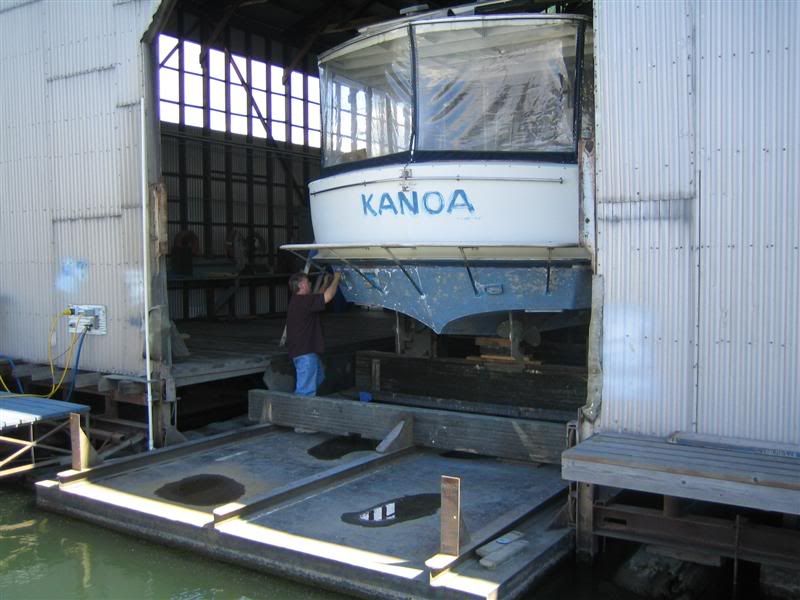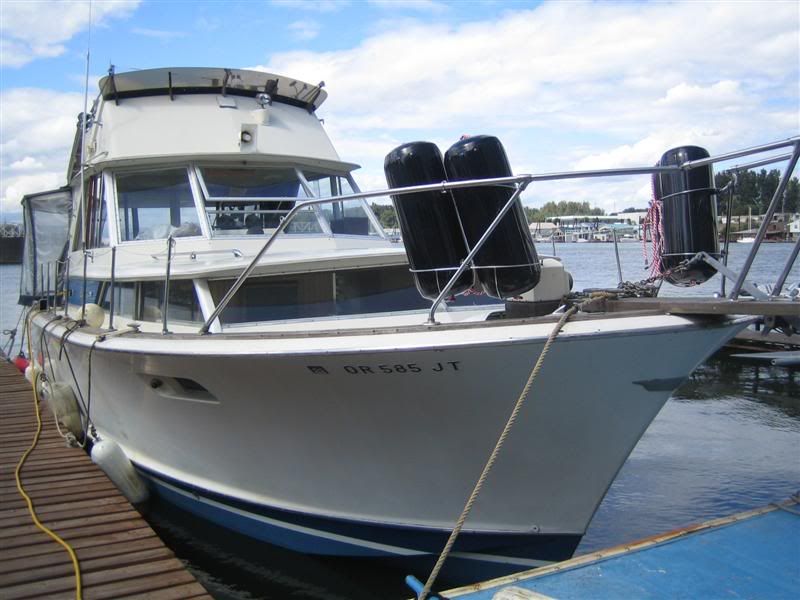 ----
1967 fiberglass 38' Chris Craft Commander Sportfisher with twin 427 CID 300 HP engines.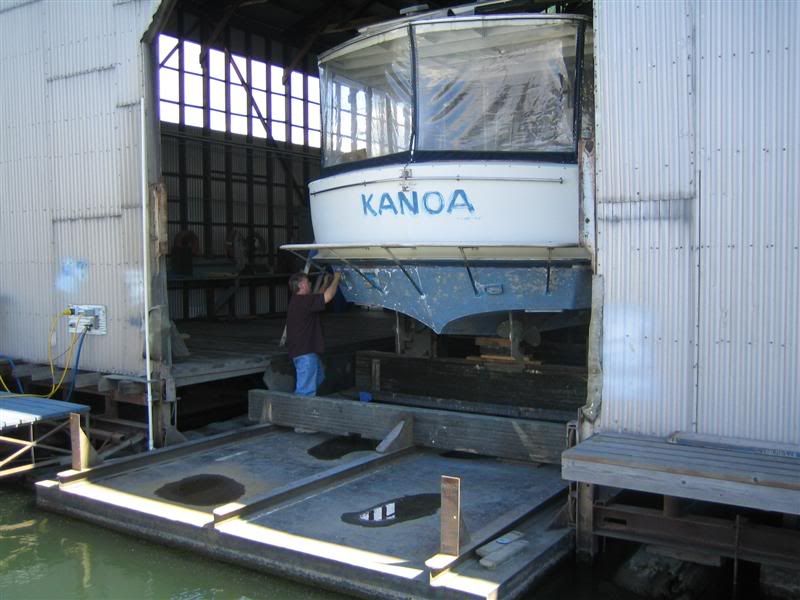 ---
PHOTO OF THE DAY AWARD
( May 4, 2007)

(ABOVE:) Curt Hills KANOA, shown here being hauled onto the drydock, is an intriguing photo giving a glimpse from outside, into a boat shed where some serious work was being done.


Thanks again, Curt, for saving this boat and turning it into a showpiece, and for sharing your story here. The boat was purchased late in the year of 2005, it was very aggressively renovated during the subsequent months of mild weather in Portland, Oregon, and it was used much of the 2006 boating season for its intended purpose. As we enter the formal 2007 boating season, we wish you all the best, and hope you are able to enjoy the fruits of your labor for many years to come.. Below is the text that accompanied the Photo of the Day.

Here is a great photo of Curt Hills 38 Commander Sport Fisherman in drydock, Portland, Oregon, September 2005. This is quite a facility in Portland too, because not many of us have access to a true drydock. Curt found this boat, KANOA, in the water and for sale in the Portland area, and it had not been hauled for many years. The motors had not been run in many years either. The saga of restoration for this boat is remarkable, but many others have gone through similar issues with hulls, motors, fuel tanks, electrical systems. This is one of the better documented stories of how to take an old Commander that has been neglected, and turn it into a show-piece that can be used for personal enjoyment and entertaining friends.
For anyone contemplating buying one of these grand old boats in neglected condition, it would be a great primer to look through the referenced threads here on the forum regarding the restoration of this particular boat. If you happen to have already restored an older Commander, chances are, you've also done many or all of the work Curt has done with his restoration project. It's a lot of work, but there is an upside too. First of all, you're working on a boat and not at the office, and when the work is done you'll be one of the chosen few, who can enjoy the rare priveledge of being at the helm of a vintage Chris Craft Commander! Restoring an old Commander is not for everyone, but it can be a very rewarding experience.


Paul,
forum moderator
---
In addition to this interesting thread, there are some other very informative thread about the restoration of this boat. When you are done looking through this one, take a look at some of these others too, because it is a road map of what to expect if you buy an older Commander that has been neglected. The good news, "it can be done", KANOA is proof, and Curt can tell you how it was done!
The very first email contact and photos announcing the acquisition and intentions to restore.
http://www.network54.com/Forum/message?forumid=424840&messageid=1125521461
The excitement of the first cruise after lots of work!
http://www.network54.com/Forum/message?forumid=424840&messageid=1127439175
More maintenance, tending to other issues.
http://www.network54.com/Forum/message?forumid=424840&messageid=1128661264
Sawdust in fuel tanks, and what to do about it. (dont try this at home!)
http://www.network54.com/Forum/424840/message/1146731677
edit comment: additional links added for reference.