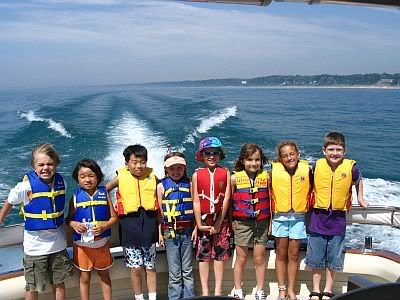 Robert and Eva-the-Diva Heinrich, along with a host of their friends out for a ride on mom and dad's boat. Is boating a worthwhile passtime? Let these smiles answer the question!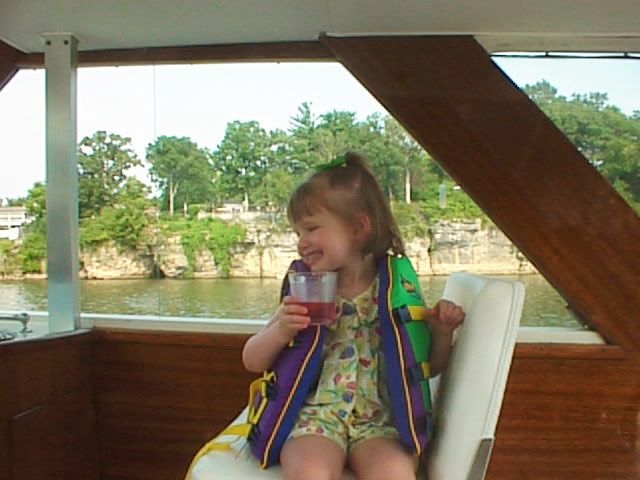 Above, Lena Metcalf "somewhere" West of downtown Nashville on the Cumberland River, enjoying a glass of cranberry juice.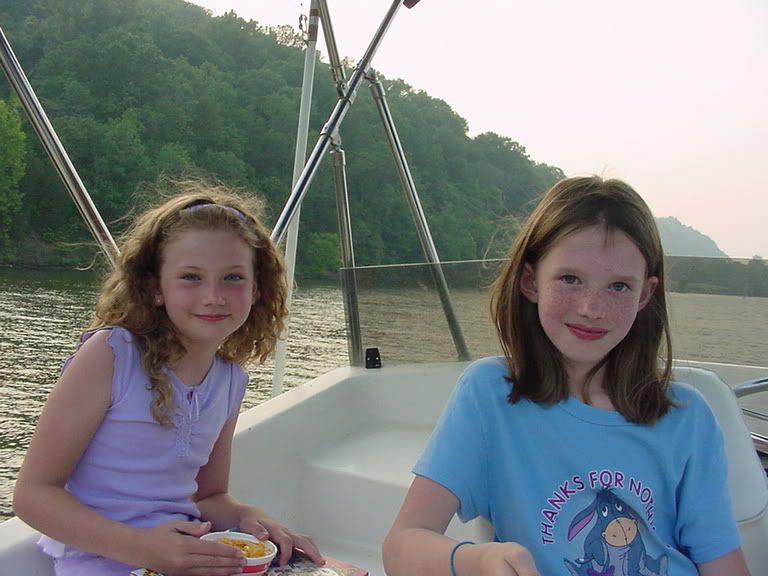 Would you believe this? A few short years later, that's the same Lena Metcalf again (right) aboard our Chris Craft Commander, "TRADITION". More fun, and more memories, this time with cousin Emma, on the left. TRADITION hasn't changed much, but the lives it has affected have, for the better!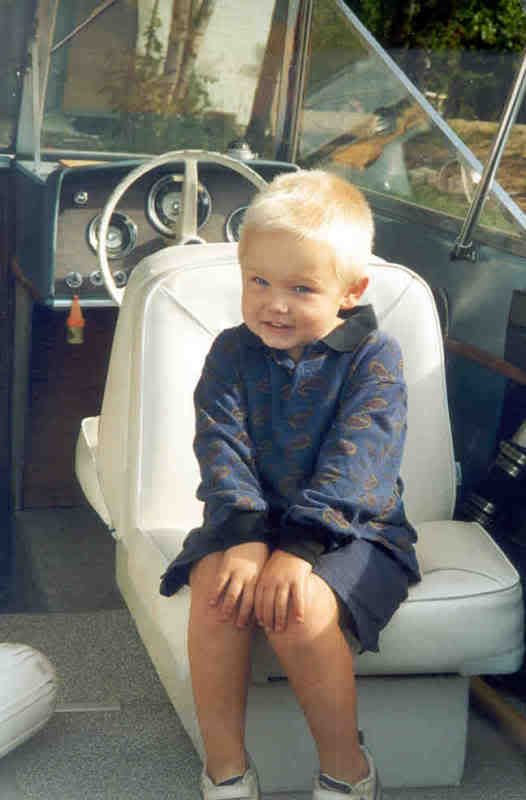 Above, young Mr. Obrien, enjoying a moment aboard a 23' Commander owned by his dad, Mike. (I think this is just a great photo, by the way, thanks Mike, for sharing this one with us).
This young man is getting a great education about boats, because Mike has a 23' Commander, a Century Resorter, and a newly acquired 17' fiberglass Super Sport inboard. The smile says it all! These boats, through the eyes of a child, must represent some of the coolest things in his recreational life right now. I can remember when I was this age, it was one of the most enthusiastic things I ever saw, watching wood speedboats arrive and depart from the docks at the crystal clear Conneaut Lake in Pennsylvania. I would fish for bluegills and keep an eye out for the boats. I soon developed an ear for the big Scripps V-12 that powered "Miss Conneaut", I knew what a Hercules sounded like, and then I started taking note of the V8 powered boats too. As a young kid all of this was some of "the most interesting" times around. I could NOT get enough. I could stand there all day long and watch, and quite frankly, things have not changed much in the last 40 years! When I see a young man like this, privileged to be around boats, I think to myself, "what a lucky kid" (and I can almost see myself in that photo, a long time ago!) I was a lucky kid, and now as a grown up (some people may claim I never grew up, rightly so) I always love to share our boats with other kids who are lucky enough to be able to spend time on the water, no matter how old the kids may be!
When I was a kid this age, and was given the chance to hop aboard a boat, my senses were just spinning with all of the distractions of sound, vibration, movement, smells, brightly finished wood, and those were some exciting times I'll never forget. It's one of the joys of boating, to be able to spend time and (share time with others) on the water with such a fun hobby. The following thread, "We do it for the children" shows some other lucky kids being given memories they'll keep with them for the rest of their lives, the smiling faces say it all. Next time you take a child aboard your Commander, be aware of what a big deal it really is to them. Let's go boating!