The galley looked old because it was, and the bad thing was my range door was sprung beyond reasonable repair. It would slam down without warning when we were under way, so I discovered a new use for duct tape. Besides, I wanted a new stainless steel range. We decided to redo the galley in granite.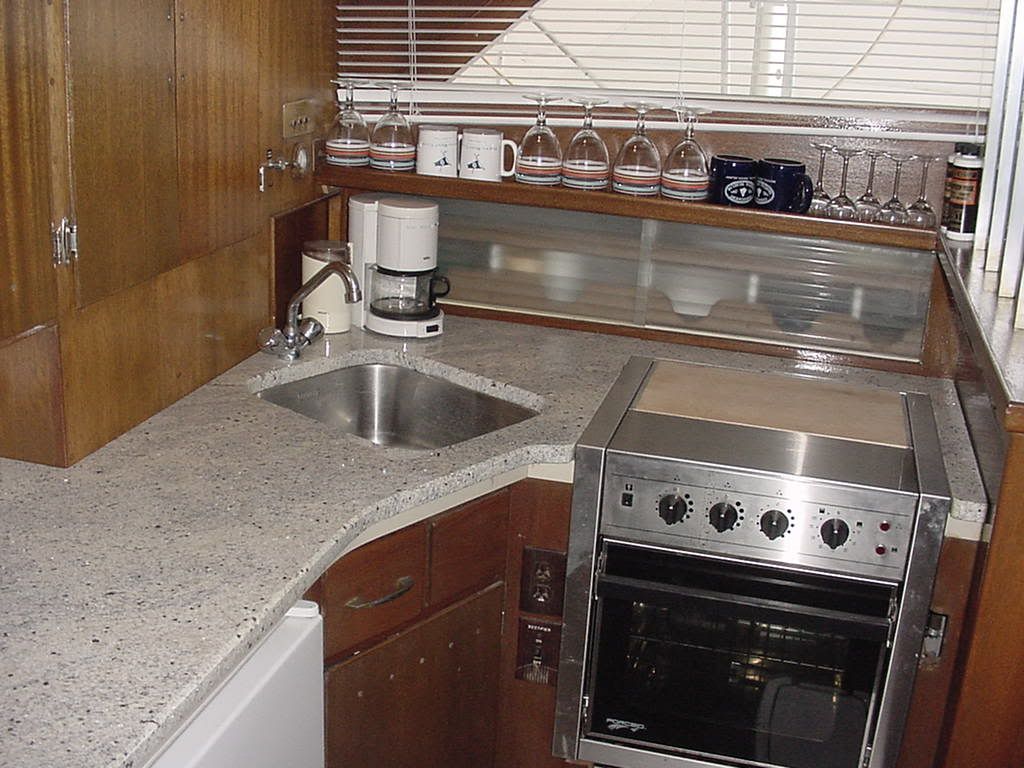 The only way to get granite to fit perfectly like this, is to prepare a template for the granite company and tell them to make a piece of granite exactly like your template. In order to do the template, I started taping pieces of paper together until I had the entire profile, and I then transferred it to a piece of masonite. The sink is Franke high nickel content stainless, and sorry it's dirty because it is used frequently. The sink cutout is a very tricky deal.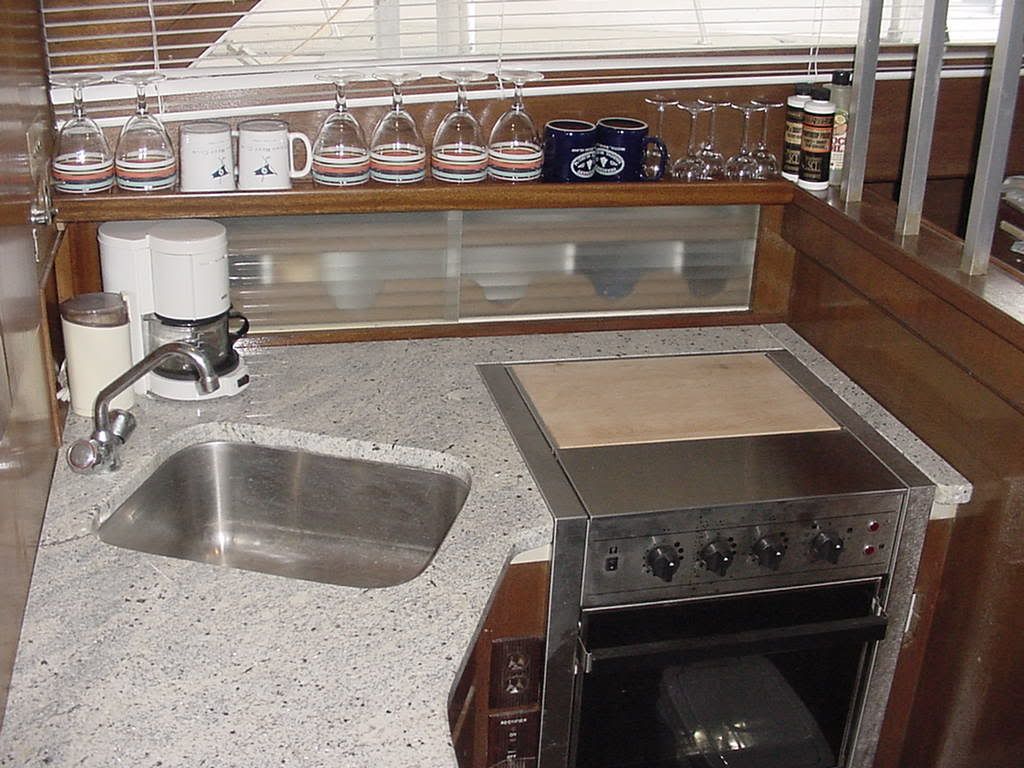 What may look like a crack in the stone at the sink cutout is actually part of the natural veining in the stone.
The internal mahogany plywood base cabinet under the new and larger sink, comes up under one side of the sink so it had to be trimmed internally. The range cutout was pretty straight forward, but a bit tricky to utilize existing plug and switch locations. It was a careful measurement that allowed the range top to extend upward.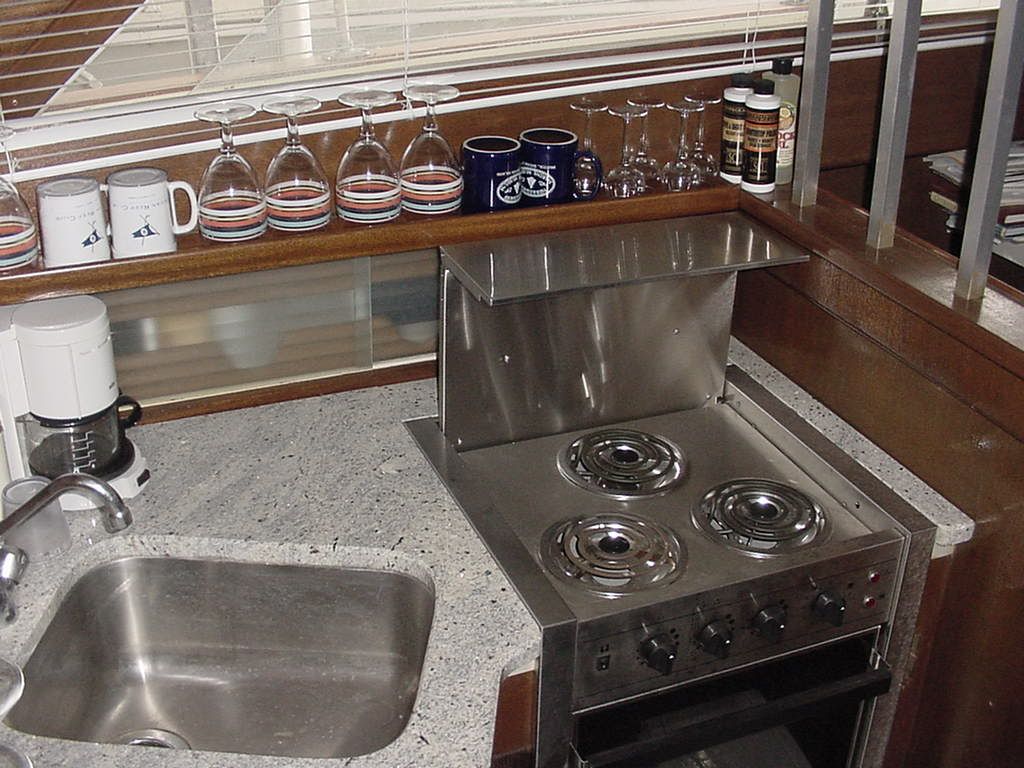 I added the horizontal mahogany glass storage tray just below the window and above the sliding glass utility doors at the countertop. This is quite useful for storage of glasses. Yes, I know you boaters in the Great Lakes wouldn't be able to keep glasses like this, but we can on the river systems.
This upgrade is modern, but it is an attempt to do a tasteful adaptation in the Chris Craft Commander style, and not something that looks totally out of place (from the home show). The granite we chose has pronounced veins and it is not a regular pebble grain. A unique feature is it has red wine spots already impregnated into the natural stone!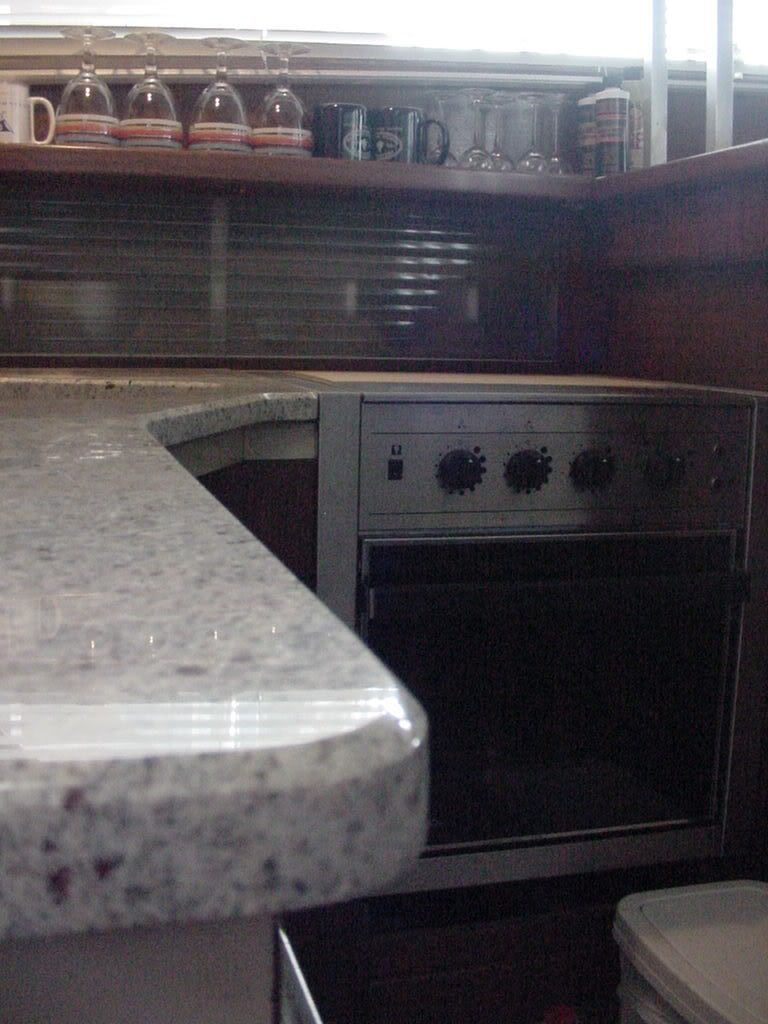 This galley upgrade isn't going to make your boat go faster. The weight will probably slow it down just a bit. We put the inverter batteries on the starboard side to compensate for the weight of the stone. We think the change was well worth it. The fold down range top acts just like a counter top 99-percent of the time and that's a functional plus.
regards,
Paul
1966 38 Commander Express
Original 427 power
Edit comment: Photo added
This last photo was taken on April 9, 2006