Pictures from last winter, bottom paint touch up on the hard. Cold weather has some advantages, like walking on water. These pictures were taken last year during a 50 degree day when ideal for touching up the bottom paint. This winter has been mild so far I doubt the ice is thick enough to walk on. Fortunately the bottom paint is good shape this year.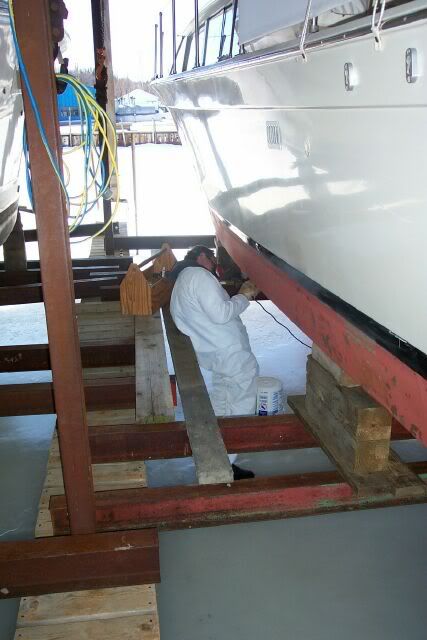 Tom and Barbara FXA-31-3016H
Nylakeshome@yahoo.com
---
PHOTO OF THE DAY AWARD
(December 7, 2006)
Comments included:
"Yes, you may recognize this (top) photo because it's been Photo Of The Day before. It's one of the alltime great winter boating photos, and it says a lot about the attitude northern boaters have. No need to complain about the weather! Here's Barbara Nicholas checking out her FXA-31-3016H while husband, Tom, prepares to out on the ice to do some inspection and maintenance work. Tom and Barbara keep their boat up on Lake Ontario near a place called Henderson Harbor, and it's a beautiful story-book setting all year round. In the winter-time, of course, it's time for skiing and snowmobiling, but during warm weather it's one of the best areas anywhere to have a boat."